Bouquet Sensuel 500 ml Lampe Berger
This Lampe Berger fragrance has a floral aroma, very feminine and sensual symbolizing the charm and seduction. This Lampe Berger composition has a content of 500 ml
16 other products in the same category:
Spray Room Esteban Parfum, ELESSENS Edition, with perfume 'Rose Blanche & Absolu d'Iris'. Content 100 ml Subtle perfume that surrounds us in a delicate atmosphere, through its elegant and velvety style through...
Scented sachet by Esteban Parfums 'Néroli', to be used in drawers, closets, cars, etc. It can also be used for opening the bag the dotted line indicated as vacuum powder. Weight 65 gr.PerfumeTop notes of...
Spray Room from Culti Milano. Content 100 ml IMAGINE A dense night falls on the rows of citrus and lemon trees after a day of fire, among the hypnotic sound of the cicadas. The air vibrates with expectation,...
This perfume by Lampe Berger, 'Touche de Soie', surprises us with its bright head notes composed of fresh and bright chords. In its heart, it is soft and velvety, where the magnitude of a floral bouquet of powdered...
Recharge for Lampe Berger catalytic lamps. Content 1 Liter Thé Blanc Pureté is a Floral and Musky Head Notes: Bergamot, Cassis Heart Notes: White Tea, Lily of the Valley, Rose Jasmine Base Notes: Cedar White Musks
Lemon Blossom is a fresh lemon scent that combines the floral sweetness of neroli and orange blossom. This Lampe Berger composition has a content of 500 ml
Spray Room Esteban Parfum, ELESSENS Edition, with perfume 'Lilas & Tonka'. Content 100 ml Floral fragrance. Head notes: Violet LeavesHeart notes: Lilacs, FressiaBackground notes: Tonka and Sandalwood  
Rêve Blanc is a tender and luminous aroma accompanied by the balance of generous whiteness and textured materials. Content 15 ml Floral Fragrance Head Notes: solar notes. Heart notes: freesia, heliotrope flower....
Muguet is an eau de parfum by Molinard for women, invites us to a walk through a garden in spring. Content 75 ml Fresh and green floral perfume Top notes: lily of the valley (lily) Heart notes: jasmine, green...
Aroma Opaline Opaline is a renaissance and sophisticated fragrance that stands out for its jasmine and vanilla. Units: 4 Dimensions: 5 x 6,5 cm Perfume for catalytic lamp Lampe berger of the coleccionsueno of freshness. Purity and freshness as a direct blow from the ocean to your home. 500 ml.
The jasmine in this composition as a sign of distion, this scent is made vibrant by the combination of jasmine and Ylang, conviertendose in a floral fragacia with fresh and fruity notes. Composition 500 ml
Tenue the Soiree (evening dress) is a feminine creation by Goutal Paris that evokes feminine elegance and opulence. The hour was near. She added the finishing touches, slipping on a bakelite necklace and stealing her...
Bouquets refill, Esteban Parfums, with perfume 'Lilas & Tonka'. Content 150 ml. Floral fragrance. Head notes: Violet LeavesHeart notes: Lilacs, FressiaBackground notes: Tonka and Sandalwood
Decorativa scented candle by Mathilde M. Astrée is Shining, romantic and feminine aroma by Mathilde M.. The fresh and sparkling notes of citruses reveal a lighting and solar bouquet of orange blossom and jasmine,...
Bouquet with shape of Wine Decanter Rosso Nobile by Dr. Vranjes. Content 750 mlPerfumeRosso Nobile. Initial orange notes enhance in the floral part formed by the absolute of violet and flowers of magnolia, accords of...
Customers who bought this product also bought: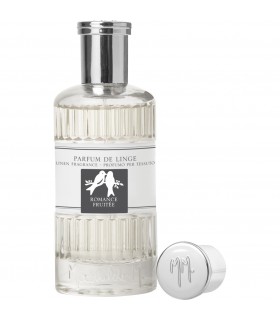 Textile Perfume by Mathilde M. with 'Romance Fruitée ', a springy fragrance harmoniously combines gourmet fruits and flowers just hatched. Content 75 ml Perfume Top Notes: Cassis Bergamot, Pear, Blackcurrant Heart...
Refill Bouquets by the italian firm  Dr. Vranjes. Content 500 mlPerfumeAmber. Rich and intoxicating fragrance with elegant oriental overtones. The Amber and Iris Flower merge with Cistus, Patchouli, Labdanum,...
Sticks Scented Bouquet Lampe Berger with Vent d'Océan fragance. Their rods are composed of a special and unique polymer that enables uniform and lasting fragrance diffusion. Content 125 ml Perfume fresh woody and herbal.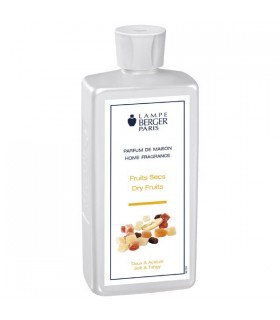 The perfume of Lampe Berger 'Fruits Secs' is a true bright and fruity paradise that mixes all the fruits of Africa. Fruity gourmand perfume, opens on bright notes and vitamins of mandarin, apple and pear. Its heart...
Perfume for catalytic lamp Lampe berger in the collection of Middle East dream. Fragrance sophisticated and opulent, intoxicating, feel the hectic Carnival of Venice with this dizzying composition, a great femininity,...