Amphora Noire Set Maison Berger
The Lampe Berger Amphora Noire box designed by Armand Delsol is adorned with its most beautiful acid color in lacquered glass. Its shape, simple and delicate, invites the sweetness of life. The metallic silver frame adds a dazzling touch and a certain prestige to the ensemble. Contents 180 ml
8 other products in the same category:
The Cercle Prune Aroma Set by Maison Berger was made breaking the codes of geometry by designer Rozenn Mainguené. Its smooth appearance gradually fades, revealing a set of sinuous curves. Contains 180 ml
Maison Berger pack that includes a 180 ml refill with the classic catalytic lamp that is renewed with a new original cubic shape with rounded edges that combines modernity and softness. The Lampe Berger Glaçon Gray...
Promotional Pack of Lampe Berger, pure air, which includes catalytic lamp of transparent Crystal, cubic design and neutral perfume. With this decorative air freshener, it will purify the air in your home and you can...
 Lampe Berguer burner replacement. Lenght 47 cm
The Lampe Berger Amphora Framboise box designed by Armand Delsol is adorned with its most beautiful acid color in lacquered glass. Its shape, simple and delicate, invites the sweetness of life. The metallic silver...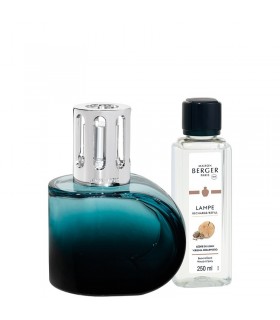 Maison Berger pack that includes a 180 ml refill with the lamp Signed by Armand Delsol, the Lampe Berger Alliance Verte box with its curved design marks an Art Deco trend which echoes the codes of modern architecture.
The case that Lampe Berger has created to commemorate the 20th anniversary of 'Mon Premier Parfum' by Lolita Lempicka is a tribute to a woman who stars in stories of seduction, eternal youth and absolute femininity in...