Rouge Cassis Reed Diffuser 250 ml Esteban
Bouquet by Esteban Paris with aroma Rouge Cassis. Contents 250 ml
On the sunny slopes of Burgundy, black currant ripens, a bright berry with a dark skin. Like its neighbor, the famous grape of this region, where the red fruit is magnified like a pearl in all its roundness with a fine and subtle light where the red, warm and powerful colors are mixed.
Fruity perfume with an acid and matte note enhanced by a woody amber accord, a distinctive sign of Estegan's elegance.
Fruity Perfume
Top Notes: Black Currant Leaf, Pink Berries
Heart Notes: Blackcurrant, Pomegranate, Artemisia
Base Notes: Patchouli, Tonka Bean, Amber
Esteban diffusers recreate the elegance and seduction of fragrant bouquets of flowers. A new way to have a fragrant home with a decorative object that lasts several weeks and can be refilled many times as desired.

The set consists of the decorative container, vegetable sticks and 20 250 ml bottle. perfumed scent Legendes dOrient solution.

Once all the solution you can use parts of solution, in 250 ml. and spare parts vejetales rods. Also you can choose this flavor or choose any of the wide variety of Esteban.

Spicy and oriental fragrance Top notes: mandarin, clove, heart notes of jasmine, gardenia, patchouli base notes: sandalwood, amber, musk, tonka.
16 other products in the same category:
Mikado in decorative glass jar with ceramic lid and shaped rods triptych, Esteban French firm,  that awakens the magic that lies dormant in each of us impregnating the atmosphere with a golden scent of spices. Scented...
Buquet  by Lorenzo Villoresi with Teint de Neige Aroma. Contains 200 ml Fragrance Teint de Neige evokes the delicate tonality of powder, bringing us memories of the delicacy of the aroma, the softness of talc,...
Bouquet Decor from the firm Culti Milano. Content 500 ml. IMAGINE A sunny day in the countryside, marked by the reassuring aroma of the citrus peel. Its aroma extends and remains suspended between a pleasant...
Rod Air Freshener by Dr. Vranjes. Content 500 ml. Includes 8 vegetable sticks. Mirra Zafferano (Myrrh and Saffron) created by Paolo Vranjes, takes us to the East and the Mediterranean with the most precious...
Minimalist bouquet with smoked glass, bouquet of the French firm Esteban is captivating and produces a mysterious halo sensuous filling your home with memories of trips to Africa. Teck and Tonka recreates one of the...
Bouquet by Locherber Milano with aroma Dokki Cotton. Contents 1000 ml Elegant, delicate, pure, light, drunken, eternal; In the hot and dry Sahara desert, the great and magical Nile creates a river oasis where the...
Bouquet from the firm Culti Milano. Content 500 ml. IMAGINE The cozy atmosphere of a mountain chalet, the wood heated by the fireplace that exudes its delicate aroma, slightly balsamic, almost oriental....
Boquet by the italian firm  Dr. Vranjes. Content 2500 ml The sensual notes of Milano, where patchouli is enlivened with the lively notes of pepper and sandalwood combining with the sparkling notes of cedar wood;...
Bouquet by Esteban Paris. Contents 250 ml Iris Cachemire is an elegant and unexpected marriage, where vegetal notes flirt with a majestic and delicate powdery iris. Where its heart shows all the nobility of an iris...
Sticks air freshener firm Dr. Vranjes. Content 1250 ml. It Includes 8 vegetable sticks. Perfume Grenade. Black Grape and Watermelon are the amazing ingredients used to recreate the characteristic scent of the pressed...
Bouquet by Locherber Milano with aroma Venetiae. Contents 500 ml The fragrance is inspired by Venice and its famous "Briccole". The "Briccole" are oak wooden posts (sometimes larch) that delimit the navigable areas...
Bouquet with shape of Wine Decanter Rosso Nobile by Dr. Vranjes. Content 750 mlPerfumeRosso Nobile. Initial orange notes enhance in the floral part formed by the absolute of violet and flowers of magnolia, accords of...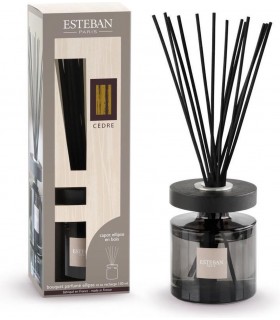 Bouquet minimalist with smoked glass, Cedre (Cedar) fragrance gives the expected warmth both sophisticated and more traditional houses. Content 150 mlFresh woody fragrance.
Bouquet by Mathilde M. Content 30 ml Rose Élixir pays tribute to the queen of flowers, a symbol of love and romanticism since ancient times. Discover this voluptuous and bewitching fragrance, like a powerful love...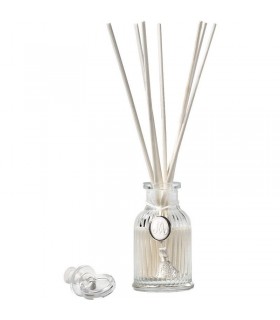 Bouquet by Mathilde M. Content 90 ml Boquet Précieux represents a beautiful scene of white flowers. Where the union of sublime jasmine and silky tuberose, wrapped in sweet notes of sandalwood and vanilla. A walk...
Bouquet Decor from the firm Culti Milano. Content 250 ml. IMAGINE A walk among the blooming stems of a cotton field, caressing the soft flakes. Touch the light texture of the precious silks and natural linens in...
Customers who bought this product also bought:
Air fresheners scented solution of the French firm Esteban help to prolong the life of your mikados and ceramic diffusers, scented, being able to choose between the initial aroma of the product, or any other variety...
Refill Scented Bouquet by the Italian firm Dr. Vranjes. Content 500 ml The fleshy notes of Peony intertwine with the intense aroma of Black Jasmine, creating a fresh, bright and incredibly refined accord. Peonia...
Replacement plant rods for Mathilde M. mikados 25 cm
Recharge for Bouquets (Reed Diffuser) of the French firm Esteban Parfums, with fragrance 'Iris Cachemire'. Content  500 ml Iris Cachemire is an elegant and unexpected marriage, where vegetal notes flirt with a...
Replacement Scented Bouquet vegetable sticks 22 cm by Esteban Parfums