Teint de Neige Lorenzo Villoresi Eau de Parfum 50 ml
With 'Teint de Neige' meaning 'Snow Colour', Lorenzo Villoresi in its creation evokes the delicate hue of the powdered fragance, bringing memories of the delicacy of aroma, softness talc, despite their apparent subtlety great personality, with an intense and persistent fragrance. Content 100 ml
Head Notes: Jasmine, Rose, Ylang Ylang.

Heart Notes: tonka bean, Jasmin, pink, sweet, dust

Background Notes: heliotrope, musk, rose, jasmine, sweet, powdered and floral notes
Calculated from
4
reviews
I love this scent! Soft and distinct. Subtle hints of Rose and Talcum and very long lasting. Never overbearing! Men and women will stop me in an elevator, waiting in line, taxi cab drivers... inhaling deeply, wanting to know what it is, loving it also. At night I add just a hint of musk to deepen and intensify for the evening.
The fragrance is fresh powdery and delightful. I use it in summer and fall.
Lorenzo Villoresi Teint de Neige Eau de Parfum is a comforting and hypnotis fragrance. I love it!
16 other products in the same category:
This fragrance Lorenzo Villoresi, Yerbamate, is inspired by the freedom and nature that provides fresh grass, hay cut rencién, and countless plants and flowers of the fields, enhanced by air and sun. Content 100 ml
Latin Lover by Carner Barcelona is a Floral fragrance for men and women. Latin Lover was launched in 2017. The nose behind this fragrance is Jórdi Fernandez. Like a tempting and provocative love, fragrance with...
Voyance by Baruti is a Woody Aromatic fragrance for men and women. The result of two merged projects: an ultra-masculine woody musk fragrance built around guaiac wood and an ultra-feminine tuberose fragrance, their...
Under My Skin by Francesca Bianchi, is an amber and woody perfume for men and women, soft and carnal perfume being Francesca's interpretation of the animalic theme, softened by the precious iris butter, this emotional...
Sea, Sand and Breeze Sel Marine by James Heeley is a men's and women's perfume that recalls a sea breeze, where its penetrating note of lemon gives way to a note of vetiver and precious woods, cedar and birch, to...
Guanabo is a fragrance for men and women designed by Miguel Matos for Renier, it belongs to the Floral and Aquatic olfactory family; which is inspired by the aroma of freshly dried skin in the sun after a bath in the...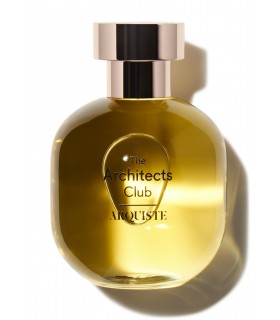 The Architects Club by Arquiste is an aromatic fragrance for men and women. The Architects Club transports you to 1930s London, inside a cozy martini and cigar bar with velvet banquettes and fine Art Deco...
Rose Musk by Montale, is a feminine fragrance, where its main notes are the rose and the moss, where the pink notes intermingle with those of jasmine and musk creating a sensual fragrance. Content 100 ml Its special...
Indian Study by Miller et Bertaux is a tribute to sandalwood, which combines the Mysore Sandalwood and the Amyris Sandalwood. These two types of sandalwood are recognized for their purifying properties, and spicy...
Nerosa is a Spicy and Woody perfume for men and women of Olfactory Laboratory. It contains 100 ml Perfume A sublime saffron opens the fragrance and immediately gives way to a powerful Rose that uses notes of...
 Citrus Noir by Molinard is an aromatic citrus perfume for men and women. In the tropics of the Philippines, there is a lemon like no other, the Kalamansi, green on the outside, yellow on the inside, offers a rich...
1828 de Histoires de Parfums, is a masculine perfume, which commemorates the birth of the French writer Jules Verne in Nantes, a perfume for sophisticated, dreamy and adventurous men like the famous French writer....
 Black Knight by Francesca Bianchi  is inspired by the renaissance captain Giovanni Dalle Bande Nere, along with his loyalty, Spartan lifestyle and moral commitment inspired this creation. He imagines the smell of a...
Cozumel by Laboratorio Olfattivo is a male fragrance of aromatic family that constantly oscillates between heat and freshness. Wild, narcissistic and masculine, it combines notes of fresh tobacco, Indian hemp and...
Bo-Bo by Carner Barcelona is a fragrance from the Citrus olfactory family for men and women. This is a new FRAGANCE. Bo-Bo was launched in 2019. Bo-Bo, an ancient folk dance - a lively and joyous custom that still...
Golestan by Andy Tauer is a perfume extract for men and women Floral Cyprus At Golestan, we invite you on a captivating olfactory journey that captures the essence of a flower-filled garden. Our Extrait de Parfum...
Customers who bought this product also bought:
Body moisturizing cream flavored with 'Teint de Neige' aroma by Lorenzo Villoresi, its composition takes its absorption, aroma  bringing memories delicate aroma, softness talc, despite its subtly exudes a strong...
'Aurea Maris' by Lorenzo Villoresi is a fragrance is a fresh, citrus and aromatic fragrance for men and women. Where the breeze gently caresses the grass, flowers and shrubs of the Mediterranean and the golden...
Boquet by the italian firm  Dr. Vranjes. Content 2500 mlPerfume Rosso Nobile. Initial orange notes enhance in the floral part formed by the absolute of violet and flowers of magnolia, accords of plum complete...
Refill for bouquets from the Italian firm Culti Milano, with fragrance 'Fuoco'. Content 1 Liter. IMAGINE A dense night falls on the rows of citrus and lemon trees after a day of fire, among the hypnotic sound of the...
Cardinal by James Heeley is a timeless fragrance for Men and Women of the Oriental olfactory family, which is based on the traditional notes of incense and laudanum, in turn, brings us an air of lightness thanks to...