Teint de Neige Lorenzo Villoresi Eau de Toilette 50 ml
With 'Teint de Neige' meaning 'Snow Colour', Lorenzo Villoresi in its creation evokes the delicate hue of the powdered fragance, bringing memories of the delicacy of aroma, softness talc, despite their apparent subtlety great personality, with an intense and persistent fragrance. Content 50 ml
Head Notes: Jasmine, Rose, Ylang Ylang.

Heart Notes: tonka bean, Jasmin, pink, sweet, dust

Background Notes: heliotrope, musk, rose, jasmine, sweet, powdered and floral notes
Calculated from
4
reviews
Absolutely my favorite scent!
Got my first bottle at villorisi's shop in Florence. So happy to have it again. Every time I wear it, I get compliments on the fragrance! Long wearing and you only need a few spritzed and it lasts for days! ***
16 other products in the same category:
Eau D'Hadrien is an emblematic parfum of Goutal. Burning sun and the blinding light of Tuscany add to the charm of the cypress-lined terraces. The hottest hour of the day is the best time to sink into the soft shade...
Coco Vanille de Mancera is a perfume for women where sensuality reaches its peak with this magical composition, this union of sweetness and innocence but at the same time so dangerous and seductive. Addiction never...
Rose Pompon is a Floral and Fruity feminine eau de toilette. Contains 100 ml The Rue des Rosiers awakens to the rhythm of the people who walk through its streets, and where a vibrant and bright atmosphere emanates...
Eleganza Luminosa by Linari, is a Citrus and Floral perfume for men and women. The seductive freshness of sun-ripened bergamot, luscious lemon and sparkling orange contrasts alluringly with the lavish fluidity of...
Instant Crush by Mancera is a perfume for men and women where the magical combination of jasmine, rose and amber provides a mixture of sensuality and romanticism. Instant Crush is a wave of elegance that combines...
Black Aoud by Montale, is a masculine woody and floral fragrance, designed by Pierre Montale. Its main notes are rose, french abdanum, musk, patchouli, mandarin and argan wood (oud). Content 100 ml Its special...
Cuir by Molinard, is an eau de parfum for men and women, infinitely sensual, that envelops us with its heart with a "second skin" effect, against an addictive background of precious woods. Content 75 ml Woody...
Stella Cadente by Linari is an Amber and Floral fragrance for women and men. The creation of this fragrance was inspired by the combination of different opulent scents of fruits and flowers from the Marrakesh night...
'Lady Vengeance' created for the company by Francis Kurkjian, is a floral fragrance, maximum expression of the art of seduction through its sophistication and femininity, where Bulgarian Rose joins the Patchouli and...
Herbal Aquatica by Montale is a perfume for men and women from the Herbal and Woody Olfactory family, fresh and sweet, surprisingly sensual. Where the Lotus Flower, Papyrus and Salvia evoke a trip to the banks of the...
Bruma by Maison Trudon is a floral and powdery perfume for men and women that contains a distinguished, almost animal sensuality. At night, a rider draws inner strength from the elements that surround her: her horse...
Acqua Santa by Linari is a floral and aromatic perfume for men and women, clean and innocent like crystal holy water, cheerful and fruity notes of bergamot and Sicilian cassis with irresistibly warm and spicy accords...
Petite Chérie de Goutal, is a fruity feminine fragrance, where the notes of the pear tree together with the blooming rose bush take us to a wonderful garden. Content 100 ml Fruity perfume Head Note: Peach, Cut...
This is not a blue bottle 1 / .3 is a masculine and feminine perfume where leather and oriental notes predominate, represented by a ring of fire, which represents the dawn of a new energy. An orange and reddish sun...
Revolution is a perfume created by Maison Trudon for men and women that permeates the skin and concentrates on human emotions throughout the day. It melts, leaving an air of mystery and intrigue around the body....
Nerosa is a Spicy and Woody perfume for men and women of Olfactory Laboratory. It contains 100 ml Perfume A sublime saffron opens the fragrance and immediately gives way to a powerful Rose that uses notes of...
Customers who bought this product also bought:
A moisturizing and nourishing oil, ideal after a bath or shower. It absorbs quickly and leaves the skin soft and perfumed with Teint de Neige. Content 250 ml Gently massage into clean skin until absorbed....
Teint de neige, "the colour of snow", the delicate rosy hue of a powdered face. The unmistakable scent of perfumed powders, the fragrance of face powder, the perfume of talc, a soft, gentle, enveloping.An aroma...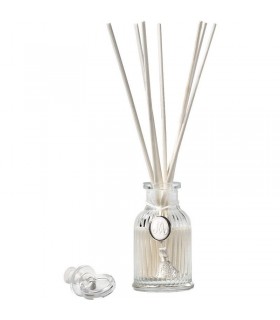 Bouquet by Mathilde M. Content 90 ml Boquet Précieux represents a beautiful scene of white flowers. Where the union of sublime jasmine and silky tuberose, wrapped in sweet notes of sandalwood and vanilla. A walk...
The wake of a fragrance that melts with the hair, for a night of sleep. Composition specially prepared to perfume your hair created by Lorenzo Villoresi. Content 50 ml With 'Teint de Neige' meaning 'Snow Colour',...
Aroma Poudre Riz. Powdery Perfume Scented Solution 90 ml