Idole Eau de Parfum 100 ml Lubin
The new version of Idole Lubin, is a remake of a classic seventies created and then redesigned in 2011 by perfumer Olivia Giacobetti. Perfume woody and balsamic. The inspiration for the Idole line are adventures and travels, discovering new and exotic countries, fearlessness and desire for excitement, with a perfume of Content 100 ml
Fragrance
Head Notes: all of rum, saffron, bitter orange fur and black cumin.
Heart Notes: wood dum, smoked ebony and sugarcane.
Base Notes: leather and sandalwood.
Calculated from
3
reviews
Smells like whisky and coca cola and some exotic spices. But the coca cola is the dominant smell you get. Certainly very good quality. Would be good for clubbing, beach etc. Very wearable with medium longevity and village.
This is one of my favorite perfumes of all time. Scent is very distinguished and original, and although it is listed as unisex it is not one of the scents that isn't suited really well to any gender. As all truly great unisex perfumes it smells masculine on men, but softer on women. It also performs very well. It easily lasts 8 hours on my skin with decent sillage and projection, and after that 4-5 hours more as a skin scent. It is best suited for Autumn and Winter, and is more of a night perfume. But it is also could be used in daytime of colder months, or in Spring or even Summer as night perfume.
16 other products in the same category:
Lorenzo Villoresi with this fragrance brings back memories of the East and the Arabic markets across the Mediterranean, with a touch of pepper and African spices, getting a fresh, aromatic and spicy aroma. Content 100 ml
Coccobello by James Heeley is a perfume that contains within its bottle the true paradise an essence that takes us to a tropical island where the leaves of palm trees are bathed in the morning dew and kissed by the...
Elae by Maison Trudon is a feminine floral perfume that constitutes a true luminous offering of a bouquet of white petals with woody notes full of warmth and tenderness. Through her Latin name, with the protective...
Petite Chérie de Goutal, is a fruity feminine fragrance, where the notes of the pear tree together with the blooming rose bush take us to a wonderful garden. Content 100 ml Fruity perfume Head Notes: Peach, Cut...
Grisette, pink complexion, innocent look, runs and rushes towards her fickle suitor. However, she dreams of the Other, and dreams, tender look, with the romance that begins. A promise more certain than previous oaths:...
Beyond the evocation, this perfume unisex, shows the magnificence of the Grand Champagne, 'Terre de Sarment' also brings us to remember the scent of resins his vines in the morning dew. Inspired by the landscape of...
Diamond Flowers is a feminine perfume by Montale in a Special Edition, which combines the sensuality of Iris, the softness of Vanilla and the enchanting notes of Rose and Jasmine. On the base note, sultry Amber,...
'from our trips, with love' Eau de Parfum spiced and intense for men and women, 'A Quiet Morning' takes us to India, a country venerated by its creators, and with its aromas of turmeric, saffron, cedar, palm and...
The fragrance 'Musk' by Lorenzo Villoresi, is a sensual and captivating, with its enveloping notes of musk and bottom notes of rose, sandalwood, cedar and exotic woods. Content 100 ml.
Acqua di Colonia de Lorenzo Villoresi is reminiscent of a classic good taste, with its formulation with natural essential oils of bergamot, lemon, sage and rosemary. An active smell, with a positive and refreshing...
Thé Basilic by Molinard is a perfume for men and women inspired by the heart of Sri Lanka, where the tea hills are lost as far as the eye can see, green and bright that meet the most symbolic of the aromatic plants of...
Rosa Elixir by Montale, is a feminine and refined fragrance that combines notes of rose with citrus, strawberries, jasmine, orange blossom and amber, musk and vanilla. Content 100 ml Its special design, with an...
The master perfumer Jean-Claude Ellena, inspired by his love for Italy, created the Parfum Bergamotto for men and women within the "Viaggio in Italia" collection which its own author describes as follows: "Although...
Feminine perfume where citrus and velvety fruits intermingle with the elegance of the Rose and the Gourmand femininity of the Violet Incense makes way for Amber and White Moss in a fascinating and wild dance....
Bruma by Maison Trudon is a floral and powdery perfume for men and women that contains a distinguished, almost animal sensuality. At night, a rider draws inner strength from the elements that surround her: her horse...
With 'Teint de Neige' meaning 'Snow Colour', Lorenzo Villoresi in its creation evokes the delicate hue of the powdered fragance, bringing memories of the delicacy of aroma, softness talc, despite their apparent...
Customers who bought this product also bought:
Lorenzo Villoresi with this fragrance brings back memories of the East and the Arabic markets across the Mediterranean, with a touch of pepper and African spices, getting a fresh, aromatic and spicy aroma. Content 100 ml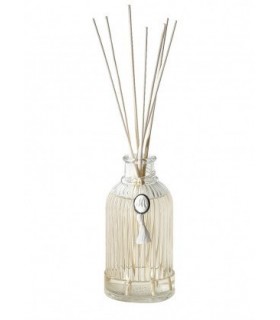 Bouquet by Mathilde M. with perfume Marquise, a warm and floral aroma, with a touch of sensuality fill your home with vanilla notes. Content 200 ml
Spray Room by Mahtilde M. Content 100 ml Rose Elixir pays tribute to the queen of flowers, a symbol of love and romanticism since ancient times. Discover this voluptuous and bewitching fragrance, like a powerful...
Refill Bouquets by the italian firm  Dr. Vranjes. Content 500 ml ln the city of art, Florence, we 'Giardini di Boboli' where Vranjes inspires its fragrance, which recalls the time where princes and nobles walked in...
This perfume for women and men, with its main notes of Leather and Oriental, where the mystical flower of rituals and magic! Tuberéuse (Nard) always provokes! More than a poison, its nectar of honey is a true...