1899 Eau de Parfum 120 ml Histoires de Parfums
1899 Hemingway by Histoires de Parfums is an oriental and woody fragrance for women and men. 1899 Hemingway was released in 2013. The nose behind this fragrance is Gerald Ghislain. Content 120 ml

Perfume
Top notes are bergamot, juniper and black pepper.
Middle notes are orange blossom, iris and cinnamon.
Bottom notes are vanilla, vetiver and amber.
16 other products in the same category:
Thé Basilic by Molinard is a perfume for men and women inspired by the heart of Sri Lanka, where the tea hills are lost as far as the eye can see, green and bright that meet the most symbolic of the aromatic plants of...
Jardin Exclusif de Mancera, is a perfume for men and women like a captivating nectar of citrus and velvety fruits united by the alliance of a floral and gourdmand accord. An addictive and captivating fragrance....
7753 by Histoires de Parfums is a feminine perfume from the amber floral family.7753 represents the dimensions of the Mona Lisa painting because this perfume is not the perfume of an image, nor the mere perfume of a...
Sea, Sand and Breeze Sel Marine by James Heeley is a men's and women's perfume that recalls a sea breeze, where its penetrating note of lemon gives way to a note of vetiver and precious woods, cedar and birch, to...
Alguien nº2 (Someone nº 2), is a reissue of a Concentrated Eau de Cologne, where new components are added which revitalize and give a new air to this formulation. Limited and Numbered Edition of 400 units Green...
La Habana perfume by 19-69 in an Amber perfume for men and women, which illuminates the golden age of Cuban music, between the 30s and 50s. An aromatic, smoky and seductive fragrance. The composition includes Saffron,...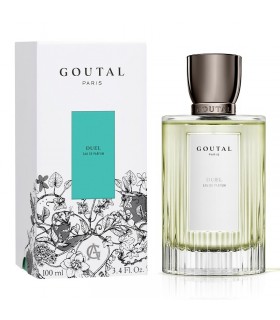 Duel a male Eau de Parfum where a noble plot exists between strength and sweetness, between wisdom and audacity. A duel at dawn. Woody Aromatic Perfume Head Notes: Bitter Orange, Petitgrain Heart Notes: Mate,...
1899 Hemingway by Histoires de Parfums is an oriental and woody fragrance for women and men. 1899 Hemingway was released in 2013. The nose behind this fragrance is Gerald Ghislain. Content 60 ml Perfume Top notes...
El Born by Carner Barcelona is a fragrance from the Amber and Floral olfactory family for men and women. El Born was launched in 2014. The cobbled and winding streets flow seamlessly over the old medieval stones,...
The master perfumer Jean-Claude Ellena, inspired by his love for Italy, created the Parfum Bergamotto for men and women within the "Viaggio in Italia" collection which its own author describes as follows: "Although...
'Melody of the Sun' is a perfume for men and women by Mancera, where a radiant cocktail leaves us with a sunny and vital memory like a smile, with a unique fragrance with a solar accord. Citrus, Aromatic and Fruity...
Rima XI by Carner Barcelona is a fragrance from the Spicy and Floral olfactory family for men and women. Mysterious and sensual, captivating and unforgettable, with a power of destruction hidden beneath her...
Shades of Leather by Linari is a Leather fragrance for women and men. Shades of Leather pushes the boundaries, creating a fragrant game of delicious contrasts where intimacy embraces the unknown. Two precious...
Latin Lover by Carner Barcelona is a Floral fragrance for men and women. Latin Lover was launched in 2017. The nose behind this fragrance is Jórdi Fernandez. Like a tempting and provocative love, fragrance with...
Black Jade, is a rich and seductive perfume, which is a tribute to the secret garden where flower essences are protagonists and intermingle with the warmth and charm of spicy notes of cardamom, cinnamon incense....
Chinese Tobacco by 19-69 brings back memories of French colonial Indochina and legendary films like Indochine and Apocalypse Now. Reflections on the different contrasts of Asia. East meets West, old meets new. The...