This is not a blue bottle 1/.1 60 ml Histoires de Parfums
This is not a blue bottle 1 / .1 is an innovative unisex perfume from Histoires de Parfums, where its packaging draws our attention thanks to its uniformity and its electric blue color. A perfume created from the attraction of the aldehydes and the hypnotic and fanciful call of the bitter orange, opening towards a mysterious halo of patchouli. 'A pefume of Abstraction'
Oriental Perfume
Head Notes: Aldehyde, Orange
Heart notes: Metallic Geranium, Honey
Base notes: amber, musk, patchouli
16 other products in the same category:
Habanita is a feminine perfume from Molinard, which revolutionized the perfumery industry in 1921, both in the design of the bottle, made by René Lalique, and its perfume, becoming the first oriental fragrance in...
'Study # 17` by Miller et Bertaux is a perfume for men and women characterized by its simplicity, Study # 17 is also the title of a poem by its creators, Miller et Bertaux, of their words, feelings and images that...
Starry Nights by Montale is a perfume for men and women that perfectly reproduces the memory of enjoying a relaxed evening outdoors with our friends under the starry night coat, the citrus aromas of Calabria Bergamot...
Ambre Fétiche is an Eau de Parfum for men and women that belongs to the Oriental olfactory family. Contains 100 ml In his small shop, full of spices from around the world, a merchant presents his treasures. Among...
Intense Tiaré by Montale, is an oriental and floral floral fragrance for men and women, designed by Pierre Montale. Its main notes are the flower tiare, coconut, rose, jasmine, ylang-ylang and vanilla. Content 100 ml...
Rose Pompon is a Floral and Fruity feminine eau de toilette. Contains 100 ml The Rue des Rosiers awakens to the rhythm of the people who walk through its streets, and where a vibrant and bright atmosphere emanates...
Alambar by Laboratorio Olfattivo is a perfume for men and women, it is Enrico Buccela's homage to an icon and his amber-scented world: amber, amber, wire, ambra, ambrum, ambarum, Alambar. A fragrance that works its...
With 'Teint de Neige' meaning 'Snow Colour', Lorenzo Villoresi in its creation evokes the delicate hue of the powdered fragance, bringing memories of the delicacy of aroma, softness talc, despite their apparent...
Cardinal by James Heeley is a timeless fragrance for Men and Women of the Oriental olfactory family, which is based on the traditional notes of incense and laudanum, in turn, brings us an air of lightness thanks to...
Sacreste is a Balsamic and Woody perfume for men and women of Laboratorio Olfattivo. It contains 100 ml Perfume Complex and rich formula, created to give voice to two very precious incense notes that are...
Songes de Goutal Paris is a feminine Eau de Toilette that belongs to the Oriental and Floral olfactory family. Contains 100 ml A night walk on the beaches Mauritius Mauritius, is an invitation to dreams. The sun...
Aoud Jasmine by Montale is an Oriental Floral fragrance for women and men. This is a new fragance. Aoud Jasmine was launched in 2016. Contents 100 ml. Perfume Top notes: Mandarin, Pear and Apple; Heart Notes:...
Eau D'Hadrien is an emblematic parfum of Goutal. Burning sun and the blinding light of Tuscany add to the charm of the cypress-lined terraces. The hottest hour of the day is the best time to sink into the soft shade...
Mortel by  Maison Trudon, is a perfume for men and women where the skin is heated in contact with each other, placing sensuality at the heart of Mortel; Also, frankincense, myrrh, and benzoin reveal the erotic spell...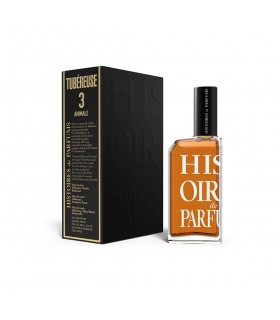 This perfume for women and men, with its main notes of Leather and Oriental, where the mystical flower of rituals and magic! Tuberéuse (Nard) always provokes! More than a poison, its nectar of honey is a true...
Black Jade, is a rich and seductive perfume, which is a tribute to the secret garden where flower essences are protagonists and intermingle with the warmth and charm of spicy notes of cardamom, cinnamon incense....