La Fumée 100 ml Miller Harris Eau de Parfum
La Fummé is an unisex perfume by Miller Harris, which pays homage to the ancient rites of perfumery through smoke. Where the dry and sensual woods in a mystical arrangement surrounded by the aura of incense creates a unique fragrance. Contains 100 ml
 
Woody Oriental Perfume
 
Top notes: Lavender, Elemí, Incense
Heart notes: Absolute of jara, Cardamom, Cumin, Geranium, Chamomile from Morocco
Background Notes: Moroccan Cedarwood, Sandalwood, Birch Tar, Patchouli
16 other products in the same category:
Tenue the Soiree (evening dress) is a feminine creation by Goutal Paris that evokes feminine elegance and opulence. The hour was near. She added the finishing touches, slipping on a bakelite necklace and stealing her...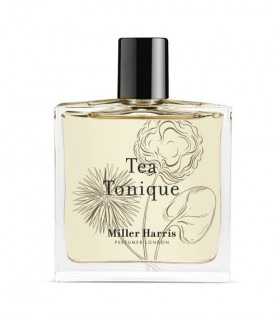 Tea Tonique by Miller Harris is a fragrance for men and women that inspires us from the start. It is a magnificent combination of different types of tea from the refreshing sensation that we experience when drinking...
Esprit du Tigre by Heeley is a fragrance for men and women that transports us on innumerable trips to the Far East and fills us with a renewed reassuring energy through its notes that evoke the ancient Chinese balm of...
"close your eyes, and..." A Eau de Perfum by Miller et Bertaux, for men and women, converted into an olfactory experience, a magical work that poses its notes on the skin like a veil, where the aromas of the vibrant...
Oudmazing by Montale, is a perfume for men and women woody, floral and moss. Content 100 ml The incredible power of Oud of Malaysia combined with the intensity of bergamot and Sicilian orange, in addition to the...
#3 green, green, green and… green #3 by Miller et Bertaux is a fresh green fragrance for men and women, a fragrance for body and soul in search of balance between being and looking. Contains 100 mlGreen PerfumeHead...
This is not a blue bottle 1 / .3 is a masculine and feminine perfume where leather and oriental notes predominate, represented by a ring of fire, which represents the dawn of a new energy. An orange and reddish sun...
'Not a Perfume' is a perfume out of all conventions of perfumery, created based on a molecule created in the 50s, the Ambrox, substitute in modern perfumery of Grey Amber its naturalness getting confused with the...
Eau D'Hadrien is an emblematic parfum of Goutal. Burning sun and the blinding light of Tuscany add to the charm of the cypress-lined terraces. The hottest hour of the day is the best time to sink into the soft shade...
1899 Hemingway by Histoires de Parfums is an oriental and woody fragrance for women and men. 1899 Hemingway was released in 2013. The nose behind this fragrance is Gerald Ghislain. Content 120 ml Perfume Top notes...
Habanita is a feminine perfume from Molinard, which revolutionized the perfumery industry in 1921, both in the design of the bottle, made by René Lalique, and its perfume, becoming the first oriental fragrance in...
Ambre 114 by Histoires de Parfums is a perfume for men and women Oriental and Spicy, which was created by Gerald Ghislan and Magli Senequier. This mythical raw material has been improved with the composition 114. A...
The new version of Idole Lubin, is a remake of a classic seventies created and then redesigned in 2011 by perfumer Olivia Giacobetti. Perfume woody and balsamic. The inspiration for the Idole line are adventures and...
Oranges & Lemons Say The Bells of St. Clement's by James Heeley, is traditional cologne that has been converted into a chic, contemporary, light and fresh English perfume water inspired by the poem "Oranges and...
Kamasurabhi by Lorenzo Villoresi is a oriental and floral fragrance family for Men and Women. Delicate and light colored flowers from India, laden with its own seductive and mysterious fragrance of endless forests of...
Ambré Lumière de Molinard is a perfume for men and women that serves as a true source of inspiration for those authors of the most refined novels, remembering those beautiful fantasy myths in which the protagonists...
Customers who bought this product also bought:
Scented Candle Esteban Parfums. Weight 170 gr 'Bois Copaiba' takes us inside a forest of woody aromas that combine perfectly with the coffee and cocoa beans together with the Vetiver to create an atmosphere that...