Citron Citron 100 ml Miller Harris Eau de Parfum
Citron Citron by Miller Harris is a perfume for men and women that is directly inspired by Mediterranean citrus fruits and combines them with the clarity of its wood and herbs background. A sensation comparable to mixing a Spanish orange cocktail, lime from Jamaica and Sicilian lemon with a refreshing mint flavor.
Citrus perfume
Head Notes: Lemon from Sicily, orange from Seville, Lime from Jamaica.
Heart Notes: Mint Leaves, Egyptian Basil, French Improvement, French Thyme
Background Notes: Green Moss, Moroccan Cedar Wood, Cardamom of Guatemala
16 other products in the same category:
Feuilles de Tabac is an unisex perfume designed by Lyn Harris in the year 2000, it is a perfume with a lot of personality, like the leaves that wrap a fine cigar and a golden bag of tobacco with honey. Feuilles de...
This is not a blue bottle 1 / .1 is an innovative unisex perfume from Histoires de Parfums, where its packaging draws our attention thanks to its uniformity and its electric blue color. A perfume created from the...
Petite Chérie de Goutal, is a fruity feminine fragrance, where the notes of the pear tree together with the blooming rose bush take us to a wonderful garden. Content 100 ml Fruity perfume Head Notes: Peach, Cut...
Gentlewoman Eau de Parfum is a feminine fragrance with top notes of Essence of Neroli, orange blossom and a woody and musky base, which is interspersed with almond essence to involve us with subtlety and elegance....
Chocolate Greedy de Montale, is a oriental vanilla fragrance, for men and women, designed by Pierre Montale. Its main notes are coffee, cocoa, tonka bean, bitter orange, vanilla and nuts. Content 100 ml Its special...
The unisex fragrance 'Alamut' Lorenzo Villoresi, takes us to the warm and sensual atmosphere of the Orient, with notes of amber, musk and precious woods. Content 100 ml
Verveine d'Eugène by James Heeley is a light and fresh fragrance for men and women elaborated on the basis of verbena of lemon and a note of bergamot, being the fresh and green note the currant that combined with a...
Another Oud perfume is a Woody fragrance family for both men and women. The top notes are bergamot and raspberry; The heart note is oud wood; The base notes are musk and ambroxan.
Epidor from Lubin is a perfume for men and women, that manages to combine perfectly the floral aroma with the unmistakable oriental tints. Its aroma is identified with the musky aromas that remind us of the fabric of...
This creation of Esteban Parfums is an explosion of fresh spices, cardamom, ginger, enhanced by a floral amber musk background. Content 50 mlHead Notes: cardamom, gingerHeart notes: clove, cyclamen, heliotropeBase...
The wake of a fragrance that melts with the hair, for a night of sleep. Composition specially prepared to perfume your hair created by Lorenzo Villoresi. Content 50 ml With 'Teint de Neige' meaning 'Snow Colour',...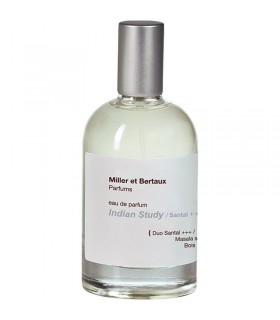 Indian Study by Miller et Bertaux is a tribute to sandalwood, which combines the Mysore Sandalwood and the Amyris Sandalwood. These two types of sandalwood are recognized for their purifying properties, and spicy...
Soleil de Capri de Montale, is a floral and fruity fragrance for men and women, designed by Pierre Montale. Top notes are grapefruit, kumquat and citrus; The middle note is white flowers; Bottom notes are musk and...
#2 Spiritus Land Perfume for men and women of Miller et Bertaux, spicy perfume full of pure notes of incense, spices, aromas of tobacco, and ginger, turning it into a very intense fragrance. Content 100 mlSpicy...
Oudmazing by Montale, is a perfume for men and women woody, floral and moss. Content 100 ml The incredible power of Oud of Malaysia combined with the intensity of bergamot and Sicilian orange, in addition to the...
The Orchid Man recalls the legendary figure of French boxer early twentieth century Georges Carpentier talented person and elegance inside and outside the boxing ring. This fragrance is characterized by elegant notes...