L'Air de Rien 100 ml Miller Harris Eau de Parfum
L'Air de Rien by Miller Harris is a perfume for women that pays homage to the icon of the song and the stage Jane Birkin. The perfumer took on the challenge of creating an aroma that she could carry out. For this he managed to evoke the unmistakable sensations of comfort combined with nostalgia in absolute privacy. Content 100 ml.
Oriental Musky Perfume
Head Notes: Tunisian Neroli
Heart notes: Neroli Tunisian
Base notes: oak moss, Indonesian patchouli, vanilla bourbon, amber, musk
16 other products in the same category:
"from our trips, with love" Shanti Shanti, perfume for oriental men and women, which takes us to India and its flower-petal launching feties, a destiny that for its creators occupies a very special place. In its...
Beyond the evocation, this perfume unisex, shows the magnificence of the Grand Champagne, 'Terre de Sarment' also brings us to remember the scent of resins his vines in the morning dew. Inspired by the landscape of...
Black Aoud by Montale, is a masculine woody and floral fragrance, designed by Pierre Montale. Its main notes are rose, french abdanum, musk, patchouli, mandarin and argan wood (oud). Content 100 ml Its special...
Esprit du Tigre by Heeley is a fragrance for men and women that transports us on innumerable trips to the Far East and fills us with a renewed reassuring energy through its notes that evoke the ancient Chinese balm of...
Dark Purple by Montale, it is a feminine fragrance, sophisticated and seductive, where the subtle mixture of plum and teak, is intermingled with the sensuality of the rose. Content 100 ml Fragrance FragranceHead...
Ambre 114 by Histoires de Parfums is a perfume for men and women Oriental and Spicy, which was created by Gerald Ghislan and Magli Senequier. This mythical raw material has been improved with the composition 114. A...
Black Jade, is a rich and seductive perfume, which is a tribute to the secret garden where flower essences are protagonists and intermingle with the warmth and charm of spicy notes of cardamom, cinnamon incense....
Cardinal by James Heeley is a timeless fragrance for Men and Women of the Oriental olfactory family, which is based on the traditional notes of incense and laudanum, in turn, brings us an air of lightness thanks to...
Acqua di Colonia de Lorenzo Villoresi is reminiscent of a classic good taste, with its formulation with natural essential oils of bergamot, lemon, sage and rosemary. An active smell, with a positive and refreshing...
The fragrance 'Iperborea' by Lorenzo Villoresi, is a light fragrance where his green and floral notes predominate. Top notes are lily of the valley, cyclamen, tangerine, orange, peach, flowers and citrus; heart notes...
Starry Nights by Montale is a perfume for men and women that perfectly reproduces the memory of enjoying a relaxed evening outdoors with our friends under the starry night coat, the citrus aromas of Calabria Bergamot...
Mukhallat by Montale is a perfume for women and men. An exclusive creation that takes us to the most hidden corner in the Far East through a perfect harmony between wild strawberries, sweet almonds, balsam of Peru and...
A gentle breath of green forests and exotic lands. A fragrance with the force and solemnity of aromatic woods. A soothing fragrance and earthy notes, with hints of citrus, cedar and rosewood. Content 100 mlTop notes:...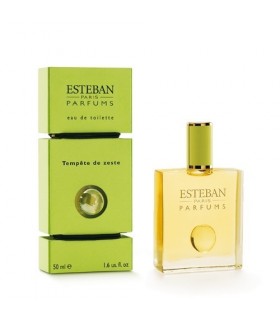 'Tempête of zeste' is an eau de toilette Esteban Parfums surprising that takes us from citrus notes intertwined with fresh basil through floral notes and a base of sandalwood. Content 50 mlHead notes: mandarin,...
1899 Hemingway by Histoires de Parfums is an oriental and woody fragrance for women and men. 1899 Hemingway was released in 2013. The nose behind this fragrance is Gerald Ghislain. Content 60 ml Perfume Top notes...