White Musk 100 ml Eau de Parfum Montale
White Musk by Montale is a perfume for women and men, elegant, balanced and subtle. The violet leaves and the Ylang-Ylang oil are the differential notes that make up an exquisite aroma of extreme quality, pure and very feminine, white musk par excellence. Content 100 ml.
Floral Musky Perfume
Head Notes: Violet Leaves
Heart notes: Ylang-Ylang
Base Notes: White Musk
16 other products in the same category:
Elae by Maison Trudon is a feminine floral perfume that constitutes a true luminous offering of a bouquet of white petals with woody notes full of warmth and tenderness. Through her Latin name, with the protective...
1828 de Histoires de Parfums, is a masculine perfume, which commemorates the birth of the French writer Jules Verne in Nantes, a perfume for sophisticated, dreamy and adventurous men like the famous French writer....
El Born by Carner Barcelona is a fragrance from the Amber and Floral olfactory family for men and women. El Born was launched in 2014. The cobbled and winding streets flow seamlessly over the old medieval stones,...
'1969 Parfum de Revolte by Histoires de Parfums' is an Oriental Gourmand fragrance for women. The nose behind this fragrance is Gerald Ghislain. Content 60 mlFragranceTop Note: peachMiddle Notes: pink, white flowers,...
Ginger & Orange Blossom Candle 3.5 kg 4 wicks of Cerería Mollá Cheerful and bright aroma where citrus notes mix with the sensual perfume of white flowers and the elegance of noble woods. Citrus and Floral Perfume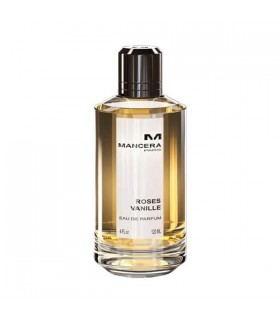 Roses Vanille de Mancera, is an extremely feminine perfume sweet enough to capture you, rich enough to sustain you and complex enough to seduce you, Roses Vanille is a must have and one of the most seductive floral...
The perfume "Speakeasy" (speak slowly), for men and women, refers to the words whispered to customers of speakeasies during the Prohibition era. Remember leather armchairs and enjoy fine Cuban cigars smugglers...
Vanhera is a Vanilla, Woody and Spicy perfume for men and women of Olfactory Laboratory. It contains 100 ml Perfume Vanhera is a splendid absolute Vanilla from Madagascar where it is surrounded by spicy notes of...
Habanita is a feminine perfume from Molinard, which revolutionized the perfumery industry in 1921, both in the design of the bottle, made by René Lalique, and its perfume, becoming the first oriental fragrance in...
Arabians by Montale, is an Oriental masculine and feminine fragrance inspired by the «King of the Desert»: The Arabian Horse. Charisma and mystery for a perfume of an elegant king. Content 100 ml   Oriental Perfume...
Salado de Carner Barcelona is a fragrance from the Aquatic Aromatic olfactory family for men and women. This is a new FRAGANCE. Salty was released in 2019. Salty, it reminds us of the sun tanning our skin after a...
The fragrance 'Uomo' Lorenzo Villoresi is an intense, fresh and elegant fragrance for men, with sandalwood touch, spices, precious woods, patchouli and vetiver. Content 100 ml.
Sea, Sand and Breeze Sel Marine by James Heeley is a men's and women's perfume that recalls a sea breeze, where its penetrating note of lemon gives way to a note of vetiver and precious woods, cedar and birch, to...
This is not a blue bottle 1 / .1 is an innovative unisex perfume from Histoires de Parfums, where its packaging draws our attention thanks to its uniformity and its electric blue color. A perfume created from the...
Ambre Fétiche is an Eau de Parfum for men and women that belongs to the Oriental olfactory family. Contains 100 ml In his small shop, full of spices from around the world, a merchant presents his treasures. Among...
Red Vetiver de Montale, is an woody masculine fragrance, slightly special that gives it its warmth, making this unique fragrance the combination with the freshness of Vetiver. Its main notes are sandalwood, red cedar,...
Customers who bought this product also bought:
Refill Bouquets by the italian firm  Dr. Vranjes. Content 500 mlPomegranate, Black Grape and Watermelon are the amazing ingredients used to recreate the characteristic scent of the pressed seeds of...
Sticks air freshener frm Dr. Vranjes. Content 250 ml. It Includes 8 vegetable sticks. Ginger Lime Fresh and spicy is how this fragrance can be defined thanks to the juicy and bright notes of Lime together with...
Intense Café by Montale, is a fragrance for men and women oriental vanilla, where the beautiful floral notes reveal a surprising heart composed by the enveloping chords of the Café. This perfect duet leaves a trail of...
Replacement Scented Bouquet vegetable sticks 22 cm by Esteban Parfums
Spray Room by the italian firm  Dr. Vranjes. Content 100 mlPerfume Rosso Nobile. Initial orange notes enhance in the floral part formed by the absolute of violet and flowers of magnolia, accords of plum complete...