Petite Chérie Goutal Eau de Toilette 100 ml
Petite Chérie de Goutal, is a fruity feminine fragrance, where the notes of the pear tree together with the blooming rose bush take us to a wonderful garden. Content 100 ml
Fruity perfume
Head Notes: Peach, Cut Grass
Heart Notes: Pear, Rosehip
Base Notes: Vanilla
16 other products in the same category:
Acqua di Colonia de Lorenzo Villoresi is reminiscent of a classic good taste, with its formulation with natural essential oils of bergamot, lemon, sage and rosemary. An active smell, with a positive and refreshing...
Velvet Vanilla by Mancera, is a perfume for women where Angelica and Jasmine intertwine with vanilla to create a velvety fragrance, an intensely vanilla feminine velvety powder. Floral and Fruity Perfume Top...
Shades of Leather by Linari is a Leather fragrance for women and men. Shades of Leather pushes the boundaries, creating a fragrant game of delicious contrasts where intimacy embraces the unknown. Two precious...
Mortel by  Maison Trudon, is a perfume for men and women where the skin is heated in contact with each other, placing sensuality at the heart of Mortel; Also, frankincense, myrrh, and benzoin reveal the erotic spell...
Herbal Aquatica by Montale is a perfume for men and women from the Herbal and Woody Olfactory family, fresh and sweet, surprisingly sensual. Where the Lotus Flower, Papyrus and Salvia evoke a trip to the banks of the...
Need_U is a musky perfume for men and women of Olfactory Laboratory. It contains 100 ml Perfume I need you, Need_U. Some simple words to describe an extreme and strong need. In this case, the need for perfume...
#2 Spiritus Land Perfume for men and women of Miller et Bertaux, spicy perfume full of pure notes of incense, spices, aromas of tobacco, and ginger, turning it into a very intense fragrance. Content 100 mlSpicy...
The Dark Side by Francesca Bianchi, is an Oriental perfume for men and women with an unforgettable and unmistakable character that makes it unique with multiple facets, inspired by the Moroccan city of Marrakech and...
Oud Tobacco by Montale is a perfume para hombres y mujeres from Montale. Perfume hipnótico y delicadamente suave that combines the mezcla las notas of Tonka y Tabaco. Los citrícos, el comino y el zumaque rojo nos...
This is not a blue bottle 1 / .3 is a masculine and feminine perfume where leather and oriental notes predominate, represented by a ring of fire, which represents the dawn of a new energy. An orange and reddish sun...
Rima XI by Carner Barcelona is a fragrance from the Spicy and Floral olfactory family for men and women. Mysterious and sensual, captivating and unforgettable, with a power of destruction hidden beneath her...
 Citrus Noir by Molinard is an aromatic citrus perfume for men and women. In the tropics of the Philippines, there is a lemon like no other, the Kalamansi, green on the outside, yellow on the inside, offers a rich...
Fuoco Infernale by Linari is an Amber fragrance for women and men. An equally varied and exciting composition of spicy carnation and herbaceous-earthy aspects of natural myrtle, wild marjoram, cinnamon bark...
Oranges & Lemons Say The Bells of St. Clement's by James Heeley, is traditional cologne that has been converted into a chic, contemporary, light and fresh English perfume water inspired by the poem "Oranges and...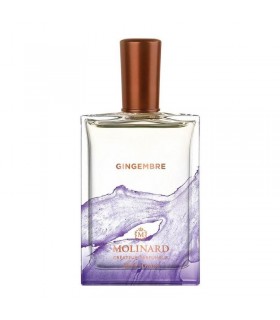 Spicy and Citrus Molinard Perfume for men and women don ginger becomes a symbol of exoticism at our fingertips, more than an invitation, ginger provokes a trip to our senses with a bewitching and invigorating richness...
1876 by Histoires de Parfums is a women's perfume from Histoires de Parfmus, which mentions the year of birth of Mata Hari, which means "the eye of the day" in Malay. A beautiful discovery for this famous spy, whose...
Customers who bought this product also bought:
The fragrance 'Iperborea' by Lorenzo Villoresi, is a light fragrance where his green and floral notes predominate. Top notes are lily of the valley, cyclamen, tangerine, orange, peach, flowers and citrus; heart notes...