Eau D'Hadrien Goutal Eau de Parfum 100 ml
Eau D'Hadrien is an emblematic parfum of Goutal. Burning sun and the blinding light of Tuscany add to the charm of the cypress-lined terraces. The hottest hour of the day is the best time to sink into the soft shade of the lemon trees and reread a few passages from Memoirs of Hadrian.
Aromatic Citric Perfume
Head Notes: Citron, Sicilian Lemon.
Heart Notes: Cypress, Orange
Base Notes: Ylang-Ylang, White Musk, Wood
16 other products in the same category:
Perfume for men and women by Heeley, inspired by the fine French porcelain, where this aroma recreates the sensation of purity of this material. With a light and bright breeze on a white background, bright and pure,...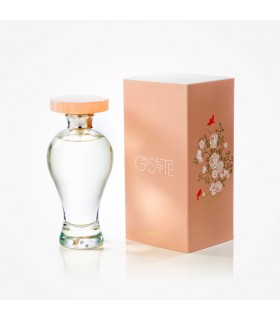 Grisette, pink complexion, innocent look, runs and rushes towards her fickle suitor. However, she dreams of the Other, and dreams, tender look, with the romance that begins. A promise more certain than previous oaths:...
Fougères Marine by Montale is a perfume for men and women, a creation by the perfumer Pierre Montale with the aim of evoking that marine scent that refreshes our senses and relaxes us like the sea breeze, and that...
Songes de Goutal Paris is a feminine Eau de Toilette that belongs to the Oriental and Floral olfactory family. Contains 100 ml A night walk on the beaches Mauritius Mauritius, is an invitation to dreams. The sun...
Aoud Vanille, is a Mancera perfume for men and women with powerful notes of wood with dry and enveloping notes of Vanilla. Amber and Vanilla Perfume Top Notes: Oud from Nepal and Spices Heart Notes: Delicate...
Latin Lover by Carner Barcelona is a Floral fragrance for men and women. Latin Lover was launched in 2017. The nose behind this fragrance is Jórdi Fernandez. Like a tempting and provocative love, fragrance with...
Cedrat Boise de Mancera is a perfume for men and women that begins with an explosion full of vitality with the notes of Cassis and Citrus Fruits and settles on a sensual heart of jasmine and patchouli on the skin....
Red Tobacco by Mancera is a warm and fascinating perfume for men and women. Red Tobacco is an incredibly powerful and sensual aroma that combines Cuban tobacco and spices. Woody and Spicy Perfume Top Notes:...
Figue by Molinard seduces and addicts us by wrapping us in an aroma that combines the green notes with the solar bath characteristic of the Mediterranean lifestyle. Optimal ingredients to allow us to enjoy the nuances...
Red Vetiver de Montale, is an woody masculine fragrance, slightly special that gives it its warmth, making this unique fragrance the combination with the freshness of Vetiver. Its main notes are sandalwood, red cedar,...
Soleil de Capri de Montale, is a floral and fruity fragrance for men and women, designed by Pierre Montale. Top notes are grapefruit, kumquat and citrus; The middle note is white flowers; Bottom notes are musk and...
"Aromatic infusion", "Aromatic tea" and "Aromatic cologne" are three correct definitions to speak of this Eau de Parfum 'mint and mint', a perfume by Miller et Bertaux for men and women that evokes a Moroccan bouquet...
The fragrance 'Uomo' Lorenzo Villoresi is an intense, fresh and elegant fragrance for men, with sandalwood touch, spices, precious woods, patchouli and vetiver. Content 100 ml.
Dark Purple by Montale, it is a feminine fragrance, sophisticated and seductive, where the subtle mixture of plum and teak, is intermingled with the sensuality of the rose. Content 100 ml Fragrance FragranceHead...
Petite Chérie de Goutal, is a fruity feminine fragrance, where the notes of the pear tree together with the blooming rose bush take us to a wonderful garden. Content 100 ml Fruity perfume Head Note: Peach, Cut...
Floral and Fresh Perfume  with notes of lemon and base ofaldehyde and musk; Gin Fizz was reissued and updated by Lubin in 2009 by famed perfumer Thomas Fontaine's. Fame perfume comes from 1955, when the firm created...