MyLO Laboratorio Olfattivo 100 ml Eau de Parfum
MyLO is a fruity and floral perfume for men and women of Laboratorio Olfattivo. It contains 100 ml
Perfume
A lovely and sunny fragrance inspired by the White Lily, one of the most beloved flowers in perfumery. A white lily heart, surrounded by fruity, floral and soft notes, draws a smile on the face of those who use this fragrance. A warm base, rich in persuasive notes, strengthens the floral notes and leaves its trace on the skin.
An addictive fragrance, My Olfactory Laboratory, My LO, MyLO.
Floral and Fruity Perfume
Top Notes: Bergamot, Lemon, Yellow Tangerine, Pink Pepper
Heart Notes: White Lily, Jasmine, Iris, Rose
Base Notes: Benzoin, Vanilla, White Amber, Musk
16 other products in the same category:
Kamasurabhi by Lorenzo Villoresi is a oriental and floral fragrance family for Men and Women. Delicate and light colored flowers from India, laden with its own seductive and mysterious fragrance of endless forests of...
Ambre 114 by Histoires de Parfums is a perfume for men and women Oriental and Spicy, which was created by Gerald Ghislan and Magli Senequier. This mythical raw material has been improved with the composition 114. A...
Edgar Allan Poe invaded by melancholy and sadness, and his rebellion to those losses, throughout his work, does not invite to say: 'Nevermore' From the ink of his poem 'Nevermore' written with the feather of a crow...
Lorenzo Villoresi with this fragrance brings back memories of the East and the Arabic markets across the Mediterranean, with a touch of pepper and African spices, getting a fresh, aromatic and spicy aroma. Content 100 ml
Nun is a Floral Citrus perfume for men and women of Laboratorio Olfattivo. It contains 100 ml   Perfume   With this word, NUN, the ancient Egyptian was referring to primordial water; this water gave birth to...
Akkad is an oriental and amber perfume, which gives us a mystical feeling while sensuous where extols the sacred oils. This creation of Lubin was launched in 2012, and was perfumer Delphine Thierry. Content 100 ml
The Eau de Parfum 'Study # 23' by Miller et Bertaux, the floral notes of flower petals, those of incense, orange, rice, saffron ... For Francis Miller and Patrick Bertaux, the fragrance is inspired by two young...
Elae by Maison Trudon is a feminine floral perfume that constitutes a true luminous offering of a bouquet of white petals with woody notes full of warmth and tenderness. Through her Latin name, with the protective...
Rose de Molinard is a tribute to the Queen of the Flowers of Grasse, it confers elegance and voluptuousness to the wearer. Sensual and voluptuous, embodying current femininity with elegant notes of joy full of...
'1969 Parfum de Revolte by Histoires de Parfums' is an Oriental Gourmand fragrance for women. The nose behind this fragrance is Gerald Ghislain. Content 60 mlFragranceTop Note: peachMiddle Notes: pink, white flowers,...
Eau D'Hadrien is an emblematic parfum of Goutal. Burning sun and the blinding light of Tuscany add to the charm of the cypress-lined terraces. The hottest hour of the day is the best time to sink into the soft shade...
Aoud Jasmine by Montale is an Oriental Floral fragrance for women and men. This is a new fragance. Aoud Jasmine was launched in 2016. Contents 100 ml. Perfume Top notes: Mandarin, Pear and Apple; Heart Notes:...
Méditerranée de Molinard is a marine and floral perfume for men and women who, regardless of the destination, the sea is never far away, a common thread to immerse themselves in the heart of the journey. Stopover in...
White Musk by Montale is a perfume for women and men, elegant, balanced and subtle. The violet leaves and the Ylang-Ylang oil are the differential notes that make up an exquisite aroma of extreme quality, pure and...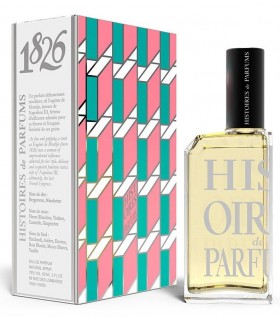 1826 by Histoires de Parfums, is a feminine perfume that commemorates the birth of Eugenia de Montijo, she was born in Granada, the jewel of Andalusia. Brilliant beauty, seductive nature, and temperamental elegance...
New Study (postcard) is a citrus fragrance for men and women, which takes us to romanticism on the shores of the Mediterranean, where resident artists spend several months writing, drawing and imagining new aromas. It...