Nerosa Laboratorio Olfattivo 100 ml Eau de Parfum
Nerosa is a Spicy and Woody perfume for men and women of Olfactory Laboratory. It contains 100 ml
Perfume
A sublime saffron opens the fragrance and immediately gives way to a powerful Rose that uses notes of Oud, Amber, Sandalwood and Leather, to reveal its sensuality and leave an intriguing trail behind it.
Fragrance rich in natural raw materials to express all its many facets.
Woody and Spicy Perfume
Head Notes: Clove, Saffron, Nutmeg, Labdano, Guaiaco
Heart Notes: Rosa, Ylang Ylang, Geranium
Base Notes: Oud, Amber, Elemi, Leather, Vetiver, Patchouli, Sandalwood, Cedar, Benzoin, Castoreum
16 other products in the same category:
Médie by Maison Trudon is a citrus perfume for men and women, which takes us back to Antiquity and the kingdom of Alexander the Great, under which the province of Médie abounded in rare citrus. An oasis of freshness,...
Dark Purple by Montale, it is a feminine fragrance, sophisticated and seductive, where the subtle mixture of plum and teak, is intermingled with the sensuality of the rose. Content 100 ml Fragrance FragranceHead...
#3 green, green, green and… green #3 by Miller et Bertaux is a fresh green fragrance for men and women, a fragrance for body and soul in search of balance between being and looking. Contains 100 mlGreen PerfumeHead...
The Eau de Parfum 'Study # 23' by Miller et Bertaux, the floral notes of flower petals, those of incense, orange, rice, saffron ... For Francis Miller and Patrick Bertaux, the fragrance is inspired by two young...
The first 1000 pieces are part of a Limited and Numbered edition commemorating the 25th anniversary of Lorenzo Villoresi, the exclusive fragrance of Teint de Neige in Solid Perfume format in a luxurious metal case...
With 'Teint de Neige' meaning 'Snow Colour', Lorenzo Villoresi in its creation evokes the delicate hue of the powdered fragance, bringing memories of the delicacy of aroma, softness talc, despite their apparent...
Rock Star by Carner Barcelona is a fragrance from the Aquatic Aromatic olfactory family for men and women.Rock Star, when the delicacy of a starfish joins the robustness of a rock... it shows off the beauty of the...
"close your eyes, and...". A Eau de Perfum by Miller et Bertaux, for men and women, converted into an olfactory experience, a magical work that poses its notes on the skin like a veil, where the aromas of the...
Velvet Vanilla by Mancera, is a perfume for women where Angelica and Jasmine intertwine with vanilla to create a velvety fragrance, an intensely vanilla feminine velvety powder. Floral and Fruity Perfume Top Notes:...
Rosa Elixir by Montale, is a feminine and refined fragrance that combines notes of rose with citrus, strawberries, jasmine, orange blossom and amber, musk and vanilla. Content 100 ml Its special design, with an...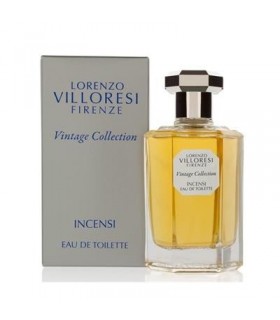 The fragrance 'INCENSI' by Lorenzo Villoresi, belongs to the 'Vintage' collection, transporting us Orient through its 'Spice Routes' perfume has fresh notes of sour apple and orange blossom with touches of myrrh, and...
Aoud Vanille, is a Mancera perfume for men and women with powerful notes of wood with dry and enveloping notes of Vanilla. Amber and Vanilla Perfume Top Notes: Oud from Nepal and Spices Heart Notes: Delicate...
Salina by Laboratorio Olfattivo is a fragrance for men and women of aromatic family. Through the use of Salina, the sense of smell acquires powers that generally belong to sight, touch and taste. This fragrance is a...
Bo-Bo by Carner Barcelona is a fragrance from the Citrus olfactory family for men and women. This is a new FRAGANCE. Bo-Bo was launched in 2019. Bo-Bo, an ancient folk dance - a lively and joyous custom that still...
A gentle breath of green forests and exotic lands. A fragrance with the force and solemnity of aromatic woods. A soothing fragrance and earthy notes, with hints of citrus, cedar and rosewood. Content 100 mlTop notes:...
'Melody of the Sun' is a perfume for men and women by Mancera, where a radiant cocktail leaves us with a sunny and vital memory like a smile, with a unique fragrance with a solar accord. Citrus, Aromatic and Fruity...
Customers who bought this product also bought:
Air fresheners scented solution of the French firm Esteban help to prolong the life of your mikados and ceramic diffusers, scented, being able to choose between the initial aroma of the product, or any other variety...
Refill for bouquets from the Italian firm Culti .Milano, with fragrance 'Mountain'. Content 1 Liter. IMAGINE The cozy atmosphere of a mountain chalet, the wood heated by the fireplace that exudes its delicate aroma,...
Sticks air freshener firm Dr. Vranjes. Content 1250 ml. It Includes 8 vegetable sticks. Perfume Grenade. Black Grape and Watermelon are the amazing ingredients used to recreate the characteristic scent of the pressed...
Figue by Molinard seduces and addicts us by wrapping us in an aroma that combines the green notes with the solar bath characteristic of the Mediterranean lifestyle. Optimal ingredients to allow us to enjoy the nuances...
This refill of Mathilde M you can recharge your decorative scenteds bouquet many times as you want. Rice Powder aroma, It´s a perfume with powdery notes that invites to remember. Content 500 ml