Pure Love Eau de Parfum 100 ml Montale
Pure Love, is a perfume by Montale for men and women, it is a light fragrance, subtly woody and spicy. The powerful scent of rose blends effortlessly with the sophisticated scent of sandalwood and vetiver, and everything is softened with a subtle hint of ambergris, vanilla, and leather.
An amazing composition that resonates with love and harmony.
Woody and Spicy Perfume
Main Notes: Notes: Pink, Sandalwood, Vetiver, Amber Gray, Vanilla, Leather
16 other products in the same category: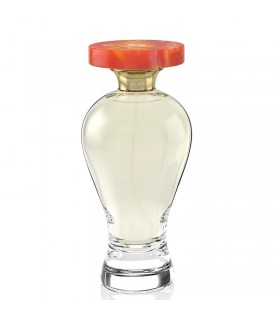 Lubin's Princesses de Malabar is a tribute to the legendary Spice Route of the Malabar Coast, where luxury and sensuality intertwine in a captivating olfactory experience. Our perfumers have created a masterpiece that...
Herbal Aquatica by Montale is a perfume for men and women from the Herbal and Woody Olfactory family, fresh and sweet, surprisingly sensual. Where the Lotus Flower, Papyrus and Salvia evoke a trip to the banks of the...
Médie by Maison Trudon is a citrus perfume for men and women, which takes us back to Antiquity and the kingdom of Alexander the Great, under which the province of Médie abounded in rare citrus. An oasis of freshness,...
The fragrance 'Uomo' Lorenzo Villoresi is an intense, fresh and elegant fragrance for men, with sandalwood touch, spices, precious woods, patchouli and vetiver. Content 100 ml. Incense Extrême by Andy Tauer is a Woody Amber perfume for men and women. Contains 50ml Minimalist, intense, clear. A perfume built around a natural CO2 extract of Boswellia serrata, also known as frankincense;...
This is not a blue bottle 1/.2 is a woody floral musky perfume for men and women. It is an explosion, a prism that refracts light into a splash of colors. A beam of ivy, lilac and lily of the valley illuminates a...
Orange Star by Andy Tauer is an Amber Floral fragrance for women and men launched in 2010. A fresh take on citrus that brings us a rich citrus fragrance with a clean orange blossom at its heart and a smooth,...
Oud Tobacco by Montale is a perfume para hombres y mujeres from Montale. Perfume hipnótico y delicadamente suave that combines the mezcla las notas of Tonka y Tabaco. Los citrícos, el comino y el zumaque rojo nos...
Méditerranée de Molinard is a marine and floral perfume for men and women who, regardless of the destination, the sea is never far away, a common thread to immerse themselves in the heart of the journey. Stopover in...
Instant Crush by Mancera is a perfume for men and women where the magical combination of jasmine, rose and amber provides a mixture of sensuality and romanticism. Instant Crush is a wave of elegance that combines...
Cuir by Molinard, is an eau de parfum for men and women, infinitely sensual, that envelops us with its heart with a "second skin" effect, against an addictive background of precious woods. Content 75 ml Woody...
Elae by Maison Trudon is a feminine floral perfume that constitutes a true luminous offering of a bouquet of white petals with woody notes full of warmth and tenderness. Through her Latin name, with the protective...
Angel's Dust by Francesca Bianchi is a powdered boudoir from times gone by, a lover is putting on lipstick while waiting for her lover to arrive.Face powder floats in the air, mixed with the scent of roses and the...
Dark Purple by Montale, it is a feminine fragrance, sophisticated and seductive, where the subtle mixture of plum and teak, is intermingled with the sensuality of the rose. Content 100 ml Fragrance FragranceHead...
'1969 Parfum de Revolte by Histoires de Parfums' is an Oriental Gourmand fragrance for women. The nose behind this fragrance is Gerald Ghislain. Content 60 mlFragranceTop Note: peachMiddle Notes: pink, white flowers,...
Palo Santo by Carner Barcelona is a fragrance for men and women. Palo Santo was launched in 2015. The nose behind this fragrance is Shyamala Maisondieu Notes of caramel, tonca bean and vetiver blend with the...
Customers who bought this product also bought:
Arabians Tonka, is a perfume for men and women for lovers of different perfumes, is the accomplice of the Arabs, a fragrance tribute to the Arabian horse. A fine blend of spicy notes, roses, tonka bean and bergamot...
Oh, ooOoh …oh ( mist, wood, wind and guitar ) The Eau de Parfum 'Oh, ooOoh ... oh' by Miller et Bertaux, for men and women, speaks of a wooden house facing the sea that we barely distinguish after the mist, a cup,...
Boquet by the italian firm  Dr. Vranjes. Content 2500 mlPerfume Rosso Nobile. Initial orange notes enhance in the floral part formed by the absolute of violet and flowers of magnolia, accords of plum complete...
Recharge for Lampe Berger catalytic lamps. 500 ml content Aroma D-Stress is fruity and spicy perfume Head Notes: Orange, Tangerine, Bergamot Heart Notes: Melon, Mimosa, Ginger Base Notes: Musk
White Musk by Montale is a perfume for women and men, elegant, balanced and subtle. The violet leaves and the Ylang-Ylang oil are the differential notes that make up an exquisite aroma of extreme quality, pure and...