Diamond Flowers Eau de Parfum 100 ml Montale
Diamond Flowers is a feminine perfume by Montale in a Special Edition, which combines the sensuality of Iris, the softness of Vanilla and the enchanting notes of Rose and Jasmine. On the base note, sultry Amber, Sandalwood and Oak Moss join forces to bring mysterious depth.
Floral Perfume
Top Notes: Iris Flower, Rose, Jasmine,
Heart Notes: Amber, Vanilla
Base Notes: Sandalwood, Oak Moss
16 other products in the same category:
Oud Tobacco by Montale is a perfume para hombres y mujeres from Montale. Perfume hipnótico y delicadamente suave that combines the mezcla las notas of Tonka y Tabaco. Los citrícos, el comino y el zumaque rojo nos...
This fragrance Lorenzo Villoresi, Yerbamate, is inspired by the freedom and nature that provides fresh grass, hay cut rencién, and countless plants and flowers of the fields, enhanced by air and sun. Content 100 ml
Eau du Sud, is an aroma for men and women, which evokes the long summer afternoons in Provence, moment where the aromas of the perfumes is the only thing that contains that magic air we breathe, where the scent of...
Red Vetiver de Montale, is an woody masculine fragrance, slightly special that gives it its warmth, making this unique fragrance the combination with the freshness of Vetiver. Its main notes are sandalwood, red cedar,...
II (Deux) is a perfume for Men and Women created by Maison Trudon dealing with new beginnings; The life of a forest that permeates the seasons. It is sensibly symbiotic, uniting elements: a colony that inspires and...
Olim by Maison Trudon is a perfume for men and women that represents the vanity and emotion of a real era. Powdery notes touch beauty; Spices evoke decadence and resins point to opulence. Olim refers to a form of... Palo Santo by Carner Barcelona is a fragrance for men and women. Palo Santo was launched in 2015. The nose behind this fragrance is Shyamala Maisondieu Notes of caramel, tonca bean and vetiver blend with the...
"close your eyes, and...". A Eau de Perfum by Miller et Bertaux, for men and women, converted into an olfactory experience, a magical work that poses its notes on the skin like a veil, where the aromas of the vibrant...
Rose Musk by Montale, is a feminine fragrance, where its main notes are the rose and the moss, where the pink notes intermingle with those of jasmine and musk creating a sensual fragrance. Content 100 ml Its special...
The beautiful Ottoman spy drew a small smile before the glass jar that contained a perfume created for her. It was a decorated elephant, alluding to the verses of Valmiki, the poet of the Ramayana, since it was...
Bruma by Maison Trudon is a floral and powdery perfume for men and women that contains a distinguished, almost animal sensuality. At night, a rider draws inner strength from the elements that surround her: her horse...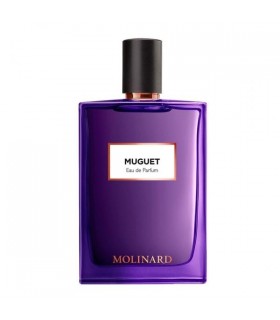 Muguet is an eau de parfum by Molinard for women, invites us to a walk through a garden in spring. Content 75 ml Fresh and green floral perfume Top notes: lily of the valley (lily) Heart notes: jasmine, green...
Revolution is a perfume created by Maison Trudon for men and women that permeates the skin and concentrates on human emotions throughout the day. It melts, leaving an air of mystery and intrigue around the body....
Night in Paris, in the cabaret under the clink of champagne glasses, bright red lips, feathers and sequins, the show begins !!. The memory of this unforgettable night lasts until the next morning.Feminine, floral,...
This is not a blue bottle 1 / .1 is an innovative unisex perfume from Histoires de Parfums, where its packaging draws our attention thanks to its uniformity and its electric blue color. A perfume created from the...
Médie by Maison Trudon is a citrus perfume for men and women, which takes us back to Antiquity and the kingdom of Alexander the Great, under which the province of Médie abounded in rare citrus. An oasis of freshness,...