Blue Matcha 100 ml Eau de Parfum Montale
Blue Matcha by Montale is a rich and luminous perfume for men and women that takes us to the heart of Indonesia.
Cedar wood, leather, tobacco leaves and a captivating touch of matte are mixed with patchouli leaves for more roundness and harmony around this amazing ingredient: blue matcha. A touch of masculine and mysterious beauty that will not disappoint daring women.
Woody and Floral Perfume
Top Notes: Matcha Tea, Citrus and Black Currants
Heart Notes: Cedar, Patchouli Leaves, Leather and Tobacco
Base Notes: Yerba Mate, Powdered Notes, Musk and Gray Amber
16 other products in the same category:
Notte Bianca by Linari is a Woody and Spicy fragrance for men and women. Exciting and exciting as a sleepless night. A delicious interplay of delicate fruity hints of pink grapefruit, fresh bergamot and Italian...
The wake of a fragrance that melts with the hair, for a night of sleep. Composition specially prepared to perfume your hair created by Lorenzo Villoresi. Content 50 ml With 'Teint de Neige' meaning 'Snow Colour',...
Aphélie is a feminine perfume that stands out in a unique way: like an aphelion, the orbital point at which a celestial object is farthest from the sun. Mysterious, Aphélie is connected with the cosmos: subject to the...
Dark Vanilla by Montale will envelop you with its sensual combination of notes of resinous vanilla, spices and amber that will captivate your heart. Sandalwood, leather and oud wood give it an intense, intimate and...
Vista Sul Mare de Linari is a marine perfume with citrus and aromatic notes that represents the immensity of an infinite blue ocean. It combines fresh citrus notes such as Calabrian bergamot, pink grapefruit, lemon...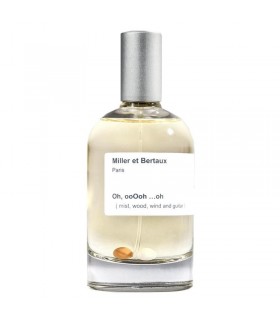 Oh, ooOoh …oh ( mist, wood, wind and guitar ) The Eau de Parfum 'Oh, ooOoh ... oh' by Miller et Bertaux, for men and women, speaks of a wooden house facing the sea that we barely distinguish after the mist, a cup,...
Rosamunda by Laboratorio Olfattivo is a floral perfume for women. Large quantities of Roses from Bulgaria and Turkey and long hours of distillation to obtain this creation: the seductive power of the Rose is...
Venice, the riverside city of love. In that year of 1725 was born the man whose name would symbolize seduction: Giacomo Girolamo Casanova."So, what is love? A illness to which man is prone to any age,.For each...
Sacreste is a Balsamic and Woody perfume for men and women of Laboratorio Olfattivo. It contains 100 ml Perfume Complex and rich formula, created to give voice to two very precious incense notes that are...
Andy Tauer Sundowner perfume is a unisex fragrance with a warm and spicy blend that evokes a feeling of sunset on the beach. The fragrance opens with citrusy notes of bergamot and lemon, which blend with spices of...
ExpLOud es un perfume Ambarino y Amaderado para hombres y mujeres de Laboratorio Olfattivo. Contiene 100 ml El Perfume ExpLOud, una verdadera explosión de un Oud muy preciado que no oscurece, sino que encuentra...
Pompelmo by Laboratorio Olfattivo is a citrus and aromatic perfume for men and women, designed by Jean-Claude Ellena. Where the famous perfumer does not describe as follows: "Pompelmo has taken my olfactory...
Havana Rain by Renier is an aromatic journey inspired by the vibrant city of Havana. Unlike its predecessor, Habana 500, this fragrance not only captures the essence of the Cuban capital, but also immerses itself in...
Dark by Neandertal is a Woody and Aromatic perfume for men and women. The darkest and deepest version of Neanderthal. A scent in constant movement that challenges conventional perfumery. The initial structure of...
'1969 Parfum de Revolte by Histoires de Parfums' is an Oriental Gourmand fragrance for women. The nose behind this fragrance is Gerald Ghislain. Content 60 mlFragranceTop Note: peachMiddle Notes: pink, white flowers,...
Jasmin de Molinard is a perfume of a poetic, delicate and exuberant nature, the starry flower transports us to the gardens of our childhood. Jasmin de Molinard exudes a sensuality through her assertive femininity....
Customers who bought this product also bought:
Refill Bouquet by the italian firm  Dr. Vranjes. Content 500 mlPerfumeGinger and lime. Fresh and spicy is how you can define this fragrance thanks to juicy and bright notes of Lima attached to the essence of ginger...
Chinese Tobacco by 19-69 brings back memories of French colonial Indochina and legendary films like Indochine and Apocalypse Now. Reflections on the different contrasts of Asia. East meets West, old meets new. The...
Teint de neige, "the colour of snow", the delicate rosy hue of a powdered face. The unmistakable scent of perfumed powders, the fragrance of face powder, the perfume of talc, a soft, gentle, enveloping.An aroma...
Refill Bouquet by the italian firm  Dr. Vranjes. Content 500 mlPerfumeVanilla and tangerine. Instant and precious fragrance that combines the sweetness of vanilla with the acidity of the Mandarin.Properties: Soothing,...
Black Aoud by Montale, is a masculine woody and floral fragrance, designed by Pierre Montale. Its main notes are rose, french abdanum, musk, patchouli, mandarin and argan wood (oud). Content 100 ml Its special...