Blue Matcha 100 ml Eau de Parfum Montale
Blue Matcha by Montale is a rich and luminous perfume for men and women that takes us to the heart of Indonesia.
Cedar wood, leather, tobacco leaves and a captivating touch of matte are mixed with patchouli leaves for more roundness and harmony around this amazing ingredient: blue matcha. A touch of masculine and mysterious beauty that will not disappoint daring women.
Woody and Floral Perfume
Top Notes: Matcha Tea, Citrus and Black Currants
Heart Notes: Cedar, Patchouli Leaves, Leather and Tobacco
Base Notes: Yerba Mate, Powdered Notes, Musk and Gray Amber
16 other products in the same category:
The new version of Idole Lubin, is a remake of a classic seventies created and then redesigned in 2011 by perfumer Olivia Giacobetti. Perfume woody and balsamic. The inspiration for the Idole line are adventures and...
Revolution is a perfume created by Maison Trudon for men and women that permeates the skin and concentrates on human emotions throughout the day. It melts, leaving an air of mystery and intrigue around the body....
Ambre is an eau de parfum by Molinard, for men and women that reveals the refinement of a noble and elegant material. A subtle oriental accent that exalts its amber notes, destined to maintain the mystery of...
Eau D'Hadrien is an emblematic parfum of Goutal. Burning sun and the blinding light of Tuscany add to the charm of the cypress-lined terraces. The hottest hour of the day is the best time to sink into the soft shade...
Fougères Marine by Montale is a perfume for men and women, a creation by the perfumer Pierre Montale with the aim of evoking that marine scent that refreshes our senses and relaxes us like the sea breeze, and that...
Dilmun is the paradise of the ancient Mesopotamians, the place where the sun rises and where the Sumerian creation myth takes place. The soil of Dilmun is pure and in the garden of the gods, the Sun Garden, there are...
Perfume for men and women by Heeley, inspired by the fine French porcelain, where this aroma recreates the sensation of purity of this material. With a light and bright breeze on a white background, bright and pure,...
Cuir by Molinard, is an eau de parfum for men and women, infinitely sensual, that envelops us with its heart with a "second skin" effect, against an addictive background of precious woods. Content 75 ml Woody...
Acqua di Colonia de Lorenzo Villoresi is reminiscent of a classic good taste, with its formulation with natural essential oils of bergamot, lemon, sage and rosemary. An active smell, with a positive and refreshing...
Musc by Molinard, is an eau de parfum for men and women, Musc sincerely emphasizes the characteristics of a refined and sensual echo, before flourishing in the softness of the skin. Content 75 ml Like a warm and...
Patchouli de Molinard, is an eau de parfum for men and women, that moves us to Orient, and envelops us in a true hypnotic provocation, liberating an infinite sensuality thanks to the masterful combination of exotic...
"from our trips, with love" Shanti Shanti, perfume for oriental men and women, which takes us to India and its flower-petal launching feties, a destiny that for its creators occupies a very special place. In its...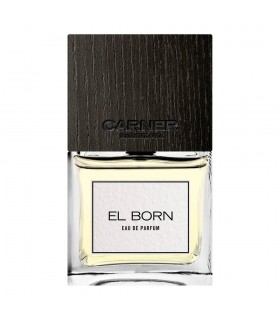 El Born by Carner Barcelona is a fragrance from the Amber and Floral olfactory family for men and women. El Born was launched in 2014. The cobbled and winding streets flow seamlessly over the old medieval stones,...
Note de Yuzu contains the energy and enthusiasm of Japanese yuzu layered with aquatic and marine notes. Its immediate fruity freshness will soften to reveal a sensual salinity to the skin, reminiscent of a traditional...
Eau du Sud, is an aroma for men and women, which evokes the long summer afternoons in Provence, moment where the aromas of the perfumes is the only thing that contains that magic air we breathe, where the scent of...
Ambre 114 by Histoires de Parfums is a perfume for men and women Oriental and Spicy, which was created by Gerald Ghislan and Magli Senequier. This mythical raw material has been improved with the composition 114. A...