7753 Eau de Parfum 60 ml Histoires de Parfums
7753 by Histoires de Parfums is a feminine perfume from the amber floral family.
7753 represents the dimensions of the Mona Lisa painting because this perfume is not the perfume of an image, nor the mere perfume of a past woman - it is the perfume of the woman. It is the smell of an emotion, of that indecipherable look, of its inexplicable beauty, of its power of immersion and of its attraction. It is the perfume of our own enchantment. A hidden number for a hidden smile.
Fresh Floral Perfume
Top Notes: Italian Bergamot, Ivy, Ma Khaen Berries
Heart Notes: Tuberose, Fig, Heliotrope
Base Notes: Vetiver, Sandalwood, Oak Moss
1740 represents the year of birth of a Parisian knight, named Donatien-Alphonse-François, famous as the Marquis de Sade. Imprisoned many times by his licentious morals, he would no doubt have enjoyed this spicy, woody perfume, an invitation to pleasure.
16 other products in the same category: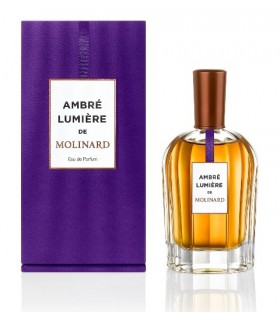 Ambré Lumière de Molinard is a perfume for men and women that serves as a true source of inspiration for those authors of the most refined novels, remembering those beautiful fantasy myths in which the protagonists...
1828 de Histoires de Parfums, is a masculine perfume, which commemorates the birth of the French writer Jules Verne in Nantes, a perfume for sophisticated, dreamy and adventurous men like the famous French writer....
Aphélie is a feminine perfume that stands out in a unique way: like an aphelion, the orbital point at which a celestial object is farthest from the sun. Mysterious, Aphélie is connected with the cosmos: subject to the...
Cuoium by Orto Parisi is a Woody and Animalistic perfume extract for men and women. A tribute to the ancient craftsmanship associated with leather working, Cuoium is a striking fragrance that fuses the robustness...
Revolution is a perfume created by Maison Trudon for men and women that permeates the skin and concentrates on human emotions throughout the day. It melts, leaving an air of mystery and intrigue around the body....
Indian Study by Miller et Bertaux is a tribute to sandalwood, which combines the Mysore Sandalwood and the Amyris Sandalwood. These two types of sandalwood are recognized for their purifying properties, and spicy...
Oranges & Lemons Say The Bells of St. Clement's by James Heeley, is traditional cologne that has been converted into a chic, contemporary, light and fresh English perfume water inspired by the poem "Oranges and...
1826 by Histoires de Parfums, is a feminine perfume that commemorates the birth of Eugenia de Montijo, she was born in Granada, the jewel of Andalusia. Brilliant beauty, seductive nature, and temperamental elegance...
Chinese Tobacco by 19-69 brings back memories of French colonial Indochina and legendary films like Indochine and Apocalypse Now. Reflections on the different contrasts of Asia. East meets West, old meets new. The...
Luxe Calme Volupte by Francesca Bianchi is a floral and fruity fragrance for men and women. 'A sumptuous and exuberant concoction that takes you to a parallel universe of abundance, far from everyday worries, to a...
Kisses Rain Labios Rotos amber perfume for men and women by Renier Perfumes. Immerse yourself in the world of seduction and elegance with the Kisses Rain Labios Rotos perfume, inspired by an oil painting of the...
Venice, the riverside city of love. In that year of 1725 was born the man whose name would symbolize seduction: Giacomo Girolamo Casanova."So, what is love? A illness to which man is prone to any age,.For each...
Black Aoud by Montale, is a masculine woody and floral fragrance, designed by Pierre Montale. Its main notes are rose, french abdanum, musk, patchouli, mandarin and argan wood (oud). Content 100 ml Its special...
Sacreste is a Balsamic and Woody perfume for men and women of Laboratorio Olfattivo. It contains 100 ml Perfume Complex and rich formula, created to give voice to two very precious incense notes that are...
#003 CARPENTER Carpenter by Hunq is a spicy and woody masculine perfume for men. He is the epitome of the passionate and hard-working man. He turns cedar wood, bezoin and pepper into his blood, sweat and...