1876 Eau de Parfum 60 ml Histoires de Parfums
1876 by Histoires de Parfums is a women's perfume from Histoires de Parfmus, which mentions the year of birth of Mata Hari, which means "the eye of the day" in Malay. A beautiful discovery for this famous spy, whose captivating beauty and taste for adventure built an unusual destiny. That's why the most uplifting of flowers, the spicy rose, is at the heart of this mysterious perfume.
A captivating fragrance where the spicy rose is mixed with the most exquisite woody and fruity essences.
Floral Perfume
Top Notes: Orange, Bergamot, Lychee
Heart Notes: Rose, Iris, Violet, Cumin, Cinnamon, Carnation
Base Notes: Sandalwood, Vetiver, Guaiacum, White Musk, Vanilla
16 other products in the same category:
El Born by Carner Barcelona is a fragrance from the Amber and Floral olfactory family for men and women. El Born was launched in 2014. The cobbled and winding streets flow seamlessly over the old medieval stones,...
Notte Bianca by Linari is a Woody and Spicy fragrance for men and women. Exciting and exciting as a sleepless night. A delicious interplay of delicate fruity hints of pink grapefruit, fresh bergamot and Italian...
Yes Please! is a fragrance that pays homage to Madchester: a cultural and musical movement that defined an entire era. Notes include Juniper, Thyme and Cedarwood. Johan Bergelin: "Post-industrial Manchester of the...
Floral and Fresh Perfume  with notes of lemon and base ofaldehyde and musk; Gin Fizz was reissued and updated by Lubin in 2009 by famed perfumer Thomas Fontaine's. Fame perfume comes from 1955, when the firm created...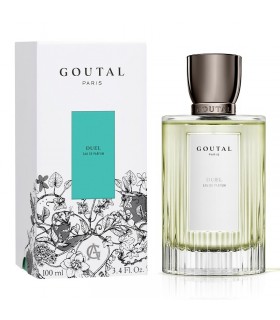 Duel a male Eau de Parfum where a noble plot exists between strength and sweetness, between wisdom and audacity. A duel at dawn. Woody Aromatic Perfume Head Notes: Bitter Orange, Petitgrain Heart Notes: Mate,...
Sex and the Sea Neroli, is a floral perfume for men and women that brings back beautiful memories of a cool breeze by the sea, while flirting on the salty sand are conjured up in this narcotic, almost hypnotic potion....
The Chronic perfume is a tribute to the 1990s Southern California cannabis plantations. The fragrance notes include Bitter Grapefruit, Canabbis Accord and Moss. Like the entire 19-69 collection, it is a unisex...
Rose Musk by Montale, is a feminine fragrance, where its main notes are the rose and the moss, where the pink notes intermingle with those of jasmine and musk creating a sensual fragrance. Content 100 ml Its special...
Mortel by  Maison Trudon, is a perfume for men and women where the skin is heated in contact with each other, placing sensuality at the heart of Mortel; Also, frankincense, myrrh, and benzoin reveal the erotic spell...
The master perfumer Jean-Claude Ellena, inspired by his love for Italy, created for men and women the Parfum Cologne Mandarino, a portrait of Italian happiness. Mandarino is the first of the collection "Viaggio in...
Jasmin de Molinard is a perfume of a poetic, delicate and exuberant nature, the starry flower transports us to the gardens of our childhood. Jasmin de Molinard exudes a sensuality through her assertive femininity....
Cardinal by James Heeley is a timeless fragrance for Men and Women of the Oriental olfactory family, which is based on the traditional notes of incense and laudanum, in turn, brings us an air of lightness thanks to...
This is not a blue bottle 1/.2 is a woody floral musky perfume for men and women. It is an explosion, a prism that refracts light into a splash of colors. A beam of ivy, lilac and lily of the valley illuminates a...
Chinese Tobacco by 19-69 brings back memories of French colonial Indochina and legendary films like Indochine and Apocalypse Now. Reflections on the different contrasts of Asia. East meets West, old meets new. The...
Eleganza Luminosa by Linari, is a Citrus and Floral perfume for men and women. The seductive freshness of sun-ripened bergamot, luscious lemon and sparkling orange contrasts alluringly with the lavish fluidity of...
Cuirs de Carner Barcelona is a Leather fragrance for men and women. Cuirs was launched in 2011. The nose behind this fragrance is Sonia Constant. Steeped in nostalgia for that time of artisan workshops where the...