Zeste de Verbena 500 ml Lampe Berger
'Zeste Verveine' is a fresh citrus scent and where his two flavors verbena and lemon rind. This Lampe Berger composition has a content of 500 ml
16 other products in the same category:
Recharge for Lampe Berger catalytic lamps. Content 500 ml Aquatic Freshness is a Citrus Energizing Head Notes: Grapefruit, Orange Heart Notes: Grapefruit, Pineapple Base Notes: Musk, Peach
Absolu of Vainille aroma is sweet notes of a perfume that evokes all the aroma of a vanilla bean, sweet and sugary (rum, star anise) notes and envelope heart (Bourbon vanilla pods) and a chocolate background and...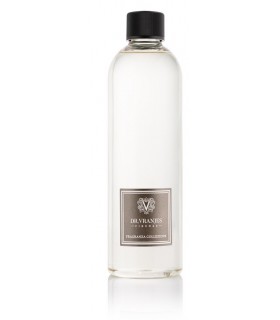 Refill Bouquets by the italian firm  Dr. Vranjes. Content 500 ml The sensual notes of Milano, where patchouli is enlivened with the lively notes of pepper and sandalwood combining with the sparkling notes of cedar...
Recharge for Lampe Berger catalytic lamps. Content 1 Liter Pure White Tea  is a Floral and Musky Head Notes: Bergamot, Cassis Heart Notes: White Tea, Lily of the Valley, Rose Jasmine Base Notes: Cedar White...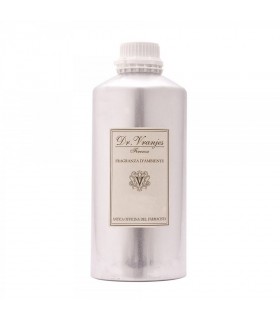 Refill Bouquets by the italian firm  Dr. Vranjes. Content 2500 mlGrenade, Black Grape and Watermelon are the amazing ingredients used to recreate the characteristic scent of the pressed seeds of Granada.Properties:...
A revitalizing fragrance with a stimulating mixture joins forces with aromatic eucalyptus notes on a background of white musk mixed. This composition of Lampe Berger has a content of 1 Liter
Champs de Lavande is a fresh floral fragrance with a hint of camphor that provides a cool character. This Lampe Berger composition has a content of 1 Litre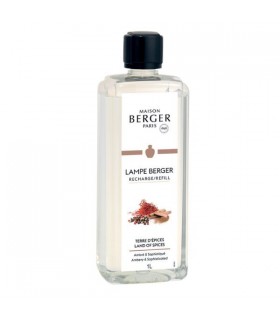 Terre d'Épices es un perfume vibrante que combina los aromas especiados en todos sus tonos llenos de intensidad. La pimienta rosa casa elegantemente su frescura especiada con la nota suave y aterciopelada del acorde...
Refill for catalytic lamps by Lampe Berger with Citronelle Aroma. Content 500 ml Citronella perfume has the glow of love with its cheerful bursts of orange. Its floral bouquet reveals the poetry of a romance with...
Air fresheners scented solution of the French firm Esteban help to prolong the life of your mikados and ceramic diffusers, scented,'Figue Noire' is a woody and fruity fragrance . Contents 500 ml PerfumeTop notes of...
The Coeur de Pamplemousse fragrance is a vibrant fragrance proporcinado by the fruity aroma of orange heart. This Lampe Berger composition has a content of 500 ml  
See refinement and elegacia through this scent of Lampe Berger, feels the attraction of its floral notes, and the French perfumes, with notes of bergamot, jasmine water and white musk. Contents 1000 ml
Replacement Scented Bouquet vegetable sticks 22 cm by Esteban Parfums
Die  Lösung für  die katalytische Lampe Berger in der Sammlung  "der Traum von  der  Reinheit". Ohne Parfüm, ein einfaches und praktisches Produkt, um unerwünschte Gerüche zu beseitigen und Ihr Zuhause zu erfrischen....
Recharge for Lampe Berger catalytic lamps. 500 ml content Aroma D-Stress is fruity and spicy perfume Head Notes: Orange, Tangerine, Bergamot Heart Notes: Melon, Mimosa, Ginger Base Notes: Musk
This perfume by Lampe Berger, 'Touche de Soie', surprises us with its bright head notes composed of fresh and bright chords. In its heart, it is soft and velvety, where the magnitude of a floral bouquet of powdered...
Customers who bought this product also bought:
Refill for catalytic lamps from Lampe Berger. Content 1 Liter A vibrant fragrance with a very lively head. The citrus sparkle is sophisticated with a pleasant evolution towards a transparency given by the watery...
The Home Fragrance Bois d'Eau offers a crisp citrus freshness underlined by the fresh water spray. In their heart notes, the aquatic notes are mixed with the drift of driftwood before plunging along the coral reefs,...
Refill for Bouquets by Cerería Mollá with Aroma Tuberose & Jasmine . It contains 500 ml Tuberose & Jasmine  Fresh Fragrance with Green notes and a powerful Floral heart, being the Orange Blossom, Jasmine and...
'Orange Extreme' is a cocktail of vitamins citrus base, to continue in the notes of orange sun of Florida and Fressia, enhanced with green notes. Its surround us wake backdrop background woody notes and gourmand....
Promotional Pack of Lampe Berger, pure air, which includes catalytic lamp of transparent Crystal, cubic design and neutral perfume. With this decorative air freshener, it will purify the air in your home and you can...