Zeste de Verbena 500 ml Lampe Berger
'Zeste Verveine' is a fresh citrus scent and where his two flavors verbena and lemon rind. This Lampe Berger composition has a content of 500 ml
16 other products in the same category:
With this fragrance Lampe Berger evokes Asian seduction with precious woods: sandalwood, which is mixed with black currant and the citrus sweetness of mandarin. The heart reveals the soft, enveloping side of...
Refill Bouquet by the italian firm  Dr. Vranjes. Content 500 mlPerfume Head notes: Siberian PineHeart Notes: Musk, Lavender and Vanilla.Background Notes: Wild Mint
Lolita  Lempicka by Lampe  Berger is a fairytale in which we can appreciate the story of a woman in the making who is going through that moment in which all of us had to leave childhood but not leave her. It is the...
The aroma of Cinnamon and Orange that provides the freshness of citrus combined with the warmth of spices and candied fruit, and wrapped in sensual notes of amber and white musk. This Lampe Berger composition has a...
Air fresheners scented solution of the French firm Esteban help to prolong the life of your mikados and ceramic diffusers, scented, being able to choose between the initial aroma of the product, or any other variety...
Refill for Bouquets by Dr. Vranjes. Content 500 ml. Giglio di Firenze in a delicate and elegant perfume, where its powdery and powdery notes come together with elegant and comfortable notes, it is ideal for spaces...
Refill Bouquet by the italian firm  Dr. Vranjes. Content 500 mlPerfumeGinger and lime. Fresh and spicy is how you can define this fragrance thanks to juicy and bright notes of Lima attached to the essence of ginger...
Refill Scented Bouquet by the italian firm  Dr. Vranjes. Content 500 mlPerfumeThis fragrance blends notes of two precious resins, myrrh and frankincense, wisely combined with the freshness of Bergamot and Neroli...
This refill of Mathilde M you can recharge your decorative scenteds bouquet many times as you want. Rice Powder aroma, It´s a perfume with powdery notes that invites to remember. Content 500 ml
 Refill for Bouquets by Locherber Milano with aroma Hejaz Incense. Contents 500 ml   Only there, in the desert, where man is lost in the infinite majesty of silence, one can perceive the force of nature; the...
Refill for bouquets from the Italian firm Culti Milano with the aroma 'Era'. Content 1 Liter ERA Perfume The sensation of the senses in a forest where loneliness and tranquility surround us favoring our own self...
Refill for Bouquets by Cerería Mollá with Aroma Tuberose & Jasmine . It contains 500 ml Tuberose & Jasmine  Fresh Fragrance with Green notes and a powerful Floral heart, being the Orange Blossom, Jasmine and...
Recharge for Bouquets (Reed Diffuser) of the French firm Esteban Parfums, with fragrance 'Iris Cachemire'. Content  500 ml Iris Cachemire is an elegant and unexpected marriage, where vegetal notes flirt with a...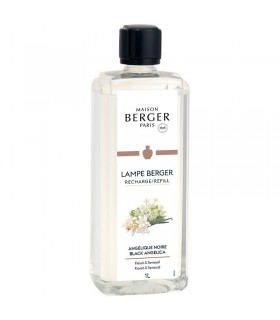 Recharge for catalytic lamps by Maison Berger. Content 1 Liter Angélique Noire is a bewitching sensual fragrance, an intoxicating flower full of magic and eroticism. Rare, noble and refined, this interpretation...
A sparkling scent with notes of cedar and cypress, which is accentuated by notes of citiricos. This composition of Lampe Berger has a content of 500 ml
Refill Bouquets by the italian firm  Dr. Vranjes. Content 500 mlPomegranate, Black Grape and Watermelon are the amazing ingredients used to recreate the characteristic scent of the pressed seeds of...
Customers who bought this product also bought:
Pluie d'Ete is a fresh, delicate and crystalline fragrance that evokes the freshness of the dew of a summer morning, with notes of eucalyptus and warmth provided by your notes of amber and patchouli. This Lampe Berger...
Replacement Scented Bouquet vegetable sticks 22 cm by Esteban Parfums
The jasmine in this composition as a sign of distion, this scent is made vibrant by the combination of jasmine and Ylang, conviertendose in a floral fragacia with fresh and fruity notes. Composition 500 ml
A sparkling scent with notes of cedar and cypress, which is accentuated by notes of citiricos. This composition of Lampe Berger has a content of 500 ml
Elegant Amber is a perfume by Lampe Berger, it's a modern fragrance which combines the classicism of amber and spices with hints of anise and citrus. This Lampe Berger composition has a content of 500 ml