Teck Tonka Replacement Candle Holder Esteban
Replacement for scented decorated candled with perfume Teck and Tonka  by Esteban Parfums, which can be replaced as often as desired, and reuse the original holders. Weight 170 gr.
In our light scented candles, fragrance and decor combine to create a warm and welcoming environment long term. All candles are made in our workshops in France, with carefully selected ingredients: 100% vegetable wax and pure cotton wick.

Smart and economical charging extends the life of decorative scented candles. Each decorative candle has its recharge, but you can combine colors and perfumes as you want.
Calculated from
3
reviews
I recommend this product to anyone who loves candles with a lasting distinctive fragrance. Difficult to get hold of this scent so was super happy to find it here and quick delivery too
Love this product. Very easy to pop in the candle holder and lovely scent. Would recommend to everyone.
16 other products in the same category:
The scent of Cinnamon and Orange provides the freshness of citrus combined with the warmth of spices and candied fruit, and enveloped by a sensual notes of amber and white musk. This composition of Lampe Berger has a...
Refill for Bouquets by Locherber Milano with aroma Rhubarbe Royale. Contents 500 ml Rhubarbe Royale is a refined and captivating fragrance that evokes the sensation of soft freshness of Rhubarb, a perennial plant...
Refill for catalytic lamps by Lampe Berger with Citronelle Aroma. Content 500 ml Citronella perfume has the glow of love with its cheerful bursts of orange. Its floral bouquet reveals the poetry of a romance with...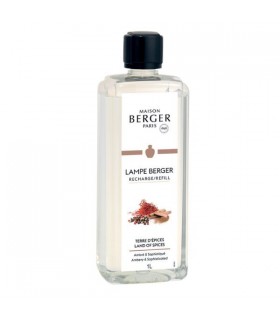 Terre d'Épices es un perfume vibrante que combina los aromas especiados en todos sus tonos llenos de intensidad. La pimienta rosa casa elegantemente su frescura especiada con la nota suave y aterciopelada del acorde...
Perfume for catalytic lamp Lampe berger in the collection dream of freshness. Purity and freshness as a direct blow from the ocean to your home. 1 Litre
Refill Bouquets by the italian firm  Vranjes. Content 500 mlPerfumeAmber. rich and heady fragrance with elegant oriental overtones. The Amber and the Iris Flower merge with Cistus, Patchouli, Lábdanum, Sandalwood and...
Exquisite Sparkle of Lampe Berger is a fragrance that combines the aromas of grapefruit, champagne and patchouli with the floral and energetic notes that evoke that happy atmosphere that we enjoyed during the...
Elegant Amber is a perfume by Lampe Berger, it's a modern fragrance which combines the classicism of amber and spices with hints of anise and citrus. This Lampe Berger composition has a content of 500 ml
Refill Bouquets by the italian firm  Dr. Vranjes. Content 2500 mlPerfume Rosso Nobile. Initial orange notes enhance in the floral part formed by the absolute of violet and flowers of magnolia, accords of plum complete...
This refill of Mathilde M you can recharge your decorative scenteds bouquet many times as you want. Rice Powder aroma, It´s a perfume with powdery notes that invites to remember. Content 500 ml
A revitalizing fragrance with a stimulating mixture joins forces with aromatic eucalyptus notes on a background of white musk mixed. This composition of Lampe Berger has a content of 500 ml
See refinement and elegacia through this scent of Lampe Berger, feels the attraction of its floral notes, and the French perfumes, with notes of bergamot, jasmine water and white musk. Contents 500 ml
Lolita  Lempicka by Lampe  Berger is a fairytale in which we can appreciate the story of a woman in the making who is going through that moment in which all of us had to leave childhood but not leave her. It is the...
Absolu of Vainille aroma is sweet notes of a perfume that evokes all the aroma of a vanilla bean, sweet and sugary (rum, star anise) notes and envelope heart (Bourbon vanilla pods) and a chocolate background and...
Refill for bouquets of the Esteban firm with Pur Lin aroma. Contains 500 ml Through this perfume, Estéban recreates the unique sensations provided by this mythical fabric, as noble as it is pure. In the top notes,...
'Zeste Verveine' is a fresh citrus scent and where his two flavors verbena and lemon rind. This Lampe Berger composition has a content of 500 ml
Customers who bought this product also bought:
Replacement plant rods for Mathilde M. mikados 25 cm
The perfumed essences of French firm Esteban must subtlety to the high purity of the formula.The can be used to scent the atmosphere in our fragrance diffusers, ceramics and decorative charms can use the original or...
This decorative candle, by french firm Esteban, is captivating and causes a mysterious halo. When you lift the wooden lidhouse is filled with memories of trips to Africa. 170 gr Woody-spicy fragrance. Top notes:...
Bouquet by Esteban with Iris Cachemire Aroma. Contains 75 ml Iris Cachemire is an elegant and unexpected marriage, where vegetal notes flirt with a majestic and delicate powdery iris. Where its heart shows all the...
Replacement black sticks scented bouquets for Esteban Parfums. 22 cm