Ambre 500 ml Refill Bouquet Esteban
This recharge for scented bouquets, signs French Esteban Ambre that promise happiness and co-existence in your home with this amber citrus perfume-scented.Contents 500 ml
Calculated from
7
reviews
i love this product.this is my favourite ambre
I give it to my daughter...cause she likes it..
Love the smell to refill the beautiful glass bottle
16 other products in the same category:
Refill for bouquets by Mahtilde M. Content 200 ml Rose Elixir pays tribute to the queen of flowers, a symbol of love and romanticism since ancient times. Discover this voluptuous and bewitching fragrance, like a...
Recharge for Lampe Berger catalytic lamps. 500 ml content Aroma Respire is Aromatic and Fresh perfume Head Notes: Eucalyptus, Menthol Heart Notes: Pine Needles, Mint Base Notes: Thyme
Replacement plant rods for Mathilde M. mikados 30 cm
Heavenly Sun A fragrance that elegantly transports you like a solar air and a very feminine, prodigiously sensual aura. Content 500 ml Floral and Solar Fragrance Head Notes: Tangerine, Bergamot, Orange...
Recharge for Lampe Berger catalytic lamps. Content 500 ml Aquatic Freshness is a Citrus Energizing Head Notes: Grapefruit, Orange Heart Notes: Grapefruit, Pineapple Base Notes: Musk, Peach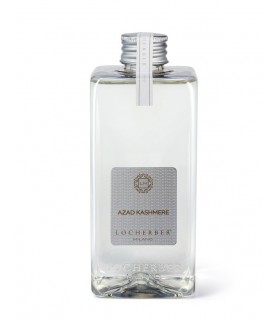 Refill for Bouquets by Locherber Milano with aroma Azad Kashmere. Contents 500 ml Imagine the silence, the great contrasts, from the inaccessible spaces of the mountains to the immense valleys, temperature...
This refill of Mathilde M you can recharge your decorative scenteds bouquet many times as you want, a delicious blend of wood, spice and soft vanilla. Content 200 ml
Refill for Bouquets by Cerería Mollá with Aroma Menthe & Basilic. It contains 500 ml Menthe & Basilic (Mint and Basil), is a perfume that provides us with a breath of pure and refreshing air thanks to the...
Refill for catalytic lamps from Maison Berger with Gourmandise Divine scent. Contains 500 ml The Gourmandise Divine perfume is a seasonal perfume that leaves a spicy and tempting trail inside you and together with...
'The aroma 'Rose Élégante' , is a floral and powdery perfume, which brings us elegance and softness of rose petals. Content 200 ml 
Refill for catalytic lamps from Lampe Berger. Conte.nt 500 ml A fragrance that takes you to a world of authenticity. Synonymous with freedom, it transmits values such as honesty and frankness. The freshness works...
The Coeur de Pamplemousse fragrance is a vibrant fragrance proporcinado by the fruity aroma of orange heart. This Lampe Berger composition has a content of 1 Litre  
A revitalizing fragrance with a stimulating mixture joins forces with aromatic eucalyptus notes on a background of white musk mixed. This composition of Lampe Berger has a content of 500 ml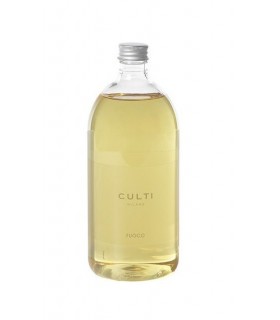 Refill for bouquets from the Italian firm Culti Milano, with fragrance 'Fuoco'. Content 1 Liter. IMAGINE A dense night falls on the rows of citrus and lemon trees after a day of fire, among the hypnotic sound of the...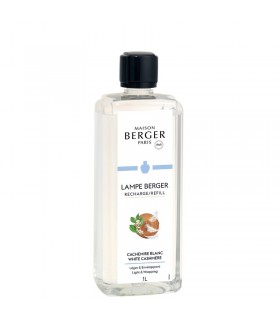 Refill for Maison Berger catalytic lamps. Content 1 Liter Cachemire Blanc is an enveloping perfume that does not provide comfort thanks to the floral notes and white musks together with the soft woods that provide us...
Recharge for Lampe Berger catalytic lamps. 500 ml content Aroma D-Stress is fruity and spicy perfume Head Notes: Orange, Tangerine, Bergamot Heart Notes: Melon, Mimosa, Ginger Base Notes: Musk
Customers who bought this product also bought: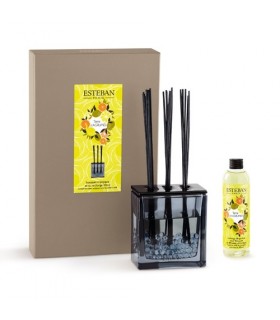 'Terre d'Agrumes', a citrus and woody fragrance that fills our stay with freshness with a touch of personality, and its freshness leads to an olfactory journey to Sicily. Content  250  ml Citrus and Woody Perfume...
Elegant Amber is a perfume by Lampe Berger, it's a modern fragrance which combines the classicism of amber and spices with hints of anise and citrus. This Lampe Berger composition has a content of 500 ml
Original Scented sachet Original by Esteban Parfums, consisting of a wood that is inserted into the bag and that combined with the essential oil keeps its durably perfume. Scented Sachet This comes with the scent of...
Essential Oil by Esteban Parfums 'Fige Noire'. Contents 15 mlPerfume, woody and fruityTop notes of black figs, violet leavesHeart Notes: fig wood, sandalwoodBase notes: labdanum, musk agreement
Linen Fragrance by Mahtilde M. Content 75 ml Astrée is Shining, romantic and feminine aroma by Mathilde M.. The fresh and sparkling notes of citruses reveal a lighting and solar bouquet of orange blossom and...