Neroli Esteban 500 ml refill
Air fresheners scented solution of the French firm Esteban help to prolong the life of your mikados and ceramic diffusers, scented, being able to choose between the initial aroma of the product, or any other variety of Esteban. Contents 500 ml
Bright white floral perfume.
Air freshener fragrant solution, 500 ml bottle.
The perfume of this replacement creates a golden aura that fills your home with a soft, elegant and sensual scent. Neroli flower has traditionally been adored and widely used by royalty.
Bright white floral perfume.
Calculated from
18
reviews
I have neroli in my bedrooms and bathrooms. Love it.
This one is great for communal areas.
This is a refill which I ordered so I just top up my Defuser when needed great smell
Best fragrance for the home.
16 other products in the same category:
Recharge for Lampe Berger catalytic lamps. 500 ml content Sève Eternelle is Aromatic Green perfume Head Notes: Green Notes, Eucalyptus, Grapefruit Heart Notes: Sage, Mint, Aloe Vera, Lotus Flower Base...
Recharge for Lampe Berger catalytic lamps .1 Liter content Aroma Respire is Aromatic and Fresh perfume Head Notes: Eucalyptus, Menthol Heart Notes: Pine Needles, Mint Base Notes: Thyme
Replacement for scented decorated candled with perfume Teck and Tonka  by Esteban Parfums, which can be replaced as often as desired, and reuse the original holders. Weight 170 gr.
Recharge for Lampe Berger catalytic lamps. 500 ml content Délicat Musc Blanc is Powdered and Subtle perfume Head Notes: Orange, Petitgrain, Grapefruit Heart Notes: Rose, Jasmine, Orange Blossom Base Notes:...
Refill for Bouquets by Dr. Vranjes. Content 500 ml. Giglio di Firenze in a delicate and elegant perfume, where its powdery and powdery notes come together with elegant and comfortable notes, it is ideal for spaces...
Refill for Bouquets by Locherber Milano with aroma Rhubarbe Royale. Contents 500 ml Aramaik is an enveloping and woody perfume that takes us to the archaic rituals of ancient Egypt where, through ointments composed...
Refill Scented Bouquet by the italian firm  Dr. Vranjes. Content 500 mlPerfumeThis fragrance blends notes of two precious resins, myrrh and frankincense, wisely combined with the freshness of Bergamot and Neroli...
Solution for catalytic lamp Lampe berger in the collection dream of purity. Without perfume, a basic and practical product to eliminate undesirable odors and freshen your home. 1 Liter
Exquisite Sparkle of Lampe Berger is a fragrance that combines the aromas of grapefruit, champagne and patchouli with the floral and energetic notes that evoke that happy atmosphere that we enjoyed during the...
Refill for catalytic lamps by Maison Berger with Eau d'Aloe scent. Content 1 Liter A fresh and light fragrance, a mixture of delicate marine aromas, an aquatic and vegetal poetry worked around Aloe Vera and citrus...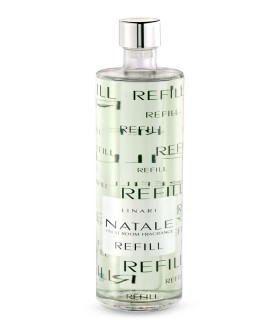 LINARI NATALE Solemn and spicy: Vibrant Christmas notes of Italian almonds and luscious oranges are enhanced by fine aldehyde chords. A bouquet of aromatic carnation, fresh lilac, freesia and jasmine build into a...
This refill of Mathilde M you can recharge your decorative scenteds bouquet many times as you want. With this aroma cotton flower scent will fill your home pure. Content 200 ml
Refill for bouquets from the Italian firm Culti Milano with the Lamborghini aroma. Contains 1 Liter Automobili Lamborghini is the first fragrance developed for the olfactory brand project developed by CULTI MILANO...
Heavenly Sun A fragrance that elegantly transports you like a solar air and a very feminine, prodigiously sensual aura. Content 1 Liter Floral and Solar Fragrance Head Notes: Tangerine, Bergamot, Orange...
The perfume Bois d'Orient of Lampe Berger is a sensual fragrance that combines the magic of spices to the delicacy of the woody essences heated in the sun .. This composition Lampe Berger has a content of 500 ml
Refill for bouquets from the Italian firm Culti  Milano with the aroma 'L'Oudness'. Contains 1 Liter It is something unexpected but its main ideal is not to accept commitments. It manages to evoke those countries...
Customers who bought this product also bought:
Eau D'Hadrien is an emblematic parfum of Goutal. Burning sun and the blinding light of Tuscany add to the charm of the cypress-lined terraces. The hottest hour of the day is the best time to sink into the soft shade...
Bouquet by Mathilde M. Content 30 ml Divine Marquise is an elegant and sensual perfume, where the delicious notes of the chocolates are surrounded by an oriental patchouli and amber chord.   Oriental Perfume...
Recharge for Lampe Berger catalytic lamps. Content 500  ml Cherry Blossom is a Floral, Soft and Fresh Fragrance Head Notes: Cassis, Green Alga, Lemon Heart Notes: Cherry Blossom, Rose, Green Tea Base Notes:...
Rêve Blanc is a tender and luminous aroma accompanied by the balance of generous whiteness and textured materials. Content 250 ml Floral Fragrance Head Notes: solar notes. Heart notes: freesia, heliotrope flower....
Sticks air freshener firm Dr. Vranjes. Content 500 ml. It Includes 8 vegetable sticks. Perfume Head notes: Siberian PineHeart Notes: Musk, Lavender and Vanilla.Background Notes: Wild Mint