Vent d' Océan Lampe Berger 1 L
Perfume for catalytic lamp Lampe berger in the collection dream of freshness. Purity and freshness as a direct blow from the ocean to your home. 1 Litre

16 other products in the same category:
Lolita  Lempicka by Lampe  Berger is a fairytale in which we can appreciate the story of a woman in the making who is going through that moment in which all of us had to leave childhood but not leave her. It is the...
Recharge for Lampe Berger catalytic lamps. 1 Liter content Aroma D-Stress is fruity and spicy perfume Head Notes: Orange, Tangerine, Bergamot Heart Notes: Melon, Mimosa, Ginger Base Notes: Musk
Refill Bouquet by the italian firm  Dr. Vranjes. Content 500 ml Perfume Top notes the brings the harmony of lemon flowers with carnation flower, evolving in its heart notes with clove and sandalwood, along with Star...
Refill for bouquets by Mahtilde M. Content 200 ml Rose Elixir pays tribute to the queen of flowers, a symbol of love and romanticism since ancient times. Discover this voluptuous and bewitching fragrance, like a...
Refill Bouquets by the italian firm  Vranjes. Content 500 mlPerfumeAmber. rich and heady fragrance with elegant oriental overtones. The Amber and the Iris Flower merge with Cistus, Patchouli, Lábdanum, Sandalwood and...
Refill for Bouquets by Locherber Milano with aroma Kyushu Rice. Contents 500 ml Inspired by the island of Kyūshū, the southernmost in Japan and known not only for its volcanoes, white beaches and hot springs, but...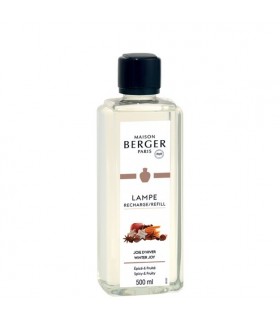 Refill for catalytic lamps from Maison Berger with Joie D'Hiver scent. Contains 500 ml Joie d'Hiver is an ideal perfume for end-of-year celebrations where the irreparably attractive fruity notes of apple are joined...
Refill for bouquets from the Italian firm Culti Milano, with fragrance 'Tessuto'. Content 1 Liter. IMAGINE A walk among the blooming stems of a cotton field, caressing the soft flakes. Touch the light texture of the...
Refill for Bouquets by Cerería Mollá with Aroma Mediterranean Blue. It contains 200 ml Mediterranean Blue Perfume impregnated by the notes of the Mediterranean where the white flowers intertwined with citrus...
Refill for Lampe Berger catalytic lamps. Content 500 ml    Douceur Orientale is a Spicy Oriental fragrance. Top Notes: Star Anise, Liquorice Heart Notes: Jasmine, Rose Base Notes:Tonka Bean, Vanilla
A scent of Lampe Berger inspired by the flower of orange blossom, with hints of jasmine that stands out for its lightness and tenderness. Composition 500 ml
Recharge for Lampe Berger catalytic lamps. Content 1 Liter Aquatic Freshness is a Soft Floral Perfume Head Notes: Melon, Green Apple Heart Notes: Monoi, Lily of the Valley Base Notes: Amber, Tuberose
The scent of Cinnamon and Orange provides the freshness of citrus combined with the warmth of spices and candied fruit, and enveloped by a sensual notes of amber and white musk. This composition of Lampe Berger has a...
This Lampe Berger fragrance brings back memories of our childhood, with hints of lavender, cotton and SOAP. Contents 500 ml
Refill for bouquets by Mahtilde M. Content 200 ml Astrée is Shining, romantic and feminine aroma by Mathilde M.. The fresh and sparkling notes of citruses reveal a lighting and solar bouquet of orange blossom and...
Refill for bouquets of the Esteban firm with Pur Lin aroma. Contains 500 ml Through this perfume, Estéban recreates the unique sensations provided by this mythical fabric, as noble as it is pure. In the top notes,...
Customers who bought this product also bought:
Original Scented sachet Original by Esteban Parfums, consisting of a wood that is inserted into the bag and that combined with the essential oil keeps its durably perfume. Scented Sachet This comes with the scent of...
Refill for bouquets of the Esteban firm with Rouge Cassis aroma. Contains 500 ml On the sunny slopes of Burgundy, black currant ripens, a bright berry with a dark skin. Like its neighbor, the famous grape of this...
This perfume by Lampe Berger, 'Touche de Soie', surprises us with its bright head notes composed of fresh and bright chords. In its heart, it is soft and velvety, where the magnitude of a floral bouquet of powdered...
Esteban Parfums essential oil reminiscent of a garden in a Mediterranean summer night. Content 15 ml. Soft floral fragrance.
Body moisturizing cream flavored with 'Teint de Neige' aroma by Lorenzo Villoresi, its composition takes its absorption, aroma  bringing memories delicate aroma, softness talc, despite its subtly exudes a strong...