Poussière d'Ambre 500ml Lampe Berger
Lampe Berger loaded of sensuality this scent on a hint of rose, Lily, and vanilla on a deep background of amber and patchouli. Composion 500 ml
16 other products in the same category:
Refill Bouquet by the italian firm  Dr. Vranjes. Content 500 mlPerfume Head notes: Siberian PineHeart Notes: Musk, Lavender and Vanilla.Background Notes: Wild Mint
Refill for Maison Berger catalytic lamps with Sous L'Oliveraie scent. Content 1 Liter Seasonal, this fragrance is woody and Oriental. A particularly carnal scent that begins with a floral woody facet with a hint of...
Refill for Bouquets by Locherber Milano with aroma Venetiae. Contents 500 ml The fragrance is inspired by Venice and its famous "Briccole". The "Briccole" are oak wooden posts (sometimes larch) that delimit the...
Refill for catalytic lamps by Maison Berger with Chadron Sauvage  scent. Content 1 Liter Chadron Sauvage by Maison Berger is a subtle fragrance that reveals in its top notes a mixture of citrus fruits and green...
Rêve Blanc is a tender and luminous aroma accompanied by the balance of generous whiteness and textured materials. Content 500 ml Floral Fragrance Head Notes: solar notes. Heart notes: freesia, heliotrope flower....
Recharge for Lampe Berger catalytic lamps. 500 ml content Feuilles d'Aromates is Fresh Aromatic perfume Head Notes: Green Notes, Eucalyptus, Grapefruit Heart Notes: Star Anise, Mint, Basil Base Notes: Clove,...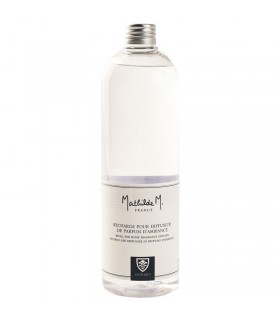 Refill for bouquets by Mahtilde M. Content 500 ml Perfume Angélique, a bewitching fragrance full of character, where her floral heart is illuminated by warm oriental notes. Oriental Perfume Head Notes:...
Recharge for Culti Milano bouquets with Acqua aroma. It contains 1000 ml Sweet and reassuring, it flows with its calm rhythm, transporting fragments of leaves and forests, the aromas of a trip. It glides slightly...
Recharge for Lampe Berger catalytic lamps. Content 1 Liter Aquatic Freshness is a Soft Floral Perfume Head Notes: Melon, Green Apple Heart Notes: Monoi, Lily of the Valley Base Notes: Amber, Tuberose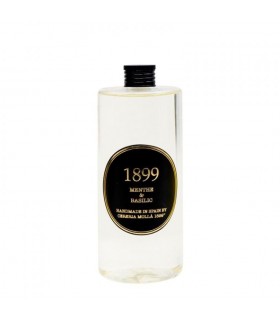 Refill for Bouquets by Cerería Mollá with Aroma Menthe & Basilic. It contains 500 ml Menthe & Basilic (Mint and Basil), is a perfume that provides us with a breath of pure and refreshing air thanks to the...
The jasmine in this composition as a sign of distion, this scent is made vibrant by the combination of jasmine and Ylang, conviertendose in a floral fragacia with fresh and fruity notes. Composition 500 ml
The perfume Bois d'Orient of Lampe Berger is a sensual fragrance that combines the magic of spices to the delicacy of the woody essences heated in the sun .. This composition Lampe Berger has a content of 500 ml
Recharge for Lampe Berger catalytic lamps. 500 ml content Amour D'Hibiscus is a fruity Floral perfume Head Notes: Bergamot, Pepper, Apple Heart Notes: Rose, Lily of the Valley, Hibiscus Base Notes: Musk, Amber
'The aroma 'Rose Élégante' , is a floral and powdery perfume, which brings us elegance and softness of rose petals. Content 200 ml 
Refill for catalytic lamps from Lampe Berger. Content 500 ml A vibrant fragrance with a very lively head. The citrus sparkle is sophisticated with a pleasant evolution towards a transparency given by the watery...
Refill for catalytic lamps from Lampe Berger. Conte.nt 500 ml A fragrance that takes you to a world of authenticity. Synonymous with freedom, it transmits values such as honesty and frankness. The freshness works...
Customers who bought this product also bought:
Air freshener spray very useful as it allows perfume the air with your favorite fragrance in an instant. The spray provides greater subtlety in the perception of a perfume composition. Teck and Tonka is captivating...
Replacement black sticks scented bouquets for Esteban Parfums. 22 cm
Spray Room, Mathilde M., with aroma 'Poudre de Riz',  a perfume with powdery notes invite remember. 100 ml
Perfume for catalytic lamp Lampe berger of the coleccionsueno of freshness. Purity and freshness as a direct blow from the ocean to your home. 500 ml.
Solution for catalytic lamp Lampe berger in the collection dream of purity. Without perfume, a basic and practical product to eliminate undesirable odors and freshen your home. 1 Liter