Santal Envoutant 500 ml Lampe Berger
With this fragrance Lampe Berger evokes Asian seduction with precious woods: sandalwood, which is mixed with black currant and the citrus sweetness of mandarin. The heart reveals the soft, enveloping side of sandalwood, emphasized by the femininity of a bouquet of roses and lilies. The base is warm and engaging, combining precious coumarin and Mysore sandalwood. Content 500 ml
Perfume
Heart notes: sandalwood, muguet, Rose.
Base notes: Mysore sandalwood, musk, honey, coumarin.
Composition: Fragrance, water, isopropyl alcohol
16 other products in the same category:
A revitalizing fragrance with a stimulating mixture joins forces with aromatic eucalyptus notes on a background of white musk mixed. This composition of Lampe Berger has a content of 1 Liter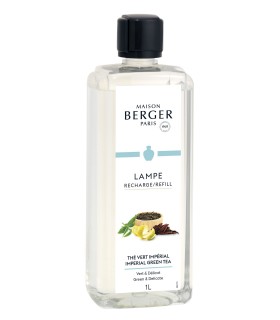 Refill for catalytic lamps from Lampe Berger. Content 1 Liter A fragrance that takes you to a world of authenticity. Synonymous with freedom, it transmits values such as honesty and frankness. The freshness works...
Recharge for Bouquets (Reed Diffuser) of the French firm Esteban Parfums, with fragrance 'Terre d'Agrumes', a citrus and woody fragrance that fills our stay with freshness with a touch of personality, and its...
Refill for Bouquets by Cerería Mollá with Aroma Mediterranean Blue. It contains 200 ml Mediterranean Blue Perfume impregnated by the notes of the Mediterranean where the white flowers intertwined with citrus...
Recharge for Lampe Berger catalytic lamps. 500 ml content Aroma D-Stress is fruity and spicy perfume Head Notes: Orange, Tangerine, Bergamot Heart Notes: Melon, Mimosa, Ginger Base Notes: Musk
Refill for bouquets by Mahtilde M. Content 200 ml Rose Elixir pays tribute to the queen of flowers, a symbol of love and romanticism since ancient times. Discover this voluptuous and bewitching fragrance, like a...
Refill Bouquet by the italian firm  Dr. Vranjes. Content 500 mlPerfume Head notes: Siberian PineHeart Notes: Musk, Lavender and Vanilla.Background Notes: Wild Mint
Refill Bouquets by the italian firm  Dr. Vranjes. Content 500 mlPerfume Rosso Nobile. Initial orange notes enhance in the floral part formed by the absolute of violet and flowers of magnolia, accords of plum complete...
The Cotton Dreams fragance by Lampe Berger  evokes the "clean", this fragrance has fresh notes of Marseille soap and bergamot, which bind to the aromatic accents of lavender and pine. This Lampe Berger composition has...
Refill for catalytic lamps by Maison Berger with Eau d'Aloe scent. Content 1 Liter A fresh and light fragrance, a mixture of delicate marine aromas, an aquatic and vegetal poetry worked around Aloe Vera and citrus...
Refill for catalytic lamps from Lampe Berger. Content 500 ml A powerful, conquering and airy fragrance with aromas of tomato leaves along with grapefruit and citrus in the top notes. Patchouli and white birch wood...
Refill Bouquets by the italian firm  Dr. Vranjes. Content 500 ml The sensual notes of Milano, where patchouli is enlivened with the lively notes of pepper and sandalwood combining with the sparkling notes of cedar...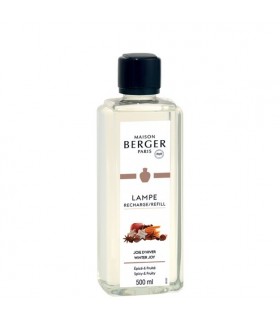 Refill for catalytic lamps from Maison Berger with Joie D'Hiver scent. Contains 500 ml Joie d'Hiver is an ideal perfume for end-of-year celebrations where the irreparably attractive fruity notes of apple are joined...
Refill for Bouquets by Locherber Milano with aroma Oudh . Contents 500 ml Known since the dawn of time in different cultures and religions, but also in ancient medicinal practices, Oud (Oudh in the Arab world) is a...
Refill for bouquets of the Italian firm Culti  Milano with the aroma 'Linfa'. Content 1 Liter Iridescence, transparency and vitality. Strength and purity Light and tenacious. A combination between white currant and...
Sandalwood Temptation On the head, the fresh and aromatic aroma of cardamom, is accompanied by an enveloping sandalwood and a slightly dry cedar. A white jasmine married to myrtle comes to celebrate the agreement,...
Customers who bought this product also bought:
Refill for Lampe Berger catalytic lamps. Content 500 ml    Douceur Orientale is a Spicy Oriental fragrance. Top Notes: Star Anise, Liquorice Heart Notes: Jasmine, Rose Base Notes:Tonka Bean, Vanilla
See refinement and elegacia through this scent of Lampe Berger, feels the attraction of its floral notes, and the French perfumes, with notes of bergamot, jasmine water and white musk. Contents 500 ml
Lampe Berger loaded of sensuality this scent on a hint of rose, Lily, and vanilla on a deep background of amber and patchouli. Composion 500 ml
The jasmine in this composition as a sign of distion, this scent is made vibrant by the combination of jasmine and Ylang, conviertendose in a floral fragacia with fresh and fruity notes. Composition 500 ml
Refill for bouquets from the Italian firm Culti Milano, with fragrance 'Fuoco'. Content 1 Liter. IMAGINE A dense night falls on the rows of citrus and lemon trees after a day of fire, among the hypnotic sound of the...