Légendes d'Orient 500 ml Esteban refill
Air fresheners scented solution of the French firm Esteban help to prolong the life of your mikados and ceramic diffusers, scented, being able to choose between the initial aroma of the product, or any other variety of Esteban. Contents 500 ml
Spicy oriental perfume.
Air freshener fragrant solution, 500 ml bottle.
Perfume of the French firm Stephen who awakens the magic that is latent in every one of us pervading the atmosphere with a golden aroma of spices.
Spicy oriental perfume.
Calculated from
10
reviews
I simply love the scent . Very good product.
I use the products mostly for infusers...and I have revered your company to my daughter..who has also bought..
Great product, smells amazing! Definitely recommend
Use it in my diffuser..definitely refer it to others
Nice smell but ... it's always personal.
16 other products in the same category: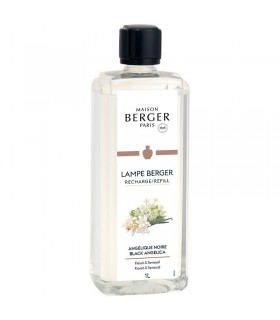 Recharge for catalytic lamps by Maison Berger. Content 1 Liter Angélique Noire is a bewitching sensual fragrance, an intoxicating flower full of magic and eroticism. Rare, noble and refined, this interpretation...
The aroma of Cinnamon and Orange that provides the freshness of citrus combined with the warmth of spices and candied fruit, and wrapped in sensual notes of amber and white musk. This Lampe Berger composition has a...
Recharge for Bouquets (Reed Diffuser) of the French firm Esteban Parfums, with fragrance 'Iris Cachemire'. Content  500 ml Iris Cachemire is an elegant and unexpected marriage, where vegetal notes flirt with a...
Refill for Bouquets by Cerería Mollá with Aroma Menthe & Basilic. It contains 500 ml Menthe & Basilic (Mint and Basil), is a perfume that provides us with a breath of pure and refreshing air thanks to the...
Absolu of Vainille aroma is sweet notes of a perfume that evokes all the aroma of a vanilla bean, sweet and sugary (rum, star anise) notes and envelope heart (Bourbon vanilla pods) and a chocolate background and...
Refills for Bouquets Trudon, L'Œuf, with Abd el Kader perfume. Contains 300 ml. It is inspired by the aroma of Morocco and its palaces. Abd el Kader / Abd al-Qadir was an Algerian who led the fight against the...
Refill for catalytic lamps from Lampe Berger. Conte.nt 500 ml A fragrance that takes you to a world of authenticity. Synonymous with freedom, it transmits values such as honesty and frankness. The freshness works...
Recharge for Lampe Berger catalytic lamps. 1 Liter content Aroma Love is Oriental Floral perfume Head Notes: Orange Blossom, Green Notes Heart Notes: Canker sores, Ylang-Ylang Base Notes: Marine Notes,...
Exquisite Sparkle of Lampe Berger is a fragrance that combines the aromas of grapefruit, champagne and patchouli with the floral and energetic notes that evoke that happy atmosphere that we enjoyed during the...
Refill for bouquets by Mahtilde M. Content 500 ml Divine Marquise is an elegant and sensual perfume, where the delicious notes of the chocolates are surrounded by an oriental patchouli and amber chord.   Oriental...
Refill for catalytic lamps from Maison Berger with Fleurs de Musc scent. Content 1 Liter A floral and sensual essence as sweet as it is joyful, with a strong dose of mystery. The enveloping aroma arises from this...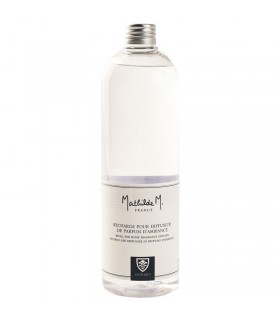 Refill for bouquets by Mahtilde M. Content 500 ml Perfume Angélique, a bewitching fragrance full of character, where her floral heart is illuminated by warm oriental notes. Oriental Perfume Head Notes:...
Originally from the region of Calabria, the Bergamot is a citrus widely used in perfumery, a Mediterranean flavor that exalts himself with tangerine and orange on a spicy background cardamom, accompanied by floral...
With this fragrance Lampe Berger evokes Asian seduction with precious woods: sandalwood, which is mixed with black currant and the citrus sweetness of mandarin. The heart reveals the soft, enveloping side of...
Recharge for Lampe Berger catalytic lamps. 1 Liter content Délicat Musc Blanc is Powdered and Subtle perfume Head Notes: Orange, Petitgrain, Grapefruit Heart Notes: Rose, Jasmine, Orange Blossom Base Notes:...
Customers who bought this product also bought:
Concentrate perfume by Mathilde M. with aroma 'Fleur de Coton' for use as essential oil diffusers and use in Mist Diffuser . Not for use alimentary or body. Content 10 ml Perfume Head notes: Fressia, cotton seed....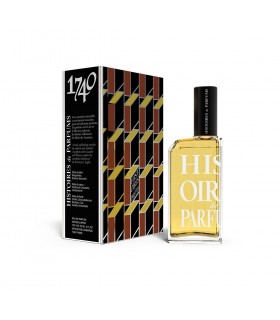 1740 by Histoires de Parfums is a perfume designed for a modern hedonist. A perfume with a strong personality that inspires us to explore each and every one of the scandalous freedoms of the Enlightenment through the...
Refill for Bouquets by Locherber Milano with aroma Oudh . Contents 500 ml Known since the dawn of time in different cultures and religions, but also in ancient medicinal practices, Oud (Oudh in the Arab world) is a...
Replacement plant rods for Mathilde M. mikados 30 cm
Intense Tiaré by Montale, is an oriental and floral floral fragrance for men and women, designed by Pierre Montale. Its main notes are the flower tiare, coconut, rose, jasmine, ylang-ylang and vanilla. Content 100 ml...