Cotton Caress 500 ml Lampe Berger
The Cotton Dreams fragance by Lampe Berger  evokes the "clean", this fragrance has fresh notes of Marseille soap and bergamot, which bind to the aromatic accents of lavender and pine. This Lampe Berger composition has a content of 500 ml
16 other products in the same category:
Recharge for Lampe Berger catalytic lamps. 1 Liter content Délicat Musc Blanc is Powdered and Subtle perfume Head Notes: Orange, Petitgrain, Grapefruit Heart Notes: Rose, Jasmine, Orange Blossom Base Notes:...
Refill for Lampe Berger catalytic lamps. Content 500 ml    Douceur Orientale is a Spicy Oriental fragrance. Top Notes: Star Anise, Liquorice Heart Notes: Jasmine, Rose Base Notes:Tonka Bean, Vanilla
Refill for catalytic lamps by Maison Berger with Chadron Sauvage  scent. Content 1 Liter Chadron Sauvage by Maison Berger is a subtle fragrance that reveals in its top notes a mixture of citrus fruits and green...
Air fresheners scented solution of the French firm Esteban help to prolong the life of your mikados and ceramic diffusers, scented,'Figue Noire' is a woody and fruity fragrance . Contents 500 ml PerfumeTop notes of...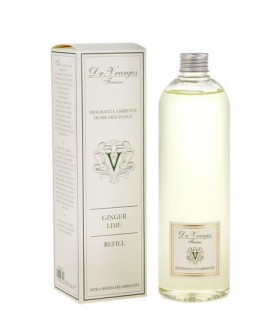 Refill Bouquet by the italian firm  Dr. Vranjes. Content 500 mlPerfumeGinger and lime. Fresh and spicy is how you can define this fragrance thanks to juicy and bright notes of Lima attached to the essence of ginger...
Refill for bouquets by Mahtilde M. Content 200 ml Rose Elixir pays tribute to the queen of flowers, a symbol of love and romanticism since ancient times. Discover this voluptuous and bewitching fragrance, like a...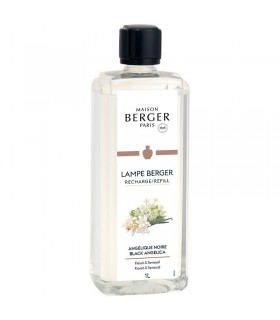 Recharge for catalytic lamps by Maison Berger. Content 1 Liter Angélique Noire is a bewitching sensual fragrance, an intoxicating flower full of magic and eroticism. Rare, noble and refined, this interpretation...
Recharge for Lampe Berger catalytic lamps. Content 500 ml Aquatic Freshness is a Soft Floral Perfume Head Notes: Melon, Green Apple Heart Notes: Monoi, Lily of the Valley Base Notes: Amber, Tuberose
This refill of Mathilde M you can recharge your decorative scenteds bouquet many times as you want. With this aroma cotton flower scent will fill your home pure. Content 200 ml
Replacement Scented Bouquet vegetable sticks 22 cm by Esteban Parfums
A revitalizing fragrance with a stimulating mixture joins forces with aromatic eucalyptus notes on a background of white musk mixed. This composition of Lampe Berger has a content of 1 Liter
The Patchouli Lampe Berger fragrance is a sensual and modern fragrance in which the notes of patchouli mixed with sweet and enveloping chords of vanilla and amber balms, a real invitation to well-being and comfort....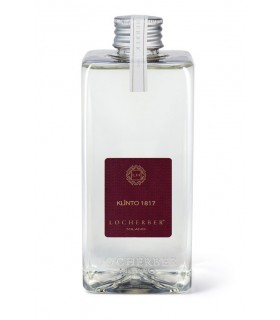 Refill for Bouquets by Locherber Milano with aroma Klinto. Contents 500 ml Especially extended in Veneto, the wine Clinto (or clintòn), reached the old continent of America at the beginning of the 19th century. El...
Refill for Bouquets by Locherber Milano with aroma Capri Blue. Contents 500 ml An extraordinary mix of nature, history and culture, Capri is a myth without equal in the world, a true inspiring "muse" for painters,...
Refill for bouquets by Mahtilde M. Content 200 ml Antoinette is a fragrance that was imagined as a floral gift and where the union between specially collected honey and a bouquet of jasmine and orange blossom...
Recharge for Lampe Berger catalytic lamps. 500 ml content Sève Eternelle is Aromatic Green perfume Head Notes: Green Notes, Eucalyptus, Grapefruit Heart Notes: Sage, Mint, Aloe Vera, Lotus Flower Base...
Customers who bought this product also bought:
Solution for catalytic lamp Lampe berger in the collection dream of purity. Without perfume, a basic and practical product to eliminate undesirable odors and freshen your home. 1 Liter
Promotional Pack of Lampe Berger, pure air, which includes catalytic lamp of transparent Crystal, cubic design and neutral perfume. With this decorative air freshener, it will purify the air in your home and you can...
The French firm Esteban has created this dresser design that combines humidifier and perfume. A new olfactory delight getting through the whisper of water, refreshing mist and of course, the irresistible fragrance of...
The Home Fragrance Bois d'Eau offers a crisp citrus freshness underlined by the fresh water spray. In their heart notes, the aquatic notes are mixed with the drift of driftwood before plunging along the coral reefs,...
'Zeste Verveine' is a fresh citrus scent and where his two flavors verbena and lemon rind. This Lampe Berger composition has a content of 500 ml