Sparkling Zest 1 LiterLampe Berger
Recharge for Lampe Berger catalytic lamps. Content 1 Liter
Aquatic Freshness is a Citrus Energizing
Head Notes: Grapefruit, Orange
Heart Notes: Grapefruit, Pineapple
Base Notes: Musk, Peach
16 other products in the same category:
This refill of Mathilde M you can recharge your decorative scenteds bouquet many times as you want, a delicious blend of wood, spice and soft vanilla. Content 200 ml
Refill for bouquets by Mahtilde M. Content 200 ml Astrée is Shining, romantic and feminine aroma by Mathilde M.. The fresh and sparkling notes of citruses reveal a lighting and solar bouquet of orange blossom and...
Refill for catalytic lamps from Lampe Berger. Content 1 Liter A vibrant fragrance with a very lively head. The citrus sparkle is sophisticated with a pleasant evolution towards a transparency given by the watery...
Refill Bouquets by the italian firm  Vranjes. Content 500 mlPerfumeAmber. rich and heady fragrance with elegant oriental overtones. The Amber and the Iris Flower merge with Cistus, Patchouli, Lábdanum, Sandalwood and...
Lolita  Lempicka by Lampe  Berger is a fairytale in which we can appreciate the story of a woman in the making who is going through that moment in which all of us had to leave childhood but not leave her. It is the...
Refill Bouquet by the italian firm  Dr. Vranjes. Content 500 mlPerfumeVanilla and tangerine. Instant and precious fragrance that combines the sweetness of vanilla with the acidity of the Mandarin.Properties: Soothing,...
A scent of Lampe Berger inspired by the flower of orange blossom, with hints of jasmine that stands out for its lightness and tenderness. Composition 500 ml
Recharge for Lampe Berger catalytic lamps. Content 500 ml Aquatic Freshness is a Soft Floral Perfume Head Notes: Melon, Green Apple Heart Notes: Monoi, Lily of the Valley Base Notes: Amber, Tuberose
Refill for bouquets of the Esteban firm with Pur Lin aroma. Contains 500 ml Through this perfume, Estéban recreates the unique sensations provided by this mythical fabric, as noble as it is pure. In the top notes,...
Refill for catalytic lamps from Lampe Berger. Conte.nt 500 ml A fragrance that takes you to a world of authenticity. Synonymous with freedom, it transmits values such as honesty and frankness. The freshness works...
The Cotton Dreams fragance by Lampe Berger  evokes the "clean", this fragrance has fresh notes of Marseille soap and bergamot, which bind to the aromatic accents of lavender and pine. This Lampe Berger composition has...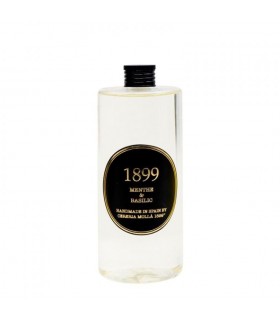 Refill for Bouquets by Cerería Mollá with Aroma Menthe & Basilic. It contains 500 ml Menthe & Basilic (Mint and Basil), is a perfume that provides us with a breath of pure and refreshing air thanks to the...
Refill Scented Bouquet by the Italian firm Dr. Vranjes. Content 500 ml The fleshy notes of Peony intertwine with the intense aroma of Black Jasmine, creating a fresh, bright and incredibly refined accord. Peonia...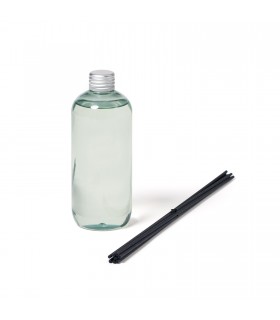 Refills for Trudon Bouquets, with Spiritus Sancti perfume. Contains 300 ml. Solemn perfume of the sacristies, under the nave of a cathedral. Spiritual and Enveloping Perfume like the altar candles, with a wake of...
Recharge for Lampe Berger catalytic lamps. 1 Liter content Aroma Love is Oriental Floral perfume Head Notes: Orange Blossom, Green Notes Heart Notes: Canker sores, Ylang-Ylang Base Notes: Marine Notes,...
Refill for Bouquets by Locherber Milano with aroma Dokki Cotton. Contents 500 ml Elegant, delicate, pure, light, drunken, eternal; In the hot and dry Sahara desert, the great and magical Nile creates a river oasis...
Customers who bought this product also bought:
Spray Room  Marquise Extratit de Parfum, a warm and floral aroma, with a touch of sensuality fill your home with vanilla notes. Content 100 ml
Refill for bouquets from the Italian firm Culti Milano, with fragrance 'Aramara'. Content 1 Liter. IMAGINE A sunny day in the countryside, marked by the reassuring aroma of the citrus peel. Its aroma extends and...
This essence, the French firm Esteban Ambre that promise happiness and co-existence in your home with this amber citrus perfume-scented.Content 15 ml
Recharge for Lampe Berger catalytic lamps. Content 1 Liter Thé Blanc Pureté is a Floral and Musky Head Notes: Bergamot, Cassis Heart Notes: White Tea, Lily of the Valley, Rose Jasmine Base Notes: Cedar White...