Sandalwood Temptation 1 Liter Lampe Berger
Sandalwood Temptation
On the head, the fresh and aromatic aroma of cardamom, is accompanied by an enveloping sandalwood and a slightly dry cedar. A white jasmine married to myrtle comes to celebrate the agreement, then the notes of amber and vanilla bring a touch of elegance and character. Content 1 Liter
Oriental Woody Perfume
Head Notes: Rose, Cardamom, Sandalwood
Heart notes: Cedar, Myrtle, White Jasmine
Base Notes: Sandalwood, Amber, Vanilla
16 other products in the same category:
Replacement Scented Bouquet vegetable sticks 22 cm by Esteban Parfums
The Patchouli Lampe Berger fragrance is a sensual and modern fragrance in which the notes of patchouli mixed with sweet and enveloping chords of vanilla and amber balms, a real invitation to well-being and comfort....
A scent which gives the space a sense of purity and peace to the relaxing of a bathroom. It is a creation of the signature Lampe Berger that combines touches of orange blossom, Peony and cotton flower. This...
Heavenly Sun A fragrance that elegantly transports you like a solar air and a very feminine, prodigiously sensual aura. Content 500 ml Floral and Solar Fragrance Head Notes: Tangerine, Bergamot, Orange...
Perfume for catalytic lamp Lampe berger of the coleccionsueno of freshness. Purity and freshness as a direct blow from the ocean to your home. 500 ml.
Recharge for Lampe Berger catalytic lamps. 1 Liter content Aroma D-Stress is fruity and spicy perfume Head Notes: Orange, Tangerine, Bergamot Heart Notes: Melon, Mimosa, Ginger Base Notes: Musk
Refill for Bouquets by Dr. Vranjes. Content 500 ml. Giglio di Firenze in a delicate and elegant perfume, where its powdery and powdery notes come together with elegant and comfortable notes, it is ideal for spaces...
Refill for bouquets from the Italian firm Culti Milano with the aroma 'Aria'. Content 1 Liter A fresh and transparent breeze gets the curtains removed from our windows and reveals a splendid view of the seashore to...
Refill for Bouquets by Locherber Milano with aroma Dokki Cotton. Contents 500 ml Elegant, delicate, pure, light, drunken, eternal; In the hot and dry Sahara desert, the great and magical Nile creates a river oasis...
Lemon Blossom is a fresh lemon scent that combines the floral sweetness of neroli and orange blossom. This Lampe Berger composition has a content of 500 ml
Exquisite Sparkle of Lampe Berger is a fragrance that combines the aromas of grapefruit, champagne and patchouli with the floral and energetic notes that evoke that happy atmosphere that we enjoyed during the...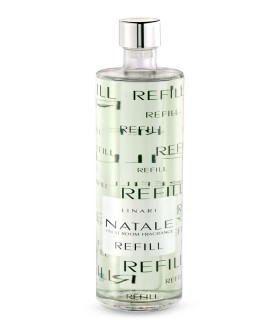 LINARI NATALE Solemn and spicy: Vibrant Christmas notes of Italian almonds and luscious oranges are enhanced by fine aldehyde chords. A bouquet of aromatic carnation, fresh lilac, freesia and jasmine build into a...
Fragrance Lampe Berger luminous and majestic, glittering with spicy notes. Soft and fruity joins patchouli and gourmet flavors. Contents 500 ml
Recharge for Lampe Berger catalytic lamps. 500 ml content Sève Eternelle is Aromatic Green perfume Head Notes: Green Notes, Eucalyptus, Grapefruit Heart Notes: Sage, Mint, Aloe Vera, Lotus Flower Base...
A revitalizing fragrance with a stimulating mixture joins forces with aromatic eucalyptus notes on a background of white musk mixed. This composition of Lampe Berger has a content of 500 ml
Recharge for Lampe Berger catalytic lamps. Content 1 Liter Aquatic Freshness is a Soft Floral Perfume Head Notes: Melon, Green Apple Heart Notes: Monoi, Lily of the Valley Base Notes: Amber, Tuberose
Customers who bought this product also bought:
Refill for catalytic lamps from Maison Berger with Fleurs de Musc scent. Content 1 Liter A floral and sensual essence as sweet as it is joyful, with a strong dose of mystery. The enveloping aroma arises from this...
Oriental Comfort 1 Liter Lampe Berger Refill for Lampe Berger catalytic lamps. Content 1 Liter  ml    Douceur Orientale is a Spicy Oriental fragrance. Top Notes: Star Anise, Liquorice Heart Notes: Jasmine, Rose...
Mikado in decorative glass jar with ceramic lid and shaped rods triptych, Esteban french firm, with Cedar fragrance it gives warmth expected both to the most sophisticated homes and to the more traditional. Scented...
This refill of Mathilde M you can recharge your decorative scenteds bouquet many times as you want, a delicious blend of wood, spice and soft vanilla. Content 200 ml
Spray Room by Locherber Milano with aroma Habana Tobacco. Contents 100 ml Breathe freedom, the air that smells of dreams; an uncontaminated place, not only an island but the island par excellence. Expert hands,...