Ginger and Orange Blossom Refill 500 ml Bouquet Cereria Mollá
Refill for Bouquets by Cerería Mollá with Aroma Ginger and Orange Blossom. It contains 500 ml
Ginger and Orange Blossom
Joyful and bright aroma where the citrus notes blend with the sensual perfume the white flowers and the elegance of the noble woods.
Citrus and Floral Perfume
16 other products in the same category:
Refill for Bouquets by Locherber Milano with aroma Rhubarbe Royale. Contents 500 ml Rhubarbe Royale is a refined and captivating fragrance that evokes the sensation of soft freshness of Rhubarb, a perennial plant...
Refill for bouquets of the Esteban firm with Pur Lin aroma. Contains 500 ml Through this perfume, Estéban recreates the unique sensations provided by this mythical fabric, as noble as it is pure. In the top notes,...
Recharge for Lampe Berger catalytic lamps. 500 ml content Aroma D-Stress is fruity and spicy perfume Head Notes: Orange, Tangerine, Bergamot Heart Notes: Melon, Mimosa, Ginger Base Notes: Musk
This refill of Mathilde M you can recharge your decorative scenteds bouquet many times as you want. Marquise, a delicious blend of wood, spice and soft vanilla. Content 500 ml
Refill for bouquets from the Italian firm Culti Milano, with fragrance 'Aramara'. Content 1 Liter. IMAGINE A sunny day in the countryside, marked by the reassuring aroma of the citrus peel. Its aroma extends and...
Refill for catalytic lamps by Lampe Berger with Citronelle Aroma. Content 500 ml Citronella perfume has the glow of love with its cheerful bursts of orange. Its floral bouquet reveals the poetry of a romance with...
Refill for catalytic lamps from Maison Berger with Under the Fig Tree scent. Contains 500 ml The aroma of Maison Berger Sous le Figuier is a perfume that finds the perfect balance between the freshness of the leaves...
Heavenly Sun A fragrance that elegantly transports you like a solar air and a very feminine, prodigiously sensual aura. Content 500 ml Floral and Solar Fragrance Head Notes: Tangerine, Bergamot, Orange...
Refill for Maison Berger catalytic lamps. Content 1 Liter Cachemire Blanc is an enveloping perfume that does not provide comfort thanks to the floral notes and white musks together with the soft woods that provide...
Recharge for Lampe Berger catalytic lamps. 1 Liter content Aroma Love is Oriental Floral perfume Head Notes: Orange Blossom, Green Notes Heart Notes: Canker sores, Ylang-Ylang Base Notes: Marine Notes,...
Refill for bouquets by Mahtilde M. Content 200 ml Rose Elixir pays tribute to the queen of flowers, a symbol of love and romanticism since ancient times. Discover this voluptuous and bewitching fragrance, like a...
Refill for Reed Diffuser by Culti Milano with aroma Aqqua. Contents 1000 ml IMAGINE A look at the open sea. To embrace the bay with the view, the mountain that glides towards the blue, with villages stamped as...
This perfume by Lampe Berger, 'Touche de Soie', surprises us with its bright head notes composed of fresh and bright chords. In its heart, it is soft and velvety, where the magnitude of a floral bouquet of powdered...
Refill Bouquets by the italian firm  Dr. Vranjes. Content 500 ml
. Perfume Bellini, by Dr. Vranjes manages to impregnate the air with joy, with its intense and youthful fragrance. Its fresh and fruity notes evoke...
Recharge for Lampe Berger catalytic lamps. 500 ml content Sève Eternelle is Aromatic Green perfume Head Notes: Green Notes, Eucalyptus, Grapefruit Heart Notes: Sage, Mint, Aloe Vera, Lotus Flower Base...
Champs de Lavande is a fresh floral fragrance with a hint of camphor that provides a cool character. This Lampe Berger composition has a content of 1 Litre
Customers who bought this product also bought: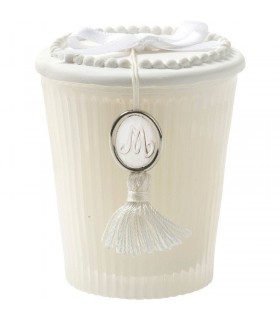 Decorativa scented candle by Mathilde M. Divine Marquise is an elegant and sensual perfume, where the delicious notes of the chocolates are surrounded by an oriental patchouli and amber chord.   Oriental...
Scented sachet by  Mathilde M. with aroma Marquise which will keep your wardrobes and drawers scented for long periods. The sachet also has a  perfumed scented plaste which can strengthen the perfume with the...
 Lampe Berguer burner replacement. Lenght 47 cm
The botanical tablet is a new accessory made of wax that allows perfuming small spaces with pleasant aromas. As it does not have a wick, it does not burn, which facilitates the diffusion of the odor without...
Champs de Lavande is a fresh floral fragrance with a hint of camphor that provides a cool character. This Lampe Berger composition has a content of 500 ml