Tuberose & Jasmine Refill 500 ml Bouquet Cereria Mollá
Refill for Bouquets by Cerería Mollá with Aroma Tuberose & Jasmine . It contains 500 ml
Tuberose & Jasmine 
Fresh Fragrance with Green notes and a powerful Floral heart, being the Orange Blossom, Jasmine and Narcissus its main floral notes that will transfer us to a garden full of emotions, where peace and harmony predominate.
Fresh, Floral and Green Fragrance
16 other products in the same category:
Refill for Bouquets by Locherber Milano with aroma Rhubarbe Royale. Contents 500 ml Rhubarbe Royale is a refined and captivating fragrance that evokes the sensation of soft freshness of Rhubarb, a perennial plant...
Refill for Bouquets by Cerería Mollá with Aroma Menthe & Basilic. It contains 500 ml Menthe & Basilic (Mint and Basil), is a perfume that provides us with a breath of pure and refreshing air thanks to the...
Refill for bouquets of the Italian firm Culti  Milano with the aroma 'Linfa'. Content 1 Liter Iridescence, transparency and vitality. Strength and purity Light and tenacious. A combination between white currant and...
Refill for Bouquets by Dr. Vranjes. Content 500 ml. Giglio di Firenze in a delicate and elegant perfume, where its powdery and powdery notes come together with elegant and comfortable notes, it is ideal for spaces...
Recharge for Lampe Berger catalytic lamps. 500 ml content Aroma D-Stress is fruity and spicy perfume Head Notes: Orange, Tangerine, Bergamot Heart Notes: Melon, Mimosa, Ginger Base Notes: Musk
See refinement and elegacia through this scent of Lampe Berger, feels the attraction of its floral notes, and the French perfumes, with notes of bergamot, jasmine water and white musk. Contents 500 ml
Refill for Bouquets by Locherber Milano with aroma Rhubarbe Royale. Contents 500 ml Aramaik is an enveloping and woody perfume that takes us to the archaic rituals of ancient Egypt where, through ointments composed...
Refill for Maison Berger catalytic lamps with Sous L'Oliveraie scent. Content 1 Liter Seasonal, this fragrance is woody and Oriental. A particularly carnal scent that begins with a floral woody facet with a hint of...
Refill for catalytic lamps from Lampe Berger. Content 1 Liter A vibrant fragrance with a very lively head. The citrus sparkle is sophisticated with a pleasant evolution towards a transparency given by the watery...
The Cotton Dreams fragance by Lampe Berger  evokes the "clean", this fragrance has fresh notes of Marseille soap and bergamot, which bind to the aromatic accents of lavender and pine. This Lampe Berger composition has...
Exquisite Sparkle of Lampe Berger is a fragrance that combines the aromas of grapefruit, champagne and patchouli with the floral and energetic notes that evoke that happy atmosphere that we enjoyed during the...
Refills for Bouquets Trudon, L'Œuf, with Cyrnos perfume. Contains 300 ml. The town of Cyrnos in Provence welcomed high society at the beginning of the 20th century, they met in the shade of fig trees and pines. They...
Recharge for Lampe Berger catalytic lamps. Content 500  ml Cherry Blossom is a Floral, Soft and Fresh Fragrance Head Notes: Cassis, Green Alga, Lemon Heart Notes: Cherry Blossom, Rose, Green Tea Base Notes:...
Solution for catalytic lamp Lampe berger in the collection dream of purity. Without perfume, a basic and practical product to eliminate undesirable odors and freshen your home. 1 Liter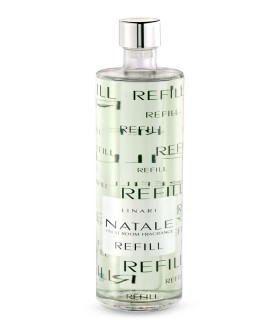 LINARI NATALE Solemn and spicy: Vibrant Christmas notes of Italian almonds and luscious oranges are enhanced by fine aldehyde chords. A bouquet of aromatic carnation, fresh lilac, freesia and jasmine build into a...
Refill for Bouquets by Locherber Milano with aroma Venetiae. Contents 500 ml The fragrance is inspired by Venice and its famous "Briccole". The "Briccole" are oak wooden posts (sometimes larch) that delimit the...
Customers who bought this product also bought:
Textile pefume Mathilde M. can be used both as a room spray or directly on their tissues without being stained. Mathilde M. perfume 'Fleur de Coton "is a clean scent of white flowers and precious woods.Content 75 ml
Concentrate perfume by Mathilde M. with aroma 'Coeur d'ambre' for use as essential oil diffusers and use in Mist Diffuser . Not for use alimentary or body. Content 10 ml Perfume Head notes: Bergamot. Heart Notes:...
Scented Sachet by Mathilde M with a baby aroma Astrée.  Floral Perfume
This perfume by Lampe Berger, 'Touche de Soie', surprises us with its bright head notes composed of fresh and bright chords. In its heart, it is soft and velvety, where the magnitude of a floral bouquet of powdered...
'Zeste Verveine' is a fresh citrus scent and where his two flavors verbena and lemon rind. This Lampe Berger composition has a content of 500 ml