Aroma D-Stress 1 Litro Lampe Berger
Recharge for Lampe Berger catalytic lamps. 1 Liter content
Aroma D-Stress is fruity and spicy perfume
Head Notes: Orange, Tangerine, Bergamot
Heart Notes: Melon, Mimosa, Ginger
Base Notes: Musk
16 other products in the same category:
Recharge for Lampe Berger catalytic lamps. 1 Liter  content Aroma Wake Up pire is Woody perfume Head Notes: Ginger, Bergamot, Eucalyptus Heart Notes: Cedar, Sandalwood, Geranium Base Notes: Sandalwood, Patchouli
Refill for Bouquets by Locherber Milano with aroma Dokki Cotton. Contents 500 ml Elegant, delicate, pure, light, drunken, eternal; In the hot and dry Sahara desert, the great and magical Nile creates a river oasis...
Refill Bouquet by the italian firm  Dr. Vranjes. Content 500 ml Perfume Top notes the brings the harmony of lemon flowers with carnation flower, evolving in its heart notes with clove and sandalwood, along with Star...
Lolita  Lempicka by Lampe  Berger is a fairytale in which we can appreciate the story of a woman in the making who is going through that moment in which all of us had to leave childhood but not leave her. It is the...
Refill for bouquets of the Esteban firm with Rouge Cassis aroma. Contains 500 ml On the sunny slopes of Burgundy, black currant ripens, a bright berry with a dark skin. Like its neighbor, the famous grape of this...
Refill for bouquets by Mahtilde M. Content 200 ml Rose Elixir pays tribute to the queen of flowers, a symbol of love and romanticism since ancient times. Discover this voluptuous and bewitching fragrance, like a...
Refill Bouquets by the italian firm  Dr. Vranjes. Content 500 ml ln the city of art, Florence, we 'Giardini di Boboli' where Vranjes inspires its fragrance, which recalls the time where princes and nobles walked in...
Terre d'Épices es un perfume vibrante que combina los aromas especiados en todos sus tonos llenos de intensidad. La pimienta rosa casa elegantemente su frescura especiada con la nota suave y aterciopelada del acorde...
Heavenly Sun A fragrance that elegantly transports you like a solar air and a very feminine, prodigiously sensual aura. Content 500 ml Floral and Solar Fragrance Head Notes: Tangerine, Bergamot, Orange...
Refill for catalytic lamps by Maison Berger with Eau d'Aloe scent. Content 500 ml A fresh and light fragrance, a mixture of delicate marine aromas, an aquatic and vegetal poetry worked around Aloe Vera and citrus...
The Home Fragrance Bois d'Eau offers a crisp citrus freshness underlined by the fresh water spray. In their heart notes, the aquatic notes are mixed with the drift of driftwood before plunging along the coral reefs,...
This refill of Mathilde M you can recharge your decorative scenteds bouquet many times as you want. Rice Powder aroma, It´s a perfume with powdery notes that invites to remember. Content 200 ml
The scent of Cinnamon and Orange provides the freshness of citrus combined with the warmth of spices and candied fruit, and enveloped by a sensual notes of amber and white musk. This composition of Lampe Berger has a...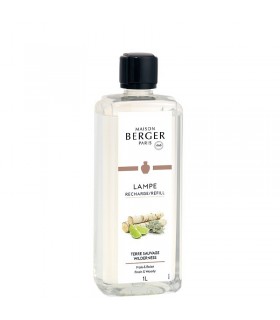 Refill for catalytic lamps from Lampe Berger. Content 500 ml A powerful, conquering and airy fragrance with aromas of tomato leaves along with grapefruit and citrus in the top notes. Patchouli and white birch wood...
Refill for bouquets from the Italian firm Culti Milano with the Lamborghini aroma. Contains 1 Liter Automobili Lamborghini is the first fragrance developed for the olfactory brand project developed by CULTI MILANO...
Recharge for Lampe Berger catalytic lamps. Content 500 ml Aquatic Freshness is a Soft Floral Perfume Head Notes: Melon, Green Apple Heart Notes: Monoi, Lily of the Valley Base Notes: Amber, Tuberose
Customers who bought this product also bought:
A sparkling scent with notes of cedar and cypress, which is accentuated by notes of citiricos. This composition of Lampe Berger has a content of 500 ml
#3 green, green, green and… green #3 by Miller et Bertaux is a fresh green fragrance for men and women, a fragrance for body and soul in search of balance between being and looking. Contains 100 mlGreen PerfumeHead...
Recharge for Lampe Berger catalytic lamps. Content 500  ml Cherry Blossom is a Floral, Soft and Fresh Fragrance Head Notes: Cassis, Green Alga, Lemon Heart Notes: Cherry Blossom, Rose, Green Tea Base Notes:...
Lampe Berger promotional pack, pure air that includes transparent crystal catalytic lamp with curved design and neutral perfume. With this decorative air freshener you will purify the air of your home and you can...
Sandalwood Temptation On the head, the fresh and aromatic aroma of cardamom, is accompanied by an enveloping sandalwood and a slightly dry cedar. A white jasmine married to myrtle comes to celebrate the agreement,...