Imperial Green Tea 500 ml Lampe Berger
Refill for catalytic lamps from Lampe Berger. Conte.nt 500 ml
A fragrance that takes you to a world of authenticity. Synonymous with freedom, it transmits values such as honesty and frankness. The freshness works around green tea, completing its base notes thanks to sandalwood and modern musks.
Green and Delicate Fragrance
Top Notes: Cut Grass, Lemon Zest
Heart Notes: Tea Leaves, Galbanum
Base Notes: Sandalwood, Musk
16 other products in the same category:
Recharge for Lampe Berger catalytic lamps. Content 500  ml Cherry Blossom is a Floral, Soft and Fresh Fragrance Head Notes: Cassis, Green Alga, Lemon Heart Notes: Cherry Blossom, Rose, Green Tea Base Notes:...
Velours d'Orient by Maison Berger is a floral and voluptuous perfume. The floral aromas of opium join with aromas of coffee and citrus fruits, as well as the spice of pink pepper. These aromas combined with delicacy...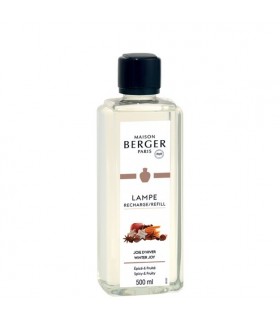 Refill for catalytic lamps from Maison Berger with Joie D'Hiver scent. Contains 500 ml Joie d'Hiver is an ideal perfume for end-of-year celebrations where the irreparably attractive fruity notes of apple are joined...
A revitalizing fragrance with a stimulating mixture joins forces with aromatic eucalyptus notes on a background of white musk mixed. This composition of Lampe Berger has a content of 500 ml
Refill for bouquets from the Italian firm Culti Milano, with fragrance 'Fuoco'. Content 1 Liter. IMAGINE A dense night falls on the rows of citrus and lemon trees after a day of fire, among the hypnotic sound of the...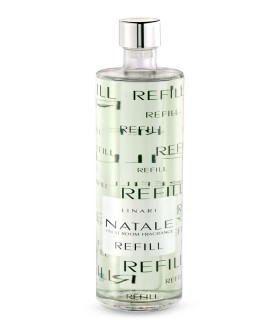 LINARI NATALE Solemn and spicy: Vibrant Christmas notes of Italian almonds and luscious oranges are enhanced by fine aldehyde chords. A bouquet of aromatic carnation, fresh lilac, freesia and jasmine build into a...
The jasmine in this composition as a sign of distion, this scent is made vibrant by the combination of jasmine and Ylang, conviertendose in a floral fragacia with fresh and fruity notes. Composition 500 ml
Air fresheners scented solution of the French firm Esteban help to prolong the life of your mikados and ceramic diffusers, scented, being able to choose between the initial aroma of the product, or any other variety...
IMAGINE The richness of the Apulian countryside, with pomegranates loaded with fruit between the dry stone walls. Continue in the thicket that dominates the sea, collect, dirty your hands, taste its woody essence....
The Coeur de Pamplemousse fragrance is a vibrant fragrance proporcinado by the fruity aroma of orange heart. This Lampe Berger composition has a content of 1 Litre  
Solution for catalytic lamp Lampe berger in the collection dream of purity. Without perfume, a basic and practical product to eliminate undesirable odors and freshen your home. 1 Liter
A scent which gives the space a sense of purity and peace to the relaxing of a bathroom. It is a creation of the signature Lampe Berger that combines touches of orange blossom, Peony and cotton flower. This...
Refill for Bouquets by Locherber Milano with aroma Malabar Pepper. Contents 500 ml A heart of black pepper with spicy and woody notes; Inspired by the Malabar coastline in India, where the world's most precious...
Recharge for Lampe Berger catalytic lamps. 500 ml content Feuilles d'Aromates is Fresh Aromatic perfume Head Notes: Green Notes, Eucalyptus, Grapefruit Heart Notes: Star Anise, Mint, Basil Base Notes: Clove,...
Recharge for catalytic lamps by Maison Berger. Content 500ml Angélique Noire is a bewitching sensual fragrance, an intoxicating flower full of magic and eroticism. Rare, noble and refined, this interpretation...
Recharge for Lampe Berger catalytic lamps. 500 ml content Délicat Musc Blanc is Powdered and Subtle perfume Head Notes: Orange, Petitgrain, Grapefruit Heart Notes: Rose, Jasmine, Orange Blossom Base Notes:...
Customers who bought this product also bought:
Refill for catalytic lamps from Lampe Berger. Content 500 ml A powerful, conquering and airy fragrance with aromas of tomato leaves along with grapefruit and citrus in the top notes. Patchouli and white birch wood...
Refill for catalytic lamps from Lampe Berger. Content 1 Liter A vibrant fragrance with a very lively head. The citrus sparkle is sophisticated with a pleasant evolution towards a transparency given by the watery...
Promotional Pack of Lampe Berger, pure air, which includes catalytic lamp of transparent Crystal, cubic design and neutral perfume. With this decorative air freshener, it will purify the air in your home and you can...
Refill for catalytic lamps from Maison Berger with Fleurs de Musc scent. Content 1 Liter A floral and sensual essence as sweet as it is joyful, with a strong dose of mystery. The enveloping aroma arises from this...
The Home Fragrance Bois d'Eau offers a crisp citrus freshness underlined by the fresh water spray. In their heart notes, the aquatic notes are mixed with the drift of driftwood before plunging along the coral reefs,...