Sweet Fig 1 Liter Lampe Berger
Refill for catalytic lamps from Maison Berger with Lait de Figue scent. Contains 1 Liter
Lait de Figue de Maison Berger de is an aroma where the heart of the black fig is lovingly intertwined with an iris and lotus flower. Subtly giving way to fruity notes to give way to a slightly sweet coconut water accord that gives a surprising summer warmth, all harmonious on a base of patchouli touches and sandalwood shavings.
Floral and green perfume
Top Notes: Fig Milk
Heart Notes: Black Fig, Iris, Lotus Flower
Base Notes: Coconut Water, Patchouli, Sandalwood
16 other products in the same category:
The Cotton Dreams fragance by Lampe Berger  evokes the "clean", this fragrance has fresh notes of Marseille soap and bergamot, which bind to the aromatic accents of lavender and pine. This Lampe Berger composition has...
'Orange Extreme' is a cocktail of vitamins citrus base, to continue in the notes of orange sun of Florida and Fressia, enhanced with green notes. Its surround us wake backdrop background woody notes and gourmand....
This refill of Mathilde M you can recharge your decorative scenteds bouquet many times as you want, a delicious blend of wood, spice and soft vanilla. Content 200 ml
Refill for bouquets from the Italian firm Culti  Milano with the aroma 'Supreme Amber'. Contains 1 Liter The atmosphere of a soft late-September sunset: a park illuminated with warm colours, the fresh air...
Solution for catalytic lamp Lampe berger in the collection dream of purity. Without perfume, a basic and practical product to eliminate undesirable odors and freshen your home. 1 Liter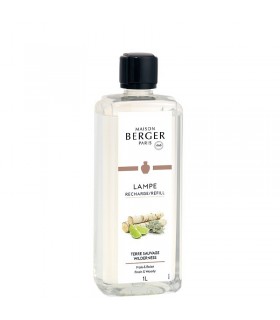 Refill for catalytic lamps from Lampe Berger. Content 500 ml A powerful, conquering and airy fragrance with aromas of tomato leaves along with grapefruit and citrus in the top notes. Patchouli and white birch wood...
Refill for bouquets from the Italian firm Culti Milano, with fragrance 'Fuoco'. Content 1 Liter. IMAGINE A dense night falls on the rows of citrus and lemon trees after a day of fire, among the hypnotic sound of the...
Recharge for Lampe Berger catalytic lamps. 500 ml content Feuilles d'Aromates is Fresh Aromatic perfume Head Notes: Green Notes, Eucalyptus, Grapefruit Heart Notes: Star Anise, Mint, Basil Base Notes: Clove,...
Maison Berger's Pomme Sucrée fragrance brings us mystery and magic, which will whet our appetite with its fruity facets with a subtle touch of spices and cinnamon. The background is juicy and warm, and the tonka bean...
Refill for Bouquets by Locherber Milano with aroma Bourbon Vanilla. Contents 500 ml The magical aroma of pure Madagascar vanilla. A combination of natural ingredients such as Orchid, Cocoa and Vanilla make this...
Refill for catalytic lamps from Maison Berger with Under the Fig Tree scent. Contains 500 ml The aroma of Maison Berger Sous le Figuier is a perfume that finds the perfect balance between the freshness of the leaves...
Refill for bouquets by Mahtilde M. Content 500 ml Astrée is Shining, romantic and feminine aroma by Mathilde M.. The fresh and sparkling notes of citruses reveal a lighting and solar bouquet of orange blossom and...
Recharge for Lampe Berger catalytic lamps. 500 ml content Aroma Love is Oriental Floral perfume Head Notes: Orange Blossom, Green Notes Heart Notes: Canker sores, Ylang-Ylang Base Notes: Marine Notes,...
Refill Scented Bouquet by the Italian firm Dr. Vranjes. Content 500 ml The fleshy notes of Peony intertwine with the intense aroma of Black Jasmine, creating a fresh, bright and incredibly refined accord. Peonia...
Refill for Bouquets by Locherber Milano with aroma Aramaik. Contents 500 ml Aramaik is an enveloping and woody perfume that takes us to the archaic rituals of ancient Egypt where, through ointments composed of...
Recharge for Lampe Berger catalytic lamps. Contents 1 Liter Amour D'Hibiscus is a fruity Floral perfume Head Notes: Bergamot, Pepper, Apple Heart Notes: Rose, Lily of the Valley, Hibiscus Base Notes: Musk, Amber
Customers who bought this product also bought:
 Lampe Berguer burner replacement. Lenght 47 cm
Fragrance Lampe Berger luminous and majestic, glittering with spicy notes. Soft and fruity joins patchouli and gourmet flavors. Contents 500 ml
With 'Teint de Neige' meaning 'Snow Colour', Lorenzo Villoresi in its creation evokes the delicate hue of the powdered fragance, bringing memories of the delicacy of aroma, softness talc, despite their apparent...
Lolita  Lempicka by Lampe  Berger is a fairytale in which we can appreciate the story of a woman in the making who is going through that moment in which all of us had to leave childhood but not leave her. It is the...
Refill for catalytic lamps by Lampe Berger with Citronelle Aroma. Content 500 ml Citronella perfume has the glow of love with its cheerful bursts of orange. Its floral bouquet reveals the poetry of a romance with...