Black Angélique 1 Liter Lampe Berger
Recharge for catalytic lamps by Maison Berger. Content 1 Liter
Angélique Noire is a bewitching sensual fragrance, an intoxicating flower full of magic and eroticism. Rare, noble and refined, this interpretation restores Angélique to her noble flower status. It combines all the facets of this flower and in particular its liveliness facet before blooming with the soft and enveloping sweetness of vanilla, on a background of sandalwood and amber.
Floral and Sensual Perfume
Top Notes: Bergamot
Heart Notes: Black Angelica, Iris and Tuberose
Base Notes: Vanilla, Sandalwood and Amber Wood
16 other products in the same category:
Exquisite Sparkle of Lampe Berger is a fragrance that combines the aromas of grapefruit, champagne and patchouli with the floral and energetic notes that evoke that happy atmosphere that we enjoyed during the...
The perfume Bois d'Orient of Lampe Berger is a sensual fragrance that combines the magic of spices to the delicacy of the woody essences heated in the sun .. This composition Lampe Berger has a content of 500 ml
Recharge for Lampe Berger catalytic lamps. 1 Liter content Aroma D-Stress is fruity and spicy perfume Head Notes: Orange, Tangerine, Bergamot Heart Notes: Melon, Mimosa, Ginger Base Notes: Musk
Refill  Mathilde M. with perfume 'Voltige', fragrance with floral notes with and poetic character. 200 ml Olfactive Family: Floral
Refill Bouquet by the italian firm  Dr. Vranjes. Content 500 mlPerfumeVanilla and tangerine. Instant and precious fragrance that combines the sweetness of vanilla with the acidity of the Mandarin.Properties: Soothing,...
Recharge for Lampe Berger catalytic lamps. 500 ml content Feuilles d'Aromates is Fresh Aromatic perfume Head Notes: Green Notes, Eucalyptus, Grapefruit Heart Notes: Star Anise, Mint, Basil Base Notes: Clove,...
'Orange Extreme' is a cocktail of vitamins citrus base, to continue in the notes of orange sun of Florida and Fressia, enhanced with green notes. Its surround us wake backdrop background woody notes and gourmand....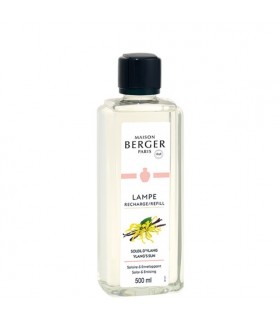 Floral Perfume d'Ylang is a special and luminous aroma that takes us to an exuberant nature, where the Tiare flower gives progressively and harmoniously to the warmth and delicacy of the orange blossom, to elevate the...
Heavenly Sun A fragrance that elegantly transports you like a solar air and a very feminine, prodigiously sensual aura. Content 1 Liter Floral and Solar Fragrance Head Notes: Tangerine, Bergamot, Orange...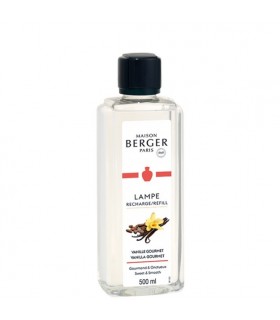 Absolu of Vainille aroma is sweet notes of a perfume that evokes all the aroma of a vanilla bean, sweet and sugary (rum, star anise) notes and envelope heart (Bourbon vanilla pods) and a chocolate background and...
Refill for catalytic lamps by Lampe Berger with Citronelle Aroma. Content 500 ml Citronella perfume has the glow of love with its cheerful bursts of orange. Its floral bouquet reveals the poetry of a romance with...
Lolita  Lempicka by Lampe  Berger is a fairytale in which we can appreciate the story of a woman in the making who is going through that moment in which all of us had to leave childhood but not leave her. It is the...
Refill for bouquets from the Italian firm Culti Milano, with fragrance 'Tessuto'. Content 1 Liter. IMAGINE A walk among the blooming stems of a cotton field, caressing the soft flakes. Touch the light texture of the...
The Patchouli Lampe Berger fragrance is a sensual and modern fragrance in which the notes of patchouli mixed with sweet and enveloping chords of vanilla and amber balms, a real invitation to well-being and comfort....
Refill Bouquets by the italian firm  Dr. Vranjes. Content 500 mlPerfume Rosso Nobile. Initial orange notes enhance in the floral part formed by the absolute of violet and flowers of magnolia, accords of plum complete...
Maison Berger's Pomme Sucrée fragrance brings us mystery and magic, which will whet our appetite with its fruity facets with a subtle touch of spices and cinnamon. The background is juicy and warm, and the tonka bean...
Customers who bought this product also bought: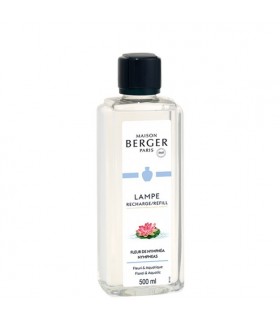 Recharge for Lampe Berger catalytic lamps. Content 500 ml Nympheas is a Soft Powdery Perfume Head Notes: Lemon, Bergamot, Galbanum, Mint, Pepper Heart Notes: Aquatic Notes, Lily of the Valley, Water Lily, Rose,...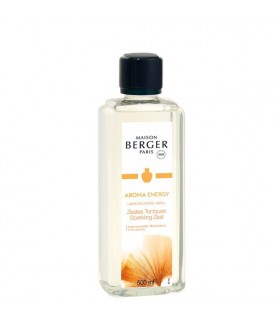 Recharge for Lampe Berger catalytic lamps. Content 500 ml Aquatic Freshness is a Citrus Energizing Head Notes: Grapefruit, Orange Heart Notes: Grapefruit, Pineapple Base Notes: Musk, Peach
Rosewood inspired perfume Lampe Berger, evoking a beautiful end of this solid wood, giving inside an intense, sensual and exotic olfactory personality, which intertwine with the acidity of grapefruit and exotic...
Lampe Berger promotional pack, pure air that includes transparent crystal catalytic lamp with curved design and neutral perfume. With this decorative air freshener you will purify the air of your home and you can...