Bois de Santal Imperial 500 ml Refill Bouquet Cerería Mollá
Refill by Cerería Mollá with aroma Bois de Santal Imperial. Contents 500 ml
Bois de Santal Imperial
The spicy and vibrant notes open this aroma following the mysticism and majesty of the patchouli intermingled with the musk on a background where the sensuality and voluptuousness of the vanilla is felt.
Aromatic and Spicy Perfume
16 other products in the same category:
Refill for catalytic lamps from Maison Berger with Lait de Figue scent. Contains 1 Liter Lait de Figue de Maison Berger de is an aroma where the heart of the black fig is lovingly intertwined with an iris and lotus...
Sandalwood Temptation On the head, the fresh and aromatic aroma of cardamom, is accompanied by an enveloping sandalwood and a slightly dry cedar. A white jasmine married to myrtle comes to celebrate the agreement,...
Refill Bouquets by the italian firm  Dr. Vranjes. Content 500 mlPerfume Rosso Nobile. Initial orange notes enhance in the floral part formed by the absolute of violet and flowers of magnolia, accords of plum complete...
Refill Bouquets by the italian firm  Dr. Vranjes. Content 500 ml Fragrance designed by Paolo Vranjes exclusively for Maserati that commemorates 100 years of the legendary Italian car maraca, where Paolo Vranjes gave...
Refill for bouquets from the Italian firm Culti  Milano with the aroma 'Supreme Amber'. Contains 1 Liter The atmosphere of a soft late-September sunset: a park illuminated with warm colours, the fresh air...
Refill for Bouquets by Locherber Milano with aroma Dokki Cotton. Contents 500 ml Elegant, delicate, pure, light, drunken, eternal; In the hot and dry Sahara desert, the great and magical Nile creates a river oasis...
The Patchouli Lampe Berger fragrance is a sensual and modern fragrance in which the notes of patchouli mixed with sweet and enveloping chords of vanilla and amber balms, a real invitation to well-being and comfort....
Refill for bouquets of the Esteban firm with Rouge Cassis aroma. Contains 500 ml On the sunny slopes of Burgundy, black currant ripens, a bright berry with a dark skin. Like its neighbor, the famous grape of this...
Recharge for catalytic lamps by Maison Berger. Content 500ml Angélique Noire is a bewitching sensual fragrance, an intoxicating flower full of magic and eroticism. Rare, noble and refined, this interpretation...
 Refill for Bouquets by Locherber Milano with aroma Hejaz Incense. Contents 500 ml   Only there, in the desert, where man is lost in the infinite majesty of silence, one can perceive the force of nature; the...
Refill Bouquet by the italian firm  Dr. Vranjes. Content 500 mlPerfumeGinger and lime. Fresh and spicy is how you can define this fragrance thanks to juicy and bright notes of Lima attached to the essence of ginger...
This refill of Mathilde M you can recharge your decorative scenteds bouquet many times as you want. Coeur d'Ambre is a oriental perfume. Content 180 ml
This Lampe Berger fragrance brings back memories of our childhood, with hints of lavender, cotton and SOAP. Contents 500 ml
Refill for bouquets from the Italian firm Culti Milano with the aroma 'Aria'. Content 1 Liter A fresh and transparent breeze gets the curtains removed from our windows and reveals a splendid view of the seashore to...
Lampe Berger loaded of sensuality this scent on a hint of rose, Lily, and vanilla on a deep background of amber and patchouli. Composion 500 ml
The jasmine in this composition as a sign of distion, this scent is made vibrant by the combination of jasmine and Ylang, conviertendose in a floral fragacia with fresh and fruity notes. Composition 500 ml
Customers who bought this product also bought:
This Mathilde M. intensive home fragance permeates the scent you choose with a simple spray, is also used to refresh the essence of your decorative ceramics. 5 ml bottle. Rice powder scented, a perfume with powdery...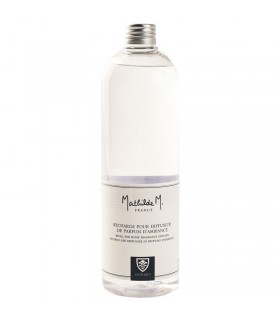 Refill for bouquets by Mahtilde M. Content 500 ml Perfume Angélique, a bewitching fragrance full of character, where her floral heart is illuminated by warm oriental notes. Oriental Perfume Head Notes:...
Refill for Bouquets by Cerería Mollá with Aroma Mediterranean Blue. It contains 200 ml Mediterranean Blue Perfume impregnated by the notes of the Mediterranean where the white flowers intertwined with citrus...