Teck Tonka 500 ml Esteban Refill
Air fresheners scented solution of the French firm Esteban help to prolong the life of your mikados and ceramic diffusers, scented, being able to choose between the initial aroma of the product, or any other variety of Esteban. Contents 500 ml
Spicy Woody perfume.
Air freshener fragrant solution, 250 ml bottle.
Captivating perfume which produces a mysterious halo sensual filling your home with memories of trips to Africa. Teck and Tonka recreates one of the most delicious mixtures of the history of perfumes. 
Spicy Woody perfume.
Calculated from
13
reviews
I use the bouquet in all the rooms of the house. Keeps every room smelling fresh.
Great refill smells lovely
Love the product. Yes in my living room, best quality. Already recommended to a friend who placed her order yesterday.
16 other products in the same category: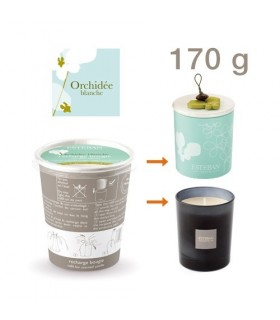 The soft colors of orchids stand tones green water of this sailing of the French firm Esteban in a fresh and subtle perfume that perfectly evokes the delicacy of the orchid. A real delight!. Approx. 170 gr. Green...
Refill for Bouquets by Cerería Mollá with Aroma Tuberose & Jasmine . It contains 500 ml Tuberose & Jasmine  Fresh Fragrance with Green notes and a powerful Floral heart, being the Orange Blossom, Jasmine and...
Champs de Lavande is a fresh floral fragrance with a hint of camphor that provides a cool character. This Lampe Berger composition has a content of 500 ml
Refills for Bouquets Trudon, L'Œuf, with Cyrnos perfume. Contains 300 ml. The town of Cyrnos in Provence welcomed high society at the beginning of the 20th century, they met in the shade of fig trees and pines....
Refill Bouquets by the italian firm  Dr. Vranjes. Content 2500 mlPerfumeAmber. Rich and intoxicating fragrance with elegant oriental overtones. The Amber and Iris Flower merge with Cistus, Patchouli, Labdanum,...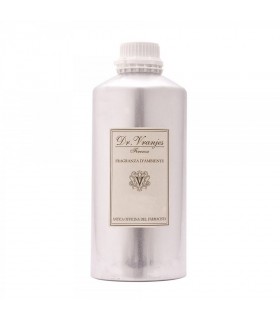 Refill Bouquets by the italian firm  Dr. Vranjes. Content 2500 mlGrenade, Black Grape and Watermelon are the amazing ingredients used to recreate the characteristic scent of the pressed seeds of Granada.Properties:...
Refill for Bouquets by Cerería Mollá with Aroma B.ulgarian Rose & Oud. It contains 500 ml Bulgarian Rose & Oud Aromatic and spicy perfume where citrus fruits provide freshness wrapped in a persistent halo of...
Refill Bouquet by the italian firm  Dr. Vranjes. Content 500 mlPerfumeMagnolia and Orchid. Intense notes of Magnolia created this sophisticated and elegant fragrance with the delicate blend of Mimosa and warmth of the...
Recharge for Lampe Berger catalytic lamps. 500 ml content Feuilles d'Aromates is Fresh Aromatic perfume Head Notes: Green Notes, Eucalyptus, Grapefruit Heart Notes: Star Anise, Mint, Basil Base Notes: Clove,...
Recharge for Lampe Berger catalytic lamps. 1 Liter  content Aroma Wake Up pire is Woody perfume Head Notes: Ginger, Bergamot, Eucalyptus Heart Notes: Cedar, Sandalwood, Geranium Base Notes: Sandalwood, Patchouli
Refill Bouquets by the italian firm  Dr. Vranjes. Content 2500 mlPerfume Rosso Nobile. Initial orange notes enhance in the floral part formed by the absolute of violet and flowers of magnolia, accords of plum complete...
Refill for bouquets by Mahtilde M. Content 200 ml Rose Elixir pays tribute to the queen of flowers, a symbol of love and romanticism since ancient times. Discover this voluptuous and bewitching fragrance, like a...
Heavenly Sun A fragrance that elegantly transports you like a solar air and a very feminine, prodigiously sensual aura. Content 500 ml Floral and Solar Fragrance Head Notes: Tangerine, Bergamot, Orange...
Pluie d'Ete is a fresh, delicate and crystalline fragrance that evokes the freshness of the dew of a summer morning, with notes of eucalyptus and warmth provided by your notes of amber and patchouli. This Lampe Berger...
Lolita  Lempicka by Lampe  Berger is a fairytale in which we can appreciate the story of a woman in the making who is going through that moment in which all of us had to leave childhood but not leave her. It is the...
'Linen Blossom' by Lampe Berger, is the scent that comes from the bedding that is currently on a field full of spring flowers, being rocked by the gentle west wind while drying under the incident solar rays. It...
Customers who bought this product also bought:
Concentrate perfume by Mathilde M. with aroma 'Coeur d'ambre' for use as essential oil diffusers and use in Mist Diffuser . Not for use alimentary or body. Content 10 ml Perfume Head notes: Bergamot. Heart Notes:...
Essential Oil with Provence Lavander perfume by Cerería Mollá. Contains 30 ml Lavender fields of Provence in a combination with Lemograsss, the 'Blue Gold' as Lavender is known, takes us to a perfect harmonious...
Rêve Blanc is a tender and luminous aroma accompanied by the balance of generous whiteness and textured materials. Content 500 ml Floral Fragrance Head Notes: solar notes. Heart notes: freesia, heliotrope flower....
In Havana, under the sun of the Revolution, the shades of leather along with silence are intermingled with the smoke of cigar, rum and weapons. Weight 270 gr. PerfumeHead: rum, grapefruit, bergamotHeart: clove, oak...