Neroli Esteban 500 ml refill
Air fresheners scented solution of the French firm Esteban help to prolong the life of your mikados and ceramic diffusers, scented, being able to choose between the initial aroma of the product, or any other variety of Esteban. Contents 500 ml
Bright white floral perfume.
Air freshener fragrant solution, 500 ml bottle.
The perfume of this replacement creates a golden aura that fills your home with a soft, elegant and sensual scent. Neroli flower has traditionally been adored and widely used by royalty.
Bright white floral perfume.
Calculated from
10
reviews
Best diffuser product ever
An excellent service for an excellent product. The diffuser is used throughout the house and the room spray is divine. Thank you.
Favourite fragrance ... fresh and always received well by visitors. I use it in my electronic diffuser and top up my reed diffuser ...used it for years and do not intend to stop!
16 other products in the same category:
Refill for catalytic lamps from Lampe Berger. Content 1 Liter   Fleur de Nymphéa is a Floral and Aquatic fragrance Top Notes: Lemon, Bergamot, Galbanum, Mint, Pepper Heart Notes: Aquatic Notes, Lily of the...
Originally from the region of Calabria, the Bergamot is a citrus widely used in perfumery, a Mediterranean flavor that exalts himself with tangerine and orange on a spicy background cardamom, accompanied by floral...
Refill for Bouquets by Cerería Mollá with Aroma Tobacco & Amber. It contains 500 ml Tobacco & Amber Oriental-inspired fragrance where exotic ginger and tobacco notes of India are mixed with velvety citrus and...
Refill for Bouquets by Locherber Milano with aroma Klinto. Contents 500 ml Especially extended in Veneto, the wine Clinto (or clintòn), reached the old continent of America at the beginning of the 19th century. El...
Rêve Blanc is a tender and luminous aroma accompanied by the balance of generous whiteness and textured materials. Content 500 ml Floral Fragrance Head Notes: solar notes. Heart notes: freesia, heliotrope flower....
Refill for Bouquets by Locherber Milano with aroma Oudh . Contents 500 ml Known since the dawn of time in different cultures and religions, but also in ancient medicinal practices, Oud (Oudh in the Arab world) is a...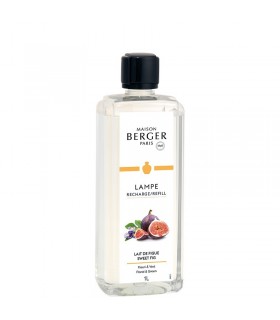 Refill for catalytic lamps from Maison Berger with Lait de Figue scent. Content 1 Liter Lait de Figue de Maison Berger, the black fig is a symbol in certain cultures of the forbidden fruit, we find in this perfume...
Refill for bouquets by Mahtilde M. Content 200 ml Divine Marquise is an elegant and sensual perfume, where the delicious notes of the chocolates are surrounded by an oriental patchouli and amber chord. Oriental...
Refill for catalytic lamps from Lampe Berger. Content 1 Liter A vibrant fragrance with a very lively head. The citrus sparkle is sophisticated with a pleasant evolution towards a transparency given by the watery...
'Orange Extreme' is a cocktail of vitamins citrus base, to continue in the notes of orange sun of Florida and Fressia, enhanced with green notes. Its surround us wake backdrop background woody notes and gourmand....
Recharge for Lampe Berger catalytic lamps. 500 ml content Aroma D-Stress is fruity and spicy perfume Head Notes: Orange, Tangerine, Bergamot Heart Notes: Melon, Mimosa, Ginger Base Notes: Musk
Refill  Mathilde M. with perfume 'Voltige', fragrance with floral notes with and poetic character. 200 ml Olfactive Family: Floral
A sparkling scent with notes of cedar and cypress, which is accentuated by notes of citiricos. This composition of Lampe Berger has a content of 500 ml
Refill for Bouquets by Locherber Milano with aroma Banskia. Contents 500 ml Fragrance inspired by the Australian flower of BANKSIA, a rare and endangered species. Aromatic, woody and spicy fragrance with top...
Recharge for Lampe Berger catalytic lamps. Content 1 Liter Cherry Blossom is a Floral, Soft and Fresh Fragrance Head Notes: Cassis, Green Alga, Lemon Heart Notes: Cherry Blossom, Rose, Green Tea Base Notes:...
Refill for bouquets by Mahtilde M. Content 200 ml Astrée is Shining, romantic and feminine aroma by Mathilde M.. The fresh and sparkling notes of citruses reveal a lighting and solar bouquet of orange blossom and...
Customers who bought this product also bought:
Scented sachet by Esteban Parfums 'Teck and Tonka', to be used in drawers, closets, cars, etc. It can also be used for opening the bag the dotted line indicated as vacuum powder. Weight 65 gr.PerfumeTop notes of...
The Coconut Monoï perfume invites you to travel with its citrus notes of zest of green orange and tangerine. Its lightness, leave us sweet and fresh aromas and through the nose it envelops us in enveloping and warm...
Replacement black sticks scented bouquets for Esteban Parfums. 22 cm
This essential oil by Esteban Parfums  takes you to a world of memories and sweetness with its relaxing and sensual orange blossom aroma. Content 15 ml.Powdery floral fragrance.
Air freshener spray very useful as it allows perfume the air with your favorite fragrance in an instant. The spray provides greater subtlety in the perception of a perfume composition. Content 75 ml White light...