Sticks Reed Diffuser 25 cm Mikado Mathilde M.
Replacement plant rods for Mathilde M. mikados 25 cm
Mathilde M. get timeless refinement can fill your home with the smell of a State of mind, the fragrance of a desire, with the smell of a memory.Mathilde M. signature creations suggest luxury, calm and elegance, are impregnated of romanticism and charm.
16 other products in the same category:
Refill  Mathilde M. with perfume 'Voltige', fragrance with floral notes with and poetic character. 180 ml Olfactive Family: Floral
'Linen Blossom' by Lampe Berger, is the scent that comes from the bedding that is currently on a field full of spring flowers, being rocked by the gentle west wind while drying under the incident solar rays. It...
Refill Bouquet by the italian firm  Dr. Vranjes. Content 500ml The enchanting note of Leather and the strength of the accord of Radica are the predominant components of this warm and soft scent created to astonish...
Bouquets refill, Esteban Parfums, with perfume 'Lilas & Tonka'. Content 150 ml. Floral fragrance. Head notes: Violet LeavesHeart notes: Lilacs, FressiaBackground notes: Tonka and Sandalwood
Refill Bouquet by the italian firm  Dr. Vranjes. Content 2500 ml Perfume Aromatic notes of basil leaves, with intense and transparent marine debris, laced with musk blan sheath in white musk and fescura of its...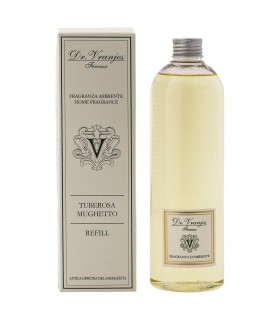 Refill Scented Bouquet by the Italian firm Dr. Vranjes. Content 500 ml 'Tuberousa Mughetto' (Lily and Nard) is a floral soft fragrance, Where His high notes are composed of blooming lilies, and pass notes of heart...
Refill for bouquets from the Italian firm Culti .Milano, with fragrance 'Mountain'. Content 1 Liter. IMAGINE The cozy atmosphere of a mountain chalet, the wood heated by the fireplace that exudes its delicate...
Soleil d'Ylang is a special and luminous aroma that takes us to an exuberant nature, where the Tiare flow.er gives progressively and harmoniously to the warmth and delicacy of the orange blossom, to elevate the...
Refill solution for scented bouquets  Lampe Berger fragrance with fragance Vent d'Ocean, a tropical and revitalizing cocktail that combines the freshness and exoticism of grapefruit with warm and woody notes. Top...
Perfume for catalytic lamp Lampe berger in the collection of Middle East dream. Fragrance sophisticated and opulent, intoxicating, feel the hectic Carnival of Venice with this dizzying composition, a great femininity,... The perfume of Lampe Berger 'Fruits Secs' is a true bright and fruity paradise that mixes all the fruits of Africa. Fruity gourmand perfume, opens on bright notes and vitamins of mandarin, apple and pear. Its heart...
Originally from the region of Calabria, the Bergamot is a citrus widely used in perfumery, a Mediterranean flavor that exalts himself with tangerine and orange on a spicy background cardamom, accompanied by floral...
The Coeur de Pamplemousse fragrance is a vibrant fragrance proporcinado by the fruity aroma of orange heart. This Lampe Berger composition has a content of 500 ml  
This refill of Mathilde M you can recharge your decorative scenteds bouquet many times as you want. Marquise, a delicious blend of wood, spice and soft vanilla. Content 500 ml
Sous le Figuier Perfume Lampe Berger is a fruity perfume, which runs from the freshness of fig leaf to the sweet heart of this fruit. This Lampe Berger composition has a content of 500 ml.
Refill Bouquets by the italian firm  Dr. Vranjes. Content 2500 mlPerfume Rosso Nobile. Initial orange notes enhance in the floral part formed by the absolute of violet and flowers of magnolia, accords of plum complete...
Customers who bought this product also bought:
Aroma Poudre Riz. Powdery Perfume Scented Solution 30 ml
Decorativa scented candle by Mathilde M. A sober and refined range, with clean lines, with vintage retro design, in a glass cup with tulle bow and aroma Marquise, is  a warm and floral aroma, with a touchof sensuality...
Concentrate Perfume  'Rose Élegante', it is a floral and powdery perfume, which brings us elegance and softness of rose petals. Content 5 ml
With these scented Fleur de Coton mikado you will fill your home pure. Dresser with all the charm of a timeless design. Pure Perfume.Scented Solution 100 ml
Aroma Fleur de Coton Units: 4 Dimensions: 5 x 6,5 cm