Coeur d'Ambre 180 ml refill Mathilde M.
This refill of Mathilde M you can recharge your decorative scenteds bouquet many times as you want. Coeur d'Ambre is a oriental perfume. Content 180 ml
Mathilde M. get timeless refinement can fill your home with the smell of a State of mind, the fragrance of a desire, with the smell of a memory.Mathilde M. signature creations suggest luxury, calm and elegance, are impregnated of romanticism and charm. 
Diffuser cold. Rechargeable product. You can extend the life of your air freshener investing rods once they are saturated with perfume.
16 other products in the same category:
Refill for bouquets by Mahtilde M. Content 500 ml Perfume Angélique, a bewitching fragrance full of character, where her floral heart is illuminated by warm oriental notes. Oriental Perfume Head Notes:...
Refill for bouquets by Mahtilde M. Content 500 ml Astrée is Shining, romantic and feminine aroma by Mathilde M.. The fresh and sparkling notes of citruses reveal a lighting and solar bouquet of orange blossom and...
Refill for Bouquets by Locherber Milano with aroma Klinto. Contents 500 ml Especially extended in Veneto, the wine Clinto (or clintòn), reached the old continent of America at the beginning of the 19th century. El...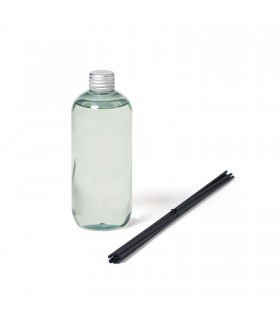 Refills for Bouquets Trudon, L'Œuf, with Ernesto perfume. Contains 300 ml. In Havana, under the sun of the Revolution, the nuances of leather, together with silence, mingle with the smoke of cigarettes, rum and...
Refill for bouquets of the Italian firm Culti  Milano with the aroma 'Linfa'. Content 1 Liter Iridescence, transparency and vitality. Strength and purity Light and tenacious. A combination between white currant...
Recharge for Lampe Berger catalytic lamps. 1 Liter content Sève Eternelle is Aromatic Green perfume Head Notes: Green Notes, Eucalyptus, Grapefruit Heart Notes: Sage, Mint, Aloe Vera, Lotus Flower Base...
Refill for Bouquets by Locherber Milano with aroma Klinto. Contents 500 ml The fragrance is inspired by Venice and its famous "Briccole". The "Briccole" are oak wooden posts (sometimes larch) that delimit the...
Rêve Blanc is a tender and luminous aroma accompanied by the balance of generous whiteness and textured materials. Content 250 ml Floral Fragrance Head Notes: solar notes. Heart notes: freesia, heliotrope flower....
The Home Fragrance Bois d'Eau offers a crisp citrus freshness underlined by the fresh water spray. In their heart notes, the aquatic notes are mixed with the drift of driftwood before plunging along the coral reefs,...
Air fresheners scented solution of the French firm Esteban help to prolong the life of your mikados and ceramic diffusers, scented, being able to choose between the initial aroma of the product, or any other variety...
Refill for bouquets from the Italian firm Culti Milano, with fragrance 'Oficus'. Content 1 Liter. IMAGINE Apulia An imposing fig grows majestically, looking for space in the white rock that borders the thick...
Refill  Mathilde M. with perfume 'Voltige', fragrance with floral notes with and poetic character. 180 ml Olfactive Family: Floral
Refill Bouquets by the italian firm  Dr. Vranjes. Content 2500 mlPerfume Rosso Nobile. Initial orange notes enhance in the floral part formed by the absolute of violet and flowers of magnolia, accords of plum complete...
The perfume Bois d'Orient of Lampe Berger is a sensual fragrance that combines the magic of spices to the delicacy of the woody essences heated in the sun .. This composition Lampe Berger has a content of 500 ml Refill for catalytic lamps by Lampe Berger with Citronelle Aroma. Content 500 ml Citronella perfume has the glow of love with its cheerful bursts of orange. Its floral bouquet reveals the poetry of a romance with...
Velvety  Suede by Lampe  Berger will bring warmth and comfort to your stay starting with the spicy nuances that combine with the central notes of lily of the valley, iris and rose. Its musky background with the ante...
Customers who bought this product also bought:
Coeur D´Ambre Spray Room by Mathilde M., it is an oriental perfume with vanilla and patchouli notes. Content 100 ml
'The aroma 'Opaline' is a renaissance and sophisticated fragrance thatstands out for its jasmine and vanilla. Content 180 mlHead notes: Red FruitsHeart Notes: Rose, FreesiaBackground Notes: Sandalwood, White Musk,...
Solution for catalytic lamp Lampe berger in the collection dream of purity. Without perfume, a basic and practical product to eliminate undesirable odors and freshen your home. 1 Litre
Coeur D´Ambre Textile Perfume 75 ml Mathilde M.  It is an oriental perfume with vanilla and patchouli notes. Content 100 ml
This Mathilde M. intensive home fragance permeates the scent you choose with a simple spray, is also used to refresh the essence of your decorative ceramics. 5 ml bottle.Coeur d'Ambre is a oriental and sensual...