Coeur d'Ambre 200 ml refill Mathilde M.
This refill of Mathilde M you can recharge your decorative scenteds bouquet many times as you want. Coeur d'Ambre is a oriental perfume. Content 180 ml
Mathilde M. get timeless refinement can fill your home with the smell of a State of mind, the fragrance of a desire, with the smell of a memory.Mathilde M. signature creations suggest luxury, calm and elegance, are impregnated of romanticism and charm. 
Diffuser cold. Rechargeable product. You can extend the life of your air freshener investing rods once they are saturated with perfume.
16 other products in the same category:
Recharge for Lampe Berger catalytic lamps .1 Liter content Aroma Respire is Aromatic and Fresh perfume Head Notes: Eucalyptus, Menthol Heart Notes: Pine Needles, Mint Base Notes: Thyme
Refill for bouquets from the Italian firm Culti Milano with the aroma 'Aria'. Content 1 Liter A fresh and transparent breeze gets the curtains removed from our windows and reveals a splendid view of the seashore to...
Exquisite Sparkle of Lampe Berger is a fragrance that combines the aromas of grapefruit, champagne and patchouli with the floral and energetic notes that evoke that happy atmosphere that we enjoyed during the...
Pluie d'Ete is a fresh, delicate and crystalline fragrance that evokes the freshness of the dew of a summer morning, with notes of eucalyptus and warmth provided by your notes of amber and patchouli. This Lampe Berger...
Refill for catalytic lamps from Maison Berger with Fleurs de Musc scent. Content 1 Liter A floral and sensual essence as sweet as it is joyful, with a strong dose of mystery. The enveloping aroma arises from this...
Refill for bouquets from the Italian firm Culti Milano, with fragrance 'Aramara'. Content 1 Liter. IMAGINE A sunny day in the countryside, marked by the reassuring aroma of the citrus peel. Its aroma extends and...
Refill for catalytic lamps by Maison Berger with Eau d'Aloe scent. Content 1 Liter A fresh and light fragrance, a mixture of delicate marine aromas, an aquatic and vegetal poetry worked around Aloe Vera and citrus...
The jasmine in this composition as a sign of distion, this scent is made vibrant by the combination of jasmine and Ylang, conviertendose in a floral fragacia with fresh and fruity notes. Composition 500 ml
Lolita  Lempicka by Lampe  Berger is a fairytale in which we can appreciate the story of a woman in the making who is going through that moment in which all of us had to leave childhood but not leave her. It is the...
Refill Bouquet by the italian firm  Dr. Vranjes. Content 500 mlPerfumeGinger and lime. Fresh and spicy is how you can define this fragrance thanks to juicy and bright notes of Lima attached to the essence of ginger...
Recharge for Lampe Berger catalytic lamps. Content 1 Liter   Litchi Paradis is a Fruity fragrance   Head Notes: Melon, Lemon, Apple, Eucalyptus Heart Notes: Grapefruit, White Flowers, Rose, Lychee...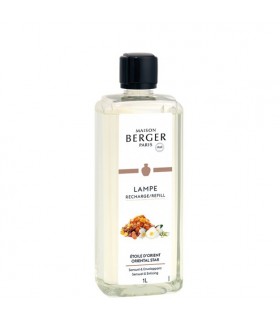 Fragrance Lampe Berger luminous and majestic, glittering with spicy notes. Soft and fruity joins patchouli and gourmet flavors. Contents 500 ml
Refill for bouquets from the Italian firm Culti Milano, with fragrance 'Fuoco'. Content 1 Liter. IMAGINE A dense night falls on the rows of citrus and lemon trees after a day of fire, among the hypnotic sound of the...
Refill for Bouquets by Locherber Milano with aroma Banskia. Contents 500 ml Fragrance inspired by the Australian flower of BANKSIA, a rare and endangered species. Aromatic, woody and spicy fragrance with top...
Refill for catalytic lamps from Lampe Berger. Content 1 Liter   Fleur de Nymphéa is a Floral and Aquatic fragrance Top Notes: Lemon, Bergamot, Galbanum, Mint, Pepper Heart Notes: Aquatic Notes, Lily of the...
Air fresheners scented solution of the French firm Esteban help to prolong the life of your mikados and ceramic diffusers, scented, being able to choose between the initial aroma of the product, or any other variety...
Customers who bought this product also bought:
Aroma Coeur d'Ambre. It is an oriental perfume with vanilla and patchouli notes. Scented Solution 30 ml
Replacement plant rods for Mathilde M. mikados 25 cm
Scented sachet by  Mathilde M. with aroma Marquise which will keep your wardrobes and drawers scented for long periods. The sachet also has a  perfumed scented plaste which can strengthen the perfume with the...
Das Textilparfüm von Mathilde M. kann sowohl wie ein Raumspray, als auch direkt auf Ihren Tüchern verwendet werden, ohne die  Flecken zu hinterlassen. Mathilde M. Parfüm "'Marquise " ist ein blumiger Duft,  das mit...
Solution for catalytic lamp Lampe berger in the collection dream of purity. Without perfume, a basic and practical product to eliminate undesirable odors and freshen your home. 1 Liter