Sticks Reed Diffuser 30 cm Mikado Mathilde M.
Replacement plant rods for Mathilde M. mikados 30 cm
Mathilde M. get timeless refinement can fill your home with the smell of a State of mind, the fragrance of a desire, with the smell of a memory.Mathilde M. signature creations suggest luxury, calm and elegance, are impregnated of romanticism and charm.
Calculated from
5
reviews
I love this product and use it everywhere in my home. I really wish that I could get the product here in Australia.
16 other products in the same category: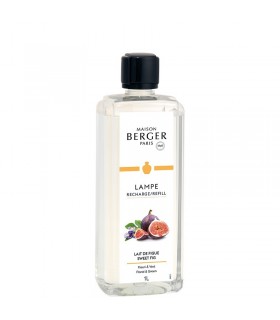 Refill for catalytic lamps from Maison Berger with Lait de Figue scent. Contains 1 Liter Lait de Figue de Maison Berger de is an aroma where the heart of the black fig is lovingly intertwined with an iris and lotus...
Velours d'Orient by Maison Berger is a floral and voluptuous perfume. The floral aromas of opium join with aromas of coffee and citrus fruits, as well as the spice of pink pepper. These aromas combined with delicacy...
Refill for bouquets of the Esteban firm with Rouge Cassis aroma. Contains 500 ml On the sunny slopes of Burgundy, black currant ripens, a bright berry with a dark skin. Like its neighbor, the famous grape of this...
Recharge for Lampe Berger catalytic lamps. 500 ml content Aroma Respire is Aromatic and Fresh perfume Head Notes: Eucalyptus, Menthol Heart Notes: Pine Needles, Mint Base Notes: Thyme
Refill for bouquets from the Italian firm Culti Milano, with fragrance 'Aramara'. Content 1 Liter. IMAGINE A sunny day in the countryside, marked by the reassuring aroma of the citrus peel. Its aroma extends and...
Refill Scented Bouquet by the italian firm  Dr. Vranjes. Content 500 mlPerfumeThis fragrance blends notes of two precious resins, myrrh and frankincense, wisely combined with the freshness of Bergamot and Neroli...
Air fresheners scented solution of the French firm Esteban help to prolong the life of your mikados and ceramic diffusers, scented,'Figue Noire' is a woody and fruity fragrance . Contents 500 ml PerfumeTop notes of...
Refill for Reed Diffuser by Culti Milano with aroma Aqqua. Contents 1000 ml IMAGINE A look at the open sea. To embrace the bay with the view, the mountain that glides towards the blue, with villages stamped as if...
Refill Bouquet by the italian firm  Dr. Vranjes. Content 500 ml Perfume Top notes the brings the harmony of lemon flowers with carnation flower, evolving in its heart notes with clove and sandalwood, along with Star...
The Coeur de Pamplemousse fragrance is a vibrant fragrance proporcinado by the fruity aroma of orange heart. This Lampe Berger composition has a content of 500 ml  
Refill for Bouquets by Dr. Vranjes. Content 500 ml. Mirra Zafferano (Myrrh and Saffron) created by Paolo Vranjes, takes us to the East and the Mediterranean with the most precious ingredients that happily awaken...
Refill for catalytic lamps by Lampe Berger with aroma Zeste Vert de Tahiti. Content 500 ml A bright fragrance that brings out the freshness and brilliance of lime, enhanced by a crisp, green, crystalline floral...
Refill Bouquets by the italian firm  Dr. Vranjes. Content 2500 mlGrenade, Black Grape and Watermelon are the amazing ingredients used to recreate the characteristic scent of the pressed seeds of Granada.Properties:...
Refill for catalytic lamps by Lampe Berger with Citronelle Aroma. Content 500 ml Citronella perfume has the glow of love with its cheerful bursts of orange. Its floral bouquet reveals the poetry of a romance with...
Perfume for catalytic lamp Lampe berger of the coleccionsueno of freshness. Purity and freshness as a direct blow from the ocean to your home. 500 ml.
Recharge for Lampe Berger catalytic lamps. 500 ml content Feuilles d'Aromates is Fresh Aromatic perfume Head Notes: Green Notes, Eucalyptus, Grapefruit Heart Notes: Star Anise, Mint, Basil Base Notes: Clove,...
Customers who bought this product also bought:
Scented sachet by  Mathilde M. with aroma Marquise which will keep your wardrobes and drawers scented for long periods. The sachet also has a  perfumed scented plaste which can strengthen the perfume with the...
Aroma Coeur d'Ambre. It is an oriental perfume with vanilla and patchouli notes. Scented Solution 30 ml
This refill of Mathilde M you can recharge your decorative scenteds bouquet many times as you want. Rice Powder aroma, It´s a perfume with powdery notes that invites to remember. Content 500 ml
Recharge for Bouquets (Reed Diffuser) of the French firm Esteban Parfums, with fragrance 'Terre d'Agrumes', a citrus and woody fragrance that fills our stay with freshness with a touch of personality, and its...