Sticks Reed Diffuser 30 cm Mikado Mathilde M.
Replacement plant rods for Mathilde M. mikados 30 cm
Mathilde M. get timeless refinement can fill your home with the smell of a State of mind, the fragrance of a desire, with the smell of a memory.Mathilde M. signature creations suggest luxury, calm and elegance, are impregnated of romanticism and charm.
Calculated from
3
reviews
I love this product and use it everywhere in my home. I really wish that I could get the product here in Australia.
16 other products in the same category:
Refill for bouquets by Mahtilde M. Content 200 ml Boquet Précieux represents a beautiful scene of white flowers. Where the union of sublime jasmine and silky tuberose, wrapped in sweet notes of sandalwood and...
Refill Bouquets by the italian firm  Dr. Vranjes. Content 500 ml The sensual notes of Milano, where patchouli is enlivened with the lively notes of pepper and sandalwood combining with the sparkling notes of cedar...
Refill for Bouquets by Cerería Mollá with Aroma  Black Orchid & Lily. It contains 500 ml Black Orchid & Lily Green and Fruity Perfume where the complexity of its notes captivates us through its naturalness...
With this fragrance Lampe Berger evokes Asian seduction with precious woods: sandalwood, which is mixed with black currant and the citrus sweetness of mandarin. The heart reveals the soft, enveloping side of...
Refill for bouquets from the Italian firm Culti  Milano with the aroma 'L'Oudness'. Contains 1 Liter It is something unexpected but its main ideal is not to accept commitments. It manages to evoke those countries...
Recharge for Lampe Berger catalytic lamps. 1 Liter content Aroma D-Stress is fruity and spicy perfume Head Notes: Orange, Tangerine, Bergamot Heart Notes: Melon, Mimosa, Ginger Base Notes: Musk
Refill for bouquets by Mahtilde M. Content 200 ml Divine Marquise is an elegant and sensual perfume, where the delicious notes of the chocolates are surrounded by an oriental patchouli and amber chord. Oriental...
'Zeste Verveine' is a fresh citrus scent and where his two flavors verbena and lemon rind. This Lampe Berger composition has a content of 500 ml
Perfume for catalytic lamp Lampe berger of the coleccionsueno of freshness. Purity and freshness as a direct blow from the ocean to your home. 500 ml.
Refill for catalytic lamps from Lampe Berger. Content 1 Liter   Fleur de Nymphéa is a Floral and Aquatic fragrance Top Notes: Lemon, Bergamot, Galbanum, Mint, Pepper Heart Notes: Aquatic Notes, Lily of the...
Refill Bouquets by the italian firm  Dr. Vranjes. Content 2500 mlPerfumeAmber. Rich and intoxicating fragrance with elegant oriental overtones. The Amber and Iris Flower merge with Cistus, Patchouli, Labdanum,...
IMAGINE The richness of the Apulian countryside, with pomegranates loaded with fruit between the dry stone walls. Continue in the thicket that dominates the sea, collect, dirty your hands, taste its woody essence....
Recharge for Lampe Berger catalytic lamps. Content 500  ml  Bouquet Liberty is a Floral  Fragrance Head Notes: Pear and Bergamot Heart Notes: Glycine, Lily of the Valley, Rose, Jasmine Base Notes: Patchouli,...
Der Duft von Zimt und Orange bietet die Frische von Zitrusfrüchten kombiniert mit der Wärme von  den Gewürzen und kandierten Früchten und umhüllt von einer sinnlichen Note von Amber und weißem Moschus. Diese...
Sandalwood Temptation On the head, the fresh and aromatic aroma of cardamom, is accompanied by an enveloping sandalwood and a slightly dry cedar. A white jasmine married to myrtle comes to celebrate the agreement,...
Refill for catalytic lamps by Maison Berger with Chadron Sauvage  scent. Content 1 Liter Chadron Sauvage by Maison Berger is a subtle fragrance that reveals in its top notes a mixture of citrus fruits and green...
Customers who bought this product also bought:
Spray Room from Culti Milano. Content 100 ml IMAGINE A walk among the blooming stems of a cotton field, caressing the soft flakes. Touch the light texture of the precious silks and natural linens in Lake Como,...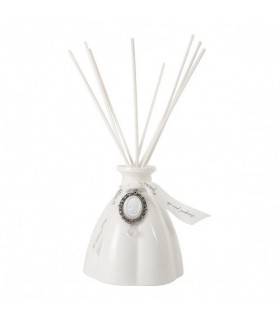 Bouquet by Mathilde M. Content 90 ml Astrée is Shining, romantic and feminine aroma by Mathilde M.. The fresh and sparkling notes of citruses reveal a lighting and solar bouquet of orange blossom and jasmine,...
Decorativa scented candle by Mathilde M.  Rose Elixir pays tribute to the queen of flowers, a symbol of love and romanticism since ancient times. Discover this voluptuous and bewitching fragrance, like a powerful...
With these scented Fleur de Coton mikado you will fill your home pure. Dresser with all the charm of a timeless design. Pure Perfume.Scented Solution 90 ml
This Mathilde M. intensive home fragance permeates the scent you choose with a simple spray, is also used to refresh the essence of your decorative ceramics. 5 ml bottle. Rice powder scented, a perfume with powdery...