Ambre 250 ml Refill Bouquet Esteban
This recharge for scented bouquets, signs French Esteban Ambre that promise happiness and co-existence in your home with this amber citrus perfume-scented.Contents 250 ml
16 other products in the same category:
Refill Bouquet by the italian firm  Dr. Vranjes. Content 2500 ml.PerfumeGinger and lime. Fresh and spicy is how you can define this fragrance thanks to juicy and bright notes of Lima attached to the essence of ginger...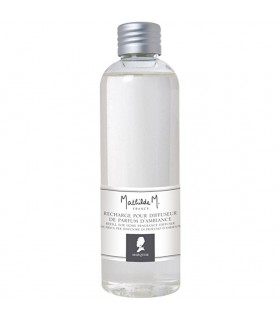 This refill of Mathilde M you can recharge your decorative scenteds bouquet many times as you want, a delicious blend of wood, spice and soft vanilla. Content 200 ml
See refinement and elegacia through this scent of Lampe Berger, feels the attraction of its floral notes, and the French perfumes, with notes of bergamot, jasmine water and white musk. Contents 500 ml
Refill for Bouquets by Cerería Mollá with Aroma Ginger and Orange Blossom. It contains 500 ml Ginger and Orange Blossom Joyful and bright aroma where the citrus notes blend with the sensual perfume the white...
Refill for bouquets from the Italian firm Culti .Milano, with fragrance 'Mountain'. Content 1 Liter. IMAGINE The cozy atmosphere of a mountain chalet, the wood heated by the fireplace that exudes its delicate...
Recharge for Lampe Berger catalytic lamps. Content 500 ml Aquatic Freshness is a Soft Floral Perfume Head Notes: Melon, Green Apple Heart Notes: Monoi, Lily of the Valley Base Notes: Amber, Tuberose
The Coconut Monoï perfume invites you to travel with its citrus notes of zest of green orange and tangerine. Its lightness, leave us sweet and fresh aromas and through the nose it envelops us in enveloping and warm...
The Cotton Dreams fragance by Lampe Berger  evokes the "clean", this fragrance has fresh notes of Marseille soap and bergamot, which bind to the aromatic accents of lavender and pine. This Lampe Berger composition has...
Refill for bouquets by Mahtilde M. Content 200 ml Divine Marquise is an elegant and sensual perfume, where the delicious notes of the chocolates are surrounded by an oriental patchouli and amber chord. Oriental...
Refill for Bouquets by Locherber Milano with aroma Banskia. Contents 500 ml Fragrance inspired by the Australian flower of BANKSIA, a rare and endangered species. Aromatic, woody and spicy fragrance with top...
Refill  Mathilde M. with perfume 'Voltige', fragrance with floral notes with and poetic character. 200 ml Olfactive Family: Floral
This refill of Mathilde M you can recharge your decorative scenteds bouquet many times as you want. With this aroma cotton flower scent will fill your home pure. Content 200 ml
Refill for Bouquets by Cerería Mollá with Aroma Tea & Lemongrass. It contains 500 ml Tea & Lemongrass Green and Aromatic Perfume where the freshness of citrus notes infuse vitality that in combination with Tea...
'Bois Sauvage' by Lampe Berger is a perfume with character, intensely woody that combines the quinoto with the apple giving way to a lavender center together with some surprising marine notes, making this an intensely...
Refill for catalytic lamps by Lampe Berger with aroma Zeste Vert de Tahiti. Content 500 ml A bright fragrance that brings out the freshness and brilliance of lime, enhanced by a crisp, green, crystalline floral...
Customers who bought this product also bought:
Marquise is a perfume Mathilde M, it can be used to perfume both the room or fabric. The scent Mathilde M 'Marquise' is  a warm and floral aroma, with a touch of sensuality fill your home with vanilla notes.
Air fresheners scented solution of the French firm Esteban help to prolong the life of your mikados and ceramic diffusers, scented, being able to choose between the initial aroma of the product, or any other variety...
Bouquet by Cerería Mollá with aroma Tobacco & Amber. Contents 500 ml Tobacco & Amber Oriental-inspired fragrance where exotic ginger and tobacco notes of India are mixed with velvety citrus and floral notes of...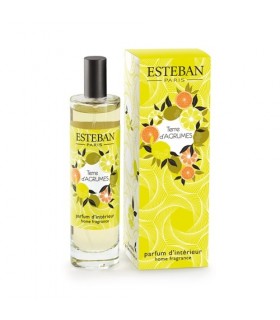 Spray Room by Esteban Parfums, with fragrance 'Terre d'Agrumes', a citrus and woody fragrance that fills our stay with freshness with a touch of personality, and its freshness leads to an olfactory journey to...
Oil Perfume Concentrate by Esteban Parfums. Content 15 ml 'Sous l'Olivier' (Under the Olive Tree), takes us to the heart of Provence, where the branches are rocked by the passage of time and the woody and aromatic...