Paris Chic 500ml Lampe Berger
See refinement and elegacia through this scent of Lampe Berger, feels the attraction of its floral notes, and the French perfumes, with notes of bergamot, jasmine water and white musk. Contents 500 ml
16 other products in the same category:
A scent of Lampe Berger inspired by the flower of orange blossom, with hints of jasmine that stands out for its lightness and tenderness. Composition 500 ml
Oriental Comfort 1 Liter Lampe Berger Refill for Lampe Berger catalytic lamps. Content 1 Liter  ml    Douceur Orientale is a Spicy Oriental fragrance. Top Notes: Star Anise, Liquorice Heart Notes: Jasmine, Rose...
Refill Bouquets by the italian firm  Dr. Vranjes. Content 500 mlPerfume Rosso Nobile. Initial orange notes enhance in the floral part formed by the absolute of violet and flowers of magnolia, accords of plum complete...
Refill for catalytic lamps by Maison Berger with Eau d'Aloe scent. Content 1 Liter A fresh and light fragrance, a mixture of delicate marine aromas, an aquatic and vegetal poetry worked around Aloe Vera and citrus...
Refill Bouquet by the italian firm  Dr. Vranjes. Content 500 mlPerfumeMagnolia and Orchid. Intense notes of Magnolia created this sophisticated and elegant fragrance with the delicate blend of Mimosa and warmth of the...
Recharge for Lampe Berger catalytic lamps. 1 Liter content Aroma Love is Oriental Floral perfume Head Notes: Orange Blossom, Green Notes Heart Notes: Canker sores, Ylang-Ylang Base Notes: Marine Notes,...
Refill for Bouquets by Cerería Mollá with Aroma  Black Orchid & Lily. It contains 500 ml Black Orchid & Lily Green and Fruity Perfume where the complexity of its notes captivates us through its naturalness...
Refill for catalytic lamps from Maison Berger with Gourmandise Divine scent. Contains 500 ml The Gourmandise Divine perfume is a seasonal perfume that leaves a spicy and tempting trail inside you and together with...
Refill for Bouquets by Locherber Milano with aroma Dokki Cotton. Contents 500 ml Elegant, delicate, pure, light, drunken, eternal; In the hot and dry Sahara desert, the great and magical Nile creates a river oasis...
Refills for Bouquets Trudon, L'Œuf, with Ernesto perfume. Contains 300 ml. In Havana, under the sun of the Revolution, the nuances of leather, together with silence, mingle with the smoke of cigarettes, rum and...
This refill of Mathilde M you can recharge your decorative scenteds bouquet many times as you want. Coeur d'Ambre is a oriental perfume. Content 180 ml
A revitalizing fragrance with a stimulating mixture joins forces with aromatic eucalyptus notes on a background of white musk mixed. This composition of Lampe Berger has a content of 500 ml
Refill for Bouquets by Locherber Milano with aroma Habana Tobacco . Contents 500 ml Breathe freedom, the air that smells of dreams; an uncontaminated place, not only an island but the island par excellence. Expert...
Recharge for Lampe Berger catalytic lamps. Content 500  ml Cherry Blossom is a Floral, Soft and Fresh Fragrance Head Notes: Cassis, Green Alga, Lemon Heart Notes: Cherry Blossom, Rose, Green Tea Base Notes:...
Exquisite Sparkle of Lampe Berger is a fragrance that combines the aromas of grapefruit, champagne and patchouli with the floral and energetic notes that evoke that happy atmosphere that we enjoyed during the...
Replacement plant rods for Mathilde M. mikados 25 cm
Customers who bought this product also bought: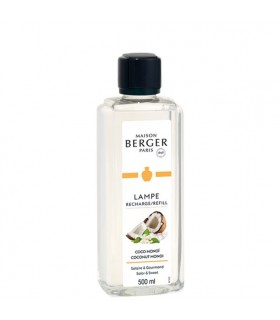 The Coconut Monoï perfume invites you to travel with its citrus notes of zest of green orange and tangerine. Its lightness, leave us sweet and fresh aromas and through the nose it envelops us in enveloping and warm...
Heavenly Sun A fragrance that elegantly transports you like a solar air and a very feminine, prodigiously sensual aura. Content 500 ml Floral and Solar Fragrance Head Notes: Tangerine, Bergamot, Orange...
Champs de Lavande is a fresh floral fragrance with a hint of camphor that provides a cool character. This Lampe Berger composition has a content of 1 Litre
Fragrance Lampe Berger luminous and majestic, glittering with spicy notes. Soft and fruity joins patchouli and gourmet flavors. Contents 500 ml
Maison Berger pack that includes a 180 ml refill with the classic catalytic lamp that is renewed with a new original cubic shape with rounded edges that combines modernity and softness. The Lampe Berger Glaçon Gray...