Linge Frais 500ml Lampe Berger
This Lampe Berger fragrance brings back memories of our childhood, with hints of lavender, cotton and SOAP. Contents 500 ml
16 other products in the same category:
Refill for Bouquets by Locherber Milano with aroma Capri Blue. Contents 500 ml An extraordinary mix of nature, history and culture, Capri is a myth without equal in the world, a true inspiring "muse" for painters,...
Lampe Berger loaded of sensuality this scent on a hint of rose, Lily, and vanilla on a deep background of amber and patchouli. Composion 500 ml
Air fresheners scented solution of the French firm Esteban help to prolong the life of your mikados and ceramic diffusers, scented,'Figue Noire' is a woody and fruity fragrance . Contents 250 ml PerfumeTop notes of...
Refill for Bouquets by Locherber Milano with aroma Rhubarbe Royale. Contents 500 ml Rhubarbe Royale is a refined and captivating fragrance that evokes the sensation of soft freshness of Rhubarb, a perennial plant...
Refill Bouquets by the italian firm  Dr. Vranjes. Content 2500 mlPerfume Rosso Nobile. Initial orange notes enhance in the floral part formed by the absolute of violet and flowers of magnolia, accords of plum complete...
The Patchouli Lampe Berger fragrance is a sensual and modern fragrance in which the notes of patchouli mixed with sweet and enveloping chords of vanilla and amber balms, a real invitation to well-being and comfort....
Refill for bouquets from the Italian firm Culti Milano, with fragrance 'Aramara'. Content 1 Liter. IMAGINE A sunny day in the countryside, marked by the reassuring aroma of the citrus peel. Its aroma extends and...
Refill for catalytic lamps from Lampe Berger. Content 1 Liter   Fleur de Nymphéa is a Floral and Aquatic fragrance Top Notes: Lemon, Bergamot, Galbanum, Mint, Pepper Heart Notes: Aquatic Notes, Lily of the...
This refill of Mathilde M you can recharge your decorative scenteds bouquet many times as you want. Marquise, a delicious blend of wood, spice and soft vanilla. Content 500 ml
Absolu of Vainille aroma is sweet notes of a perfume that evokes all the aroma of a vanilla bean, sweet and sugary (rum, star anise) notes and envelope heart (Bourbon vanilla pods) and a chocolate background and...
Refill Scented Bouquet by the italian firm  Dr. Vranjes. Content 500 mlPerfumeThis fragrance blends notes of two precious resins, myrrh and frankincense, wisely combined with the freshness of Bergamot and Neroli...
IMAGINE The richness of the Apulian countryside, with pomegranates loaded with fruit between the dry stone walls. Continue in the thicket that dominates the sea, collect, dirty your hands, taste its woody essence....
Recharge for Lampe Berger catalytic lamps. 500 ml content Aroma Wake Up pire is Woody perfume Head Notes: Ginger, Bergamot, Eucalyptus Heart Notes: Cedar, Sandalwood, Geranium Base Notes: Sandalwood, Patchouli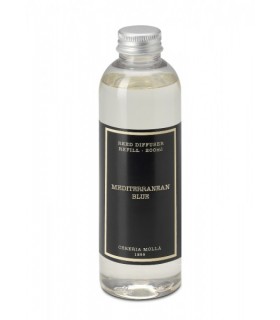 Refill for Bouquets by Cerería Mollá with Aroma Mediterranean Blue. It contains 200 ml Mediterranean Blue Perfume impregnated by the notes of the Mediterranean where the white flowers intertwined with citrus...
Refill for Bouquets by Cerería Mollá with Aroma  Black Orchid & Lily. It contains 500 ml Black Orchid & Lily Green and Fruity Perfume where the complexity of its notes captivates us through its naturalness...
Recharge for Lampe Berger catalytic lamps. Content 500 ml Aquatic Freshness is a Soft Floral Perfume Head Notes: Melon, Green Apple Heart Notes: Monoi, Lily of the Valley Base Notes: Amber, Tuberose
Customers who bought this product also bought: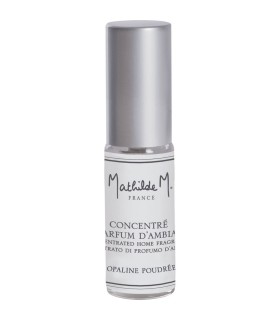 Spray perfume concentrate by the French firm Mathilde M. with perfume Opaline. Content 5 mlOpaline is a renaissance and sophisticated fragrance that stands out for its jasmine and vanilla.Head notes: Red FruitsHeart...
Elegant Amber is a perfume by Lampe Berger, it's a modern fragrance which combines the classicism of amber and spices with hints of anise and citrus. This Lampe Berger composition has a content of 500 ml
Heavenly Sun A fragrance that elegantly transports you like a solar air and a very feminine, prodigiously sensual aura. Content 500 ml Floral and Solar Fragrance Head Notes: Tangerine, Bergamot, Orange...
The scent of Cinnamon and Orange provides the freshness of citrus combined with the warmth of spices and candied fruit, and enveloped by a sensual notes of amber and white musk. This composition of Lampe Berger has a...
Perfume for catalytic lamp Lampe berger Jardins sur la Riviera, which invites us to walk along the shores of the Mediterranean: breath of freshness that moves the branches of olive trees, greenery of the fig leaves,...