Jasmin Précieux 500ml Lampe Berger
The jasmine in this composition as a sign of distion, this scent is made vibrant by the combination of jasmine and Ylang, conviertendose in a floral fragacia with fresh and fruity notes. Composition 500 ml
16 other products in the same category:
Refill for Bouquets by Cerería Mollá with Aroma Bergamotto di Calabria . It contains 500 ml Bergamotto di Calabria  Spicy and aromatic perfume where the freshness of citrus notes open the way to the genuine...
The Home Fragrance Bois d'Eau offers a crisp citrus freshness underlined by the fresh water spray. In their heart notes, the aquatic notes are mixed with the drift of driftwood before plunging along the coral reefs,...
'Orange Extreme' is a cocktail of vitamins citrus base, to continue in the notes of orange sun of Florida and Fressia, enhanced with green notes. Its surround us wake backdrop background woody notes and gourmand....
Refill for bouquets by Mahtilde M. Content 500 ml Divine Marquise is an elegant and sensual perfume, where the delicious notes of the chocolates are surrounded by an oriental patchouli and amber chord....
Refill for catalytic lamps from Maison Berger with Lait de Figue scent. Content 1 Liter Lait de Figue de Maison Berger, the black fig is a symbol in certain cultures of the forbidden fruit, we find in this perfume...
IMAGINE The richness of the Apulian countryside, with pomegranates loaded with fruit between the dry stone walls. Continue in the thicket that dominates the sea, collect, dirty your hands, taste its woody essence....
Refill for Bouquets by Locherber Milano with aroma Malabar Pepper. Contents 500 ml A heart of black pepper with spicy and woody notes; Inspired by the Malabar coastline in India, where the world's most precious...
Refill Bouquets by the italian firm  Dr. Vranjes. Content 500 ml
. Perfume Bellini, by Dr. Vranjes manages to impregnate the air with joy, with its intense and youthful fragrance. Its fresh and fruity notes evoke...
Refill for Bouquets by Cerería Mollá with Aroma Menthe & Basilic. It contains 500 ml Menthe & Basilic (Mint and Basil), is a perfume that provides us with a breath of pure and refreshing air thanks to the...
Refill for Bouquets by Cerería Mollá with Aroma Bulgarian Rose & Oud. It contains 500 ml Bulgarian Rose & Oud Floral and Aromatic Perfume that surrounds us through the darkest damask rose, rich and velvety, on a...
Refill Bouquet by the italian firm  Dr. Vranjes. Content 2500 ml.PerfumeGinger and lime. Fresh and spicy is how you can define this fragrance thanks to juicy and bright notes of Lima attached to the essence of ginger...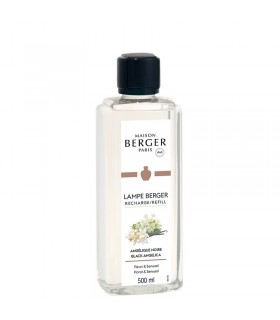 Recharge for catalytic lamps by Maison Berger. Content 500ml Angélique Noire is a bewitching sensual fragrance, an intoxicating flower full of magic and eroticism. Rare, noble and refined, this interpretation...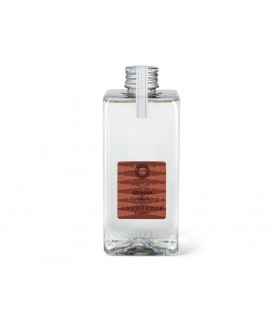 Refill for Bouquets by Locherber Milano with aroma Rhubarbe Royale. Contents 500 ml Aramaik is an enveloping and woody perfume that takes us to the archaic rituals of ancient Egypt where, through ointments composed...
Recharge for Culti Milano bouquets with Acqua aroma. It contains 1000 ml Sweet and reassuring, it flows with its calm rhythm, transporting fragments of leaves and forests, the aromas of a trip. It glides slightly...
Perfume for catalytic lamp Lampe berger of the coleccionsueno of freshness. Purity and freshness as a direct blow from the ocean to your home. 500 ml.
Refill Scented Bouquet by the Italian firm Dr. Vranjes. Content 500 ml 'Aria' (Air) A frangacia its citrus and fresh notes, the intense time, intermingling together with the flower of orange and lemon trees, evolving...
Customers who bought this product also bought:
Recharge for Lampe Berger catalytic lamps. 500 ml content Délicat Musc Blanc is Powdered and Subtle perfume Head Notes: Orange, Petitgrain, Grapefruit Heart Notes: Rose, Jasmine, Orange Blossom Base Notes:...
See refinement and elegacia through this scent of Lampe Berger, feels the attraction of its floral notes, and the French perfumes, with notes of bergamot, jasmine water and white musk. Contents 1000 ml
Scented sachet by Esteban Parfums 'Jasmin D'été', to be used in drawers, closets, cars, etc. It can also be used for opening the bag the dotted line indicated as vacuum powder. Weight 65 gr.Perfume Floral with Jasmine...
Perfume for catalytic lamp Lampe berger Jardins sur la Riviera, which invites us to walk along the shores of the Mediterranean: breath of freshness that moves the branches of olive trees, greenery of the fig leaves,...
Voltige tissues is a perfume Mathilde M. signature can be used to perfume both the room or tissues. The scent Mathilde M 'Voltige' is a floral fragrance with notes of cherry blossoms, almond and vanilla.