Santal Envoutant 500 ml Lampe Berger
With this fragrance Lampe Berger evokes Asian seduction with precious woods: sandalwood, which is mixed with black currant and the citrus sweetness of mandarin. The heart reveals the soft, enveloping side of sandalwood, emphasized by the femininity of a bouquet of roses and lilies. The base is warm and engaging, combining precious coumarin and Mysore sandalwood. Content 500 ml
Perfume
Heart notes: sandalwood, muguet, Rose.
Base notes: Mysore sandalwood, musk, honey, coumarin.
Composition: Fragrance, water, isopropyl alcohol
16 other products in the same category:
Refill for Bouquets by Locherber Milano with aroma Klinto. Contents 500 ml Especially extended in Veneto, the wine Clinto (or clintòn), reached the old continent of America at the beginning of the 19th century. El...
Recharge for Lampe Berger catalytic lamps. Content 1 Liter Pure White Tea  is a Floral and Musky Head Notes: Bergamot, Cassis Heart Notes: White Tea, Lily of the Valley, Rose Jasmine Base Notes: Cedar White...
Refill Scented Bouquet by the Italian firm Dr. Vranjes. Content 500 ml The fleshy notes of Peony intertwine with the intense aroma of Black Jasmine, creating a fresh, bright and incredibly refined accord. Peonia...
Refill for catalytic lamps by Lampe Berger with Citronelle Aroma. Content 500 ml Citronella perfume has the glow of love with its cheerful bursts of orange. Its floral bouquet reveals the poetry of a romance with...
A scent of Lampe Berger inspired by the flower of orange blossom, with hints of jasmine that stands out for its lightness and tenderness. Composition 500 ml
Recharge for Lampe Berger catalytic lamps. 500 ml content Aroma D-Stress is fruity and spicy perfume Head Notes: Orange, Tangerine, Bergamot Heart Notes: Melon, Mimosa, Ginger Base Notes: Musk
'The aroma 'Rose Élégante' , is a floral and powdery perfume, which brings us elegance and softness of rose petals. Content 200 ml 
Refill for bouquets by Mahtilde M. Content 200 ml Astrée is Shining, romantic and feminine aroma by Mathilde M.. The fresh and sparkling notes of citruses reveal a lighting and solar bouquet of orange blossom and...
Refill Bouquets by the italian firm  Dr. Vranjes. Content 500 ml Fragrance designed by Paolo Vranjes exclusively for Maserati that commemorates 100 years of the legendary Italian car maraca, where Paolo Vranjes gave...
'Linen Blossom' by Lampe Berger, is the scent that comes from the bedding that is currently on a field full of spring flowers, being rocked by the gentle west wind while drying under the incident solar rays. It...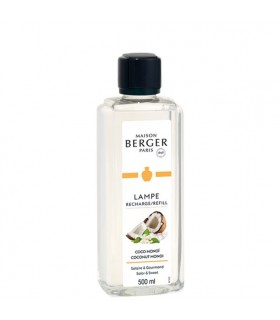 The Coconut Monoï perfume invites you to travel with its citrus notes of zest of green orange and tangerine. Its lightness, leave us sweet and fresh aromas and through the nose it envelops us in enveloping and warm...
Refill Bouquet by the italian firm  Dr. Vranjes. Content 500 mlPerfume Head notes: Siberian PineHeart Notes: Musk, Lavender and Vanilla.Background Notes: Wild Mint
Recharge for Lampe Berger catalytic lamps. Content 500 ml Aquatic Freshness is a Citrus Energizing Head Notes: Grapefruit, Orange Heart Notes: Grapefruit, Pineapple Base Notes: Musk, Peach
Refill for catalytic lamps from Lampe Berger. Content 500 ml A powerful, conquering and airy fragrance with aromas of tomato leaves along with grapefruit and citrus in the top notes. Patchouli and white birch wood...
Refill for bouquets of the Italian firm Culti  Milano with the aroma 'Linfa'. Content 1 Liter Iridescence, transparency and vitality. Strength and purity Light and tenacious. A combination between white currant...
Recharge for Lampe Berger catalytic lamps. Content 1 Liter   Litchi Paradis is a Fruity fragrance   Head Notes: Melon, Lemon, Apple, Eucalyptus Heart Notes: Grapefruit, White Flowers, Rose, Lychee...
Customers who bought this product also bought:
Der Duft von Zimt und Orange bietet die Frische von Zitrusfrüchten kombiniert mit der Wärme von  den Gewürzen und kandierten Früchten und umhüllt von einer sinnlichen Note von Amber und weißem Moschus. Diese...
See refinement and elegacia through this scent of Lampe Berger, feels the attraction of its floral notes, and the French perfumes, with notes of bergamot, jasmine water and white musk. Contents 500 ml
The Patchouli Lampe Berger fragrance is a sensual and modern fragrance in which the notes of patchouli mixed with sweet and enveloping chords of vanilla and amber balms, a real invitation to well-being and comfort....
Floral Perfume d'Ylang is a special and luminous aroma that takes us to an exuberant nature, where the Tiare flower gives progressively and harmoniously to the warmth and delicacy of the orange blossom, to elevate the...
Die  Lösung für  die katalytische Lampe Berger in der Sammlung  "der Traum von  der  Reinheit". Ohne Parfüm, ein einfaches und praktisches Produkt, um unerwünschte Gerüche zu beseitigen und Ihr Zuhause zu erfrischen....